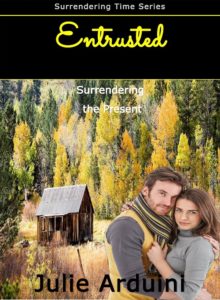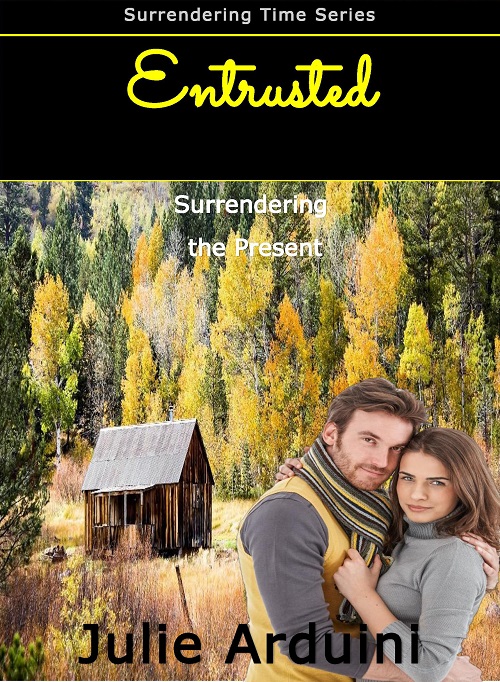 Yesterday I announced that Surrendered Scribe Media is now official. My first business related venture is re branding the Adirondack Surrender Romance series into Surrendering Time. Although readers might be familiar with Entrusted, I changed the cover and tweaked the title to reflect the series. So be on the lookout for ENTRUSTED: Surrendering the Present.
Jenna Anderson, sassy city-girl from Youngstown, Ohio, plows–literally–into Adirondack village, Speculator Falls, with a busted GPS and the goal to belong as she becomes the new senior center director. Town councilman Ben Regan is as broken as the flower box Jenna demolished. He's grieving and wants to shut down the center before there's too much change and heartbreak. They work on community projects and build a slow relationship, but the council needs to vote on the senior center's future. Can Jenna show Ben both her and the center are worth trusting?
I love Ben and Jenna's story because it tackles themes I think we can relate to. Fear. Change. Loss. Their story is over 20 years in the making and they are precious characters to me. Reviews for the original ENTRUSTED were very strong, and I need YOUR help to spread the word.
My hope is to release the e version for free for awhile and do so as ENTANGLED: Releasing the Past releases. Do me a favor and grab both copies. Read them, and if you enjoy them, leave a review on Amazon and Goodreads. Reviews are vital for authors, and I can't encourage audiences to find freedom through surrender if they don't know what resources I have for them. I truly believe through fiction readers will relate to characters and their surrender journey, and take that next step toward freedom for themselves. Partnering with me by spreading the word and leaving reviews will make all the difference.
FREE resources available now:
Surrender Issues and Chocolate: This is my monthly newsletter filled with encouragement, writing updates, recipes, Reader of the Month profiles, contests and more.
Sunday's Surrender and Chocolate: This is a brief, weekly email designed to give you encouragement as you start your week. Each issue also includes a chocolate mention.
Surrendered Scribe Media Promotions: When I have a new release, discounts, or any other promotions, I'll send an alert. This will only be sent when there is a need for you to know.