Finally, a Bible study that goes deep…
Frustrated with the watered-down, "light" Bible studies that are all too common, Erica Wiggenhorn wanted to write a study that went deep. She wanted to take readers verse-by-verse through a whole book of the Bible, offering theological and historical comments in each lesson while remaining practical and relational.

The Unexplainable Church is the result, and it offers readers two great takeaways. It will teach them by example how to study the Bible deeply, and it will challenge them toward critical life-change: submitting their will to the mission of Jesus, who gives life its fullest meaning.

The message of The Unexplainable Church is that the early church didn't grow because Peter and Paul were so amazing, but because average people were transformed by God and brought together in His work. This 10-week inductive study of Acts 13–28 will sweep readers into the great drama of the Kingdom, inspiring them to live together in the power of the Spirit and accomplish what could never be done alone.
I've been looking for a Bible study that takes Scripture I'm familiar with but challenges me to dig deeper and learn more. Something that gives me a glimpse of history but also forces me to take those amazing experiences and apply it to my life.
That Bible study is The Unexplainable Church by Erica Wiggenhorn. This is a 10 week study of Acts 13-28 and focuses on "Reigniting the mission of the early believers." This is a meaty study that has 50 lessons over 10 weeks, going through the Acts chapters verse-by-verse. There are a lot of questions to answer and invitations to learn even more at the author's website.
It's obvious Erica Wiggenhorn knows the Bible, and she's very good at engaging readers and making sure they don't just grow in the Lord, but that they know His-Story. Although I am not finished with the study, I find it deep, intensive, and thought-provoking. No one can read Acts without being captivated, even if someone has no desire to know Christ, the mere history of it is amazing. I believe all participants are going to finish this study with a deeper perspective and appreciation of the early church.
I received this study from the publisher in exchange for a review. The thoughts expressed are my own.
PURCHASE THE UNEXPLAINABLE CHURCH HERE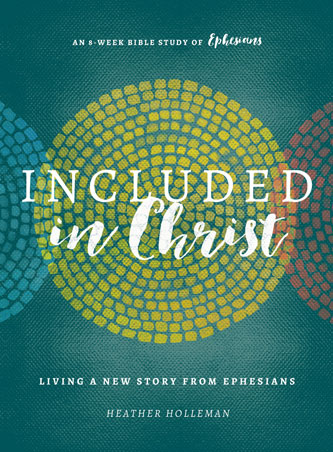 A new kind of Bible study…

After the success of her first two books, Heather Holleman received many requests to write a Bible study. And as a college English instructor, she wanted to make sure it really taught and didn't simply inform. So she surveyed several women about what their dream study would look like, then got to work.

The result is Included with Christ, a narrative-driven study where you can bring your life before Scripture in the context of community. Together women will discern their personal shadow narratives—ways they are living outside of their identity in Christ—and then rewrite those narratives according to biblical truth.

This in-depth, 8-week study in Ephesians will equip women with six "signature stories" of God's work in their lives—helping them combat exclusion, loneliness, weakness, decay, emptiness, and silence.

Designed to facilitate honest sharing and help you internalize biblical truth, Included in Christ will provide community and connectedness as well as spiritual nourishment. It will also guide you in how to share your story and the hope of Christ with someone who doesn't yet know Him.
Heather Holleman is a new author to me, and I didn't know she wrote books before being asked to create a Bible study. Included in Christ is an 8 week Bible study that explores the truths from Ephesians without being overwhelming. It is written as if the author were sitting down with us. She includes her own story that makes her very relatable. Yet, Scripture is explained and explored as she takes us through Ephesians. Ephesians isn't new to me, yet Heather pointed out things I never thought about or saw the way she explained. I truly have learned a lot, and for review purposes, I am not all the way done, but I wanted to be timely in getting this out. I am really impressed in what I've read so far.
The topic is one all women can relate to. We all want to belong and be included. There are lies we have believed, and this study takes those lies and exposes them, giving us the truth in Scripture that has been there for us all along.
I highly recommend this study to any woman who struggles to belong, no matter what their level with the Bible is. It's a down-to-Earth study that includes places to journal thoughts and answer questions.
Honestly, it's everything I'm looking for in a Bible study. I really think you will learn and be inspired just as I am.
I received INCLUDED IN CHRIST from the publisher for review purposes, and all thoughts expressed here are my own.
Purchase Included in Christ HERE

From Ashes of Pity into Beauty of Purpose by Debra Gray Elliott
Forty years ago, at the age of sixteen my life changed and I found myself in the ashes of pity. My life took a dark turn when my father passed away several months before I turned sixteen. My mother decided she did not want to live in our home state any longer and moved me across the country. This is where my life took a wrong turn.
Except from the book:
The year was 1977, the month and date: November 4th, I was sixteen; technically a teenager, but still a child.   I was taken for my abortion.  I have tried to block out the memories, but I cannot forget the cold metal table where I had lain or the baby being sucked from my womb through a vacuum tube. My eyes fixated on the fluid and blood sucked into the glass canister. All I could see were the demons that had taken over my life instead of the love I deserved. The painful, horrific memories are forever seared in my mind, thoughts, and soul.

 It was in my pain and grief through post-abortion recovery, I started writing about my journeys and how God led me through the ashes into beauty. The end result of my grief was hope and healing. It is hope and healing that I want to give to other women who are experiencing pain and grief.

From Ashes of Pity into Beauty of Purpose brings emotionally charred women out of the pits of fire, through the ashes into the beauty of purpose. With the direction of God, hurting women weather through the painful journeys, become women of spiritual beauty, find God's purpose, and learn to live again.
You are altogether beautiful, my darling there is no flaw in you. Song of Solomon 4:7 NIV
Bio:
Christian author and speaker Debra Gray Elliott began writing at the age of fifteen after the death of her father. She began writing poetry as a way to cope with her grief. At the age of sixteen, Debra once again experienced grief when she was forced to have an abortion. It was in this grief that she found herself in the ashes of pity. Forty years later, Debra found her beauty of purpose.
From Ashes of Pity into Beauty of Purpose is Debra's first non-fiction Christian self-help, inspirational book to help women through the ashes of pity into the beauty of purpose after having an abortion.
Debra is currently working on a devotional for grieving parents. The loss of her daughter four years ago, has led Debra to want to help other grieving parents through their grief into hope.
She resides in Alabama with her husband and family.
Website: http://anngrayelliott1960.wixsite.com/authordebraelliott
Purchase From Ashes of Pity into Beauty of Purpose