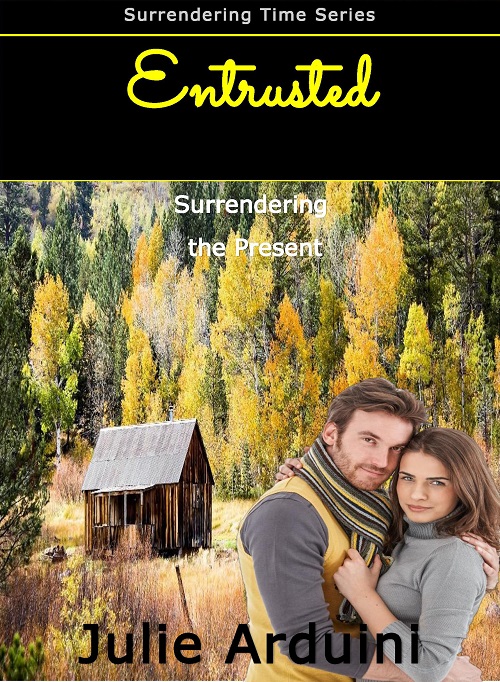 Yesterday I announced that Surrendered Scribe Media is now official. My first business related venture is re branding the Adirondack Surrender Romance series into Surrendering Time. Although readers might be familiar with Entrusted, I changed the cover and tweaked the title to reflect the series. So be on the lookout for ENTRUSTED: Surrendering the Present.
Jenna Anderson, sassy city-girl from Youngstown, Ohio, plows–literally–into Adirondack village, Speculator Falls, with a busted GPS and the goal to belong as she becomes the new senior center director. Town councilman Ben Regan is as broken as the flower box Jenna demolished. He's grieving and wants to shut down the center before there's too much change and heartbreak. They work on community projects and build a slow relationship, but the council needs to vote on the senior center's future. Can Jenna show Ben both her and the center are worth trusting?
I love Ben and Jenna's story because it tackles themes I think we can relate to. Fear. Change. Loss. Their story is over 20 years in the making and they are precious characters to me. Reviews for the original ENTRUSTED were very strong, and I need YOUR help to spread the word.
My hope is to release the e version for free for awhile and do so as ENTANGLED: Releasing the Past releases. Do me a favor and grab both copies. Read them, and if you enjoy them, leave a review on Amazon and Goodreads. Reviews are vital for authors, and I can't encourage audiences to find freedom through surrender if they don't know what resources I have for them. I truly believe through fiction readers will relate to characters and their surrender journey, and take that next step toward freedom for themselves. Partnering with me by spreading the word and leaving reviews will make all the difference.
FREE resources available now:
Surrender Issues and Chocolate: This is my monthly newsletter filled with encouragement, writing updates, recipes, Reader of the Month profiles, contests and more.
Sunday's Surrender and Chocolate: This is a brief, weekly email designed to give you encouragement as you start your week. Each issue also includes a chocolate mention.
Surrendered Scribe Media Promotions: When I have a new release, discounts, or any other promotions, I'll send an alert. This will only be sent when there is a need for you to know.
Tags: Adirondack romance, Ben and Jenna, Christian author, contemporary romance, Entrusted: Surrendering the Present, finding freedom through surrender, Julie Arduini, Surrender Issues and Chocolate, surrendering the present, Surrendering Time series
Well, hello! It's been awhile since I've posted an update and I thought today I would do that.  I've been busy behind the scenes building my business as an indie author and speaker. It's hard when God's given a vision with an end result, but there are a million steps in between. I'm not sure what number step I'm on, but I'm trying to keep that end goal in sight.
To encourage audiences to find freedom through surrender in Christ.
The biggest project I have is re designing and re branding what was the Adirondack Romance Surrender Series that started with ENTRUSTED. Coming this spring is the re release of ENTRUSTED: Surrendering the Present, and the debut of book two, ENTANGLED: Surrendering the Past. The last release will be ENGAGED: Surrendering the Future. I'm nearly done with the covers and I'm excited. They capture the heart of the series. My desire is for readers to connect with flawed characters who ultimately surrender their fears to God through their relationship with Jesus. Hopefully they will want to do the same.
Friends have been sharing their surrender stories here, and if you've missed the series, I strongly recommend you take a look. I've loved putting these together and presenting them to you.
Take a look at the Surrender Stories here.
I've also wrote some posts for others. It's a good marketing technique, but I love doing this in hopes of encouraging someone who might not be familiar with my writing.
Mama Monday: When the Parent is Tired
Jennifer Slattery Lives Out Loud: Your Spouse is not Your Enemy
Sarah Ruut: The Truth About Forgiveness
The Diamond Mine of Christian Fiction: Surrendering the good, the bad, and—maybe one day—the chocolate
Christians Read: The Information Dump
This year I also created a weekly encouragement via email called Sunday's Surrender and Chocolate. It's a brief message delivered to your inbox with a positive thought and a chocolate mention. A little something to start your week with a smile.  Subscription is free, and I'd love for you to join us.
Sunday's Surrender and Chocolate
Finally, this year I've been intentional to give readers a monthly newsletter chocked full of resources to help them in their surrender journey. Beyond writing updates I share a devotional type message, introduce a Reader of the Month, a recipe, books I recommend, and more. This is also a free subscription and THE place to receive exclusive info on my writing and speaking.
Julie Arduini: Surrender Issues and Chocolate
Anything I do is with the prayer you finish feeling encouraged and hopeful. I pray you not only enjoy these resources, but you let others know about them. I can't reach everyone, but together, we can. Can you imagine the world feeling free because they trusted God and let go of what was holding them back?
Tags: author, Be Encouraged, chocolate, encouragement, Engaged: Surrendering the Future, Entangled: Surrendering the Past, Entrusted: Surrendering the Present, fiction, Julie Arduini, speaker, Sunday's Surrender and Chocolate, Surrender Stories, Surrendering Time, writing resources
If you've read this site or anything else from me, you know my focus is surrender and chocolate. What you might not know is that for the last few months, God has been behind the scenes whispering His plans for me to take that focus and go crazy. global with it.
I ignored the stirring at first, because I honestly felt what I was doing and how I was accomplishing it was just fine. At the end of the day argument with God that I had no chance of winning, a door opened and I knew I had to go through it.
So here we are.
I am now pursuing writing and speaking full time where I share my passion for audiences to surrender the good, the bad, and—maybe one day—the chocolate. I'll keep writing fiction, I think it's a key part of God's plan. So many readers, women especially, are wounded. They are looking not just for escape through romance, but for encouragement. I want to be a vessel that gives them hope and the desire to find that freedom in Christ that comes from surrender.
My first project is taking my Adirondack series and re brand it as the Surrendering Time series. I'm re releasing ENTRUSTED: Surrendering the Present and making ENTANGLED: Surrendering the Past available this spring. ENGAGED: Surrendering the Future, will be available this fall.
I've sat down and mapped out a number of goals and projects and they take me into 2017. It's part of the shift I keep talking about on Facebook as my husband is in a new position and often works from home, our son is transitioning to college, and our daughter, to middle school.
Surrendering Time isn't just my contemporary romance series, it's where my life is at right now.
Can you relate?
P.S.
I have a couple FREE surrender resources available. My monthly newsletter, Surrender Issues and Chocolate, gives surrender tips and encouragement, recipes, Reader-of-the-Month profiles, giveaways and more.
Sunday's Surrender and Chocolate is a brief, weekly e mail with encouragement and a chocolate mention.
Both are available in the left sidebar of my website.
Tags: author, chocolate, Entangled: Surrendering the Future, Entangled: Surrendering the Past, Entrusted, Entrusted: Surrendering the Present, fiction, freedom, Julie Arduini, ministry, speaker, Sunday's Surrender and Chocolate, surrender, Surrender Issues and Chocolate, Surrendering Time
About Me:

Wife. Mom. Author. Reader. Blogger. Amateur nature photographer. Chocolate eater. Encouraging you to surrender the good, the bad, and---maybe one day---the chocolate.

Find me across social media @JulieArduini, and follow me on my Amazon Author Page.

Where Else You Can Find Me

Step Into the Light Blog Talk Radio Show


Contributor: Jasmine's Place

Contributor: Patient Worthy

iRun4
Rare Mom

Every Other Wednesday: Christians Read

Surrendering Time Series & Recent Releases

Join the Fun

My Instagram

Member

Archives