Riveting New Series Offers Legal Suspense with a Romantic Twist


In the biggest case of her career, attorney Kate Sullivan is tapped as lead counsel to take on Mason Pharmaceutical because of a corporate cover-up related to its newest drug. After a whistleblower dies, Kate knows the stakes are much higher than her other lawsuits.
Former Army Ranger turned private investigator Landon James is still haunted by mistakes made while serving overseas. Trying to forget the past, he is hired by Kate to look into the whistleblower's allegation and soon suspects that the company may be engaging in a dangerous game for profit. He also soon finds himself falling for this passionate and earnest young lawyer. 
Determined not to make the same mistakes, he's intent on keeping Kate safe, but as the case deepens, it appears someone is willing to risk everything–even murder–to keep the case from going to trial.
In a book that's been compared to John Grisham's work, Deadly Proof is definitely full of suspense as Kate Sullivan takes on a pharmaceutical company that knew their drug wasn't safe. The person who knew the truth is dead, and Kate hired Landon James to learn more about the allegations.
Although the plot is one I've read before, Deadly Proof belongs in the club of books and authors for those that love legal suspense. There is growing tension, danger, greed, and secrets the more Kate and Landon proceed. There is a romantic thread, but it doesn't take over the story, but enhances it. What I love most is the Christian faith. It's not cheesy or groan-worthy, but sincere and inspiring.
If you love top-notch legal suspense, I definitely think you should read Deadly Proof a read. It's book one in the Atlanta Justice series, so start reading today!
Purchase DEADLY PROOF HERE
I received a copy of Deadly Proof from the publisher in exchange for an honest review.
IYOUR OWN BEAUTIFUL: ADVICE AND INSPIRATION FROM CHELSEA CROCKETT
Inspired by Chelsea Crockett's popular YouTube channel, Your Own Beautiful is a life, faith, and beauty guide, filled with her trademark tips on makeup and style alongside full-color photos, how-tos, and more to help young women with all the big issues they face—from self-confidence and friendship to following your dreams. With her signature grace and wit, Chelsea tackles tough questions through uplifting messages influenced by her faith and life experiences in Your Own Beautiful.
"Funny, helpful, and inspirational! This book reveals the secrets to finding inner beauty and happiness." CHARISMA STAR, Beauty vlogger
Chelsea Crockett started her own YouTube channel when she was thirteen, happy to share make up tutorials. Her channel found quick favor and soon she was given opportunities most teens would dream of. Now out of high school, Chelsea has written a book to share with girls about the topics important to them.
I am late reviewing this book because I savored every word. I facilitate a ministry for junior high girls and YouTube is HUGE for this age group. I have a daughter this age and it is difficult to find a YouTube personality that will share fun videos with fashion, make-up and more who also shares the faith that is important to our family.
Chelsea shares her story along with advice on make up, fashion, friends, boys, and more. She's very honest in doing so, and makes it very clear what her priorities are. She's transparent in telling that not everything has worked how she thought it would. That her life and choices have not been perfect.
This is written right at their level and is completely engaging. As a mom, I loved her story, but I know girls will love her advice and pictures. I kind of wished her pictures from her own "scrapbook" had captions of some kind, there isn't any explanation, but it doesn't take away from the wonderful content in this book.
I highly recommend this for tweens, teens, and even for moms to read. Chelsea captures everything about this stage and what's important to these girls.
I received a copy of this book from the publisher in exchange for an honest review.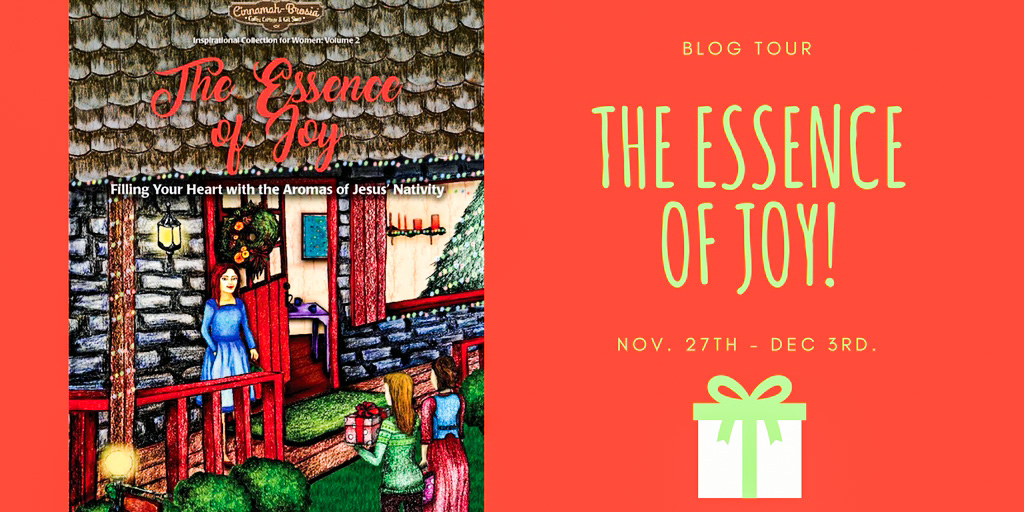 A Must Read! In The Essence of Joy, Lynn Watson intertwines Scripture with
the uses of oils and spices mentioned in the Bible. I was left with a feeling of wonder,
a new way of looking at God's word. The book is educational, entertaining, and
uplifting. There's history, fun-facts, even recipes. The author brings devotionals to a
new level, giving biblical insight to the problems modern women encounter today.
The Essence of Joy is perfect for both bible study groups and those who are just
starting out on their spiritual journey.
—Jeri McBryde, Eight-Time Contributing Author to Chicken Soup for the Soul
About The Book:
The scents of Christmas invite our imaginations into the holiday season. What
emotions flood your heart when the holiday aromas waft your way?
Did you know:
• Many favorite holiday scents like cinnamon, citrus, and cinnamon are found in the
Bible?
• There is a rich heart connection attached to many of the plant essences found in
Scripture?
• Myrrh is such an important essence, we can follow its trail from Genesis to
Revelation with many significant stops along the way?
• Women of the Bible have personal encounters with God bringing aromas of His
love and joy into their lives?
• Palm branches are an important part of Biblical celebrations beginning in Genesis
and ending in the ultimate beach party around the Crystal Sea? (Christmas at the
beach, anyone?)
In The Essence of Joy you'll meet women of the Bible and contemporary women
like you and me who will encourage you to discover the refreshing essence of a life
lived in the presence of Jesus. Let JOY fill your heart with the aromas of His nativity.
Julie's Review:
This is a fresh take on celebrating the Christmas season by digging deeper into the smells of the nativity season. There are several aspects to each scent, from a fictional story, to suggestions on what to diffuse, bake, listen to. There are also history facts and craft suggestions, too.
I really enjoyed the Essence of Joy because this was a part of Christmas I never thought about before. Beyond the original three gifts, there is also cedar, cinnamon, fig, and more. My favorite part was the "droplets," learning the history behind each scent. The fictional aspect was a bit confusing to me, because I did not realize it continued the stories first set up in The Essence of Courage. At the end of this book was a summary of characters, it might have helped to have that in the beginning. I also found some minor editing errors, but it did not detract from the wonderful message of this book.
If you're looking for something new to discover this Christmas, I highly recommend The Essence of Joy.
About The Author:
Lynn Watson combines many years' experience in women's ministry, love of
essential oils, and her passion for God's word to bring her readers freshly inspired
encouragement for their walk with Jesus. Her devotional, The Essence of Courage,
was recognized as a 'must read' by regional publishing industry leaders. Married
since 1973, Lynn and Steve have filled their Bartlett, Tennessee home with
handmade treasures and lots of love for family, especially their five beautiful (of
course) grandchildren. Aromas of freshly baked bread often fill Lynn's kitchen.
Jasmine, her tuxedo kitty, enjoys sleeping in Lynn's lap while she writes.
Check out this beautiful Book Trailer! https://youtu.be/ZT5_uGmptZM
Lynn's Official Website: http://lynnuwatson.com/
Amazon & Social Media Links:
Amazon: https://www.amazon.com/Essence-Joy-Cinnamah-Brosias-InspirationalCollection/dp/069296391X
Facebook:https://www.facebook.com//lynnuwatsonwriter
Twitter: https://twitter.com/lynnuwatson
Pinterest: https://www.pinterest.com/lynnuwatson/
I received a .pdf of this book in exchance for an honest review.