I have a few confessions today.
One, I know you're there. Yep, you aren't leaving comments for the most part, and that's okay. Twice a month I check the back end of things here to make sure everything is working and it's there I see how many of you visit, and for how long. Lately, many of you are coming to me in person or through a private message sharing something that I didn't know I told you. Then I realize, I wrote it here. Busted! I'm so glad you're reading. Because, I think my lesson this week might help you, too.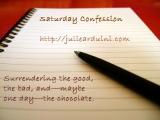 We've been moving forward in faith the fulfillment of what we think God's called us to this year. We're getting our home ready to put on market and have been praying for the entire process, including buying what we consider our forever home. We've been in the area for 10 years and unless God directs otherwise, we believe this is where my husband will retire many, MANY years from now. 🙂
God gave us a great mortgage company that works with veterans and they have been amazing. They have local agents they contract with, and we believe she is a wonderful fit for us. She's proved to be an advocate for us and is full of wisdom.The other thing He gave us was vision. As you can see in this picture of my husband, his oldest son, and our son, we're a glasses wearing family.  Third confession, we weren't all wearing glasses during the tour of the home I'm about to write, but this picture works for the lesson I learned.
Here's what I learned.
When we first went through that home months ago, we were like the young adults who see each other in the hallway and find instant attraction. Everything is appealing. Flaws? What flaws? At this point, no one is even looking for the negative. It's all about the positive, and you walk away thinking you're positive you want a future together.
The second tour for us, we got serious. We took along lists of what to look for. Our agent was with us, giving guidance and wisdom. We opened doors. Looked at paint. Fixtures. The fine print. Details.
And in that tour, the rose colored glasses came off. There are a lot of positives in that house. But, there are some negatives we missed the first time. Enough that we all took a step back and said you know what, we don't want to jump right in and have regrets. Let's take our time. Look some more. And if this continues to show up on our radar, then we need to do serious negotiating with the owners. And if not, we know God's got this.
The illustration I used with my family was before Tom came in the picture, I had my future mapped out thanks to a first walk through impression. Everything looked positive. Any flaws brought to my attention were dismissed. Bringing the agent of my life to the forefront–my heavenly Father–I wasn't mature enough to consider such a thing.
But thank God, when that didn't materialize, I recognized His hand immediately and did the craziest thing.
I didn't shed a tear. Not one. I thanked Him. Because if that wasn't my future and it had all those positives, then what God DID have planned for me was even better.
And within months, there was a man God planned for me since creation, in my life.
That's where we're at. We're so thankful He gave us the unity to all see the same things during that second look. That we all agreed it is a great house, but it's not exactly perfect, and it's worth doing more investigating. Because if that house isn't it, we can't wait to see what He does have for us.
My guess is this little lesson might apply to relationships more than looking for a home, but what do I know. But if there's something in the pit of your belly crashing loud enough for your heart to hear it, I encourage you to slow down and consult the Agent of your life. Let Christ be your compass, and God will be present. Wear the glasses, but allow Him to take the rose tint off so you can see things as He sees them. He doesn't show you the red flags or issues to rain on your parade, but to be real. He longs for you to lean on Him so He can direct your path. I can't tell you what's ahead for you anymore than I can for us and our house process. But I promise, He's faithful. I've yet to be abandoned or let down.
And I believe the same for you.