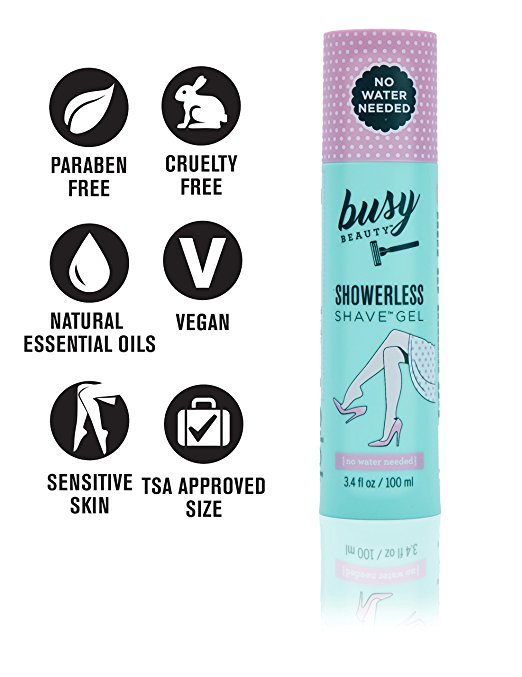 A Shaving Gel for Shaving Quickly and Safely Without Water.
A shower takes a lot of effort and time. Shaving is a pain. Make it easier with Busy Beauty.
Yes ladies! Its official… you can shave any part of your body without jumping in shower or awkwardly maneuvering your legs into a sink! Busy Beauty Showerless Shave Gel allows for you to shave anytime, anywhere, in under 2 minutes. Our product can be used just like any regular shaving cream, but there is no need to wash it off after! Simply apply the gel, shave as you normally would with a razor, and rub any excess gel into your skin as a moisturizer. If you are in a hairy situation, we got your back.
Prevents razor burn, irritation, ingrown hairs and moisturizes! No more dry shave nightmares.
Shave without water! Yes, I'm serious. You could even shave in bed if you wanted!
Take me on a trip! Showerless Shave is TSA approved travel size.
You are a natural beauty. That's why we use the natural essential oils of clove, ginger eucalyptus and oat to protect and sooth your skin.
Vegan, paraben free, cruelty free and alcohol free.
When the ladies behind #BusyBeauty contacted me to ask if I would review their product, I wasn't sure what to think. Most of my reviews are books or music. Then, I'm a shaving hot mess. I miss areas. I'll put cream on and my skin still gets irritated. I cut myself and leave the shower looking like a scene from CSI.
But I was intrigued. Showerless shave gel? NO water needed?
I had my doubts.
Ladies, this is the real deal. I decided to give it a try after I dried off from a swim. I decided to use a little amount to really test an area because my skin irritates so easily. I figured it would never work, that I'd need most of the provided bottle just to cover a small area.
Wrong.
Even a think area provided what I needed to shave, not a drop of water needed, and not only did it give a great shave, no irritation. My legs are as soft as they have ever been, and I've spent countless dollars on shaving creams and moisturizers.
You do have to rinse your razor as it collects hair, but for me, it's a small price to pay. Busy Beauty gives me the flexibility to shave outside of the shower without a lot of fanfare or work. What is a bonus for me is our daughter is of shaving age but has some physical delays. I've been dreading her shaving for fear in the shower without me watching, she would cut herself. With Busy Beauty, she can shave in the bathroom with shorts on and I can make sure she is okay.
The only thing I can think of to improve on it is offering different scents. But that isn't even a complaint, just a suggestion. I am beyond impressed with Busy Beauty, and I think you will be, too.
To learn more, click HERE and HERE
I received a sample product in exchange for an honest review. All opinions stated are my own of my free will.