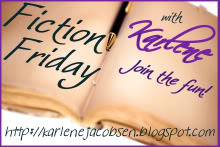 Welcome to Fiction Friday! Join us by posting your fiction work on your blog and linking below.
What's that saying, life gets in the way? My heart is driven for fiction lately and yet it's the last thing I'm doing these days. I had a story idea all week and between field trips, dodgeball tournaments and being sick, the idea is still in my head.
But…I am sharing an idea I've had for years for a fiction story based on surrender and forgiveness. I entered it for Flash Fiction with My Book Therapy (join that group!) and still haven't had time to rework the excellent points they gave me.
Here it is though: a young woman who grew up in the middle of her mother's betrayal learns her half sister discovered the same truths and runs away. Can Clari Baker forgive the past in order to help her sister Savannah do the same?
SECOND TIME AROUND
I'm pretty sure talking on a cell phone while pumping gas isn't as potentially explosive as trying to diffuse a tween half sister on the verge of running away. Savannah Parks' shrieks muffle the gas pump beeps.
"All those years I wondered what I did for you to hate me, why you refused to live with us when you had college breaks. It was never me. It was all mom."
I finish the transaction and gather my thoughts.  A dozen years of betrayal, anger and unforgiveness seem to transfer over the phone line. Savannah sounds just like I did but the stakes are harder with her.
"You're hurting sweetie, the last few months I'm sure have been hard for you. Don't worry, I'm on my way. We'll sort this through together." I push my sweaty hair out from under the phone, ready to travel. Savannah's still grumbling.
"I won't be at the house. I'm packing my things and taking the journals to Pastor Dean's. I can trust him." She ends the call and I drop the phone.
Savannah has mom's journals.
She's heading to my childhood best friend's house, my home away from home when I was growing up.
This time, Dean Welling is her childrens' pastor and I'm just another family member that let Savannah down. I pick up the phone and call my dad. His soft voice calms my growing fears.
"You remember what it was like for us to learn someone we loved didn't meet our expectations. Imagine Savannah finding out everything you did. Now add that her mother is dead and Savannah can't go directly to her to learn more."
"It's time for me to right a dozen years of heartbreaking wrongs."
"I think Clari Baker; you've joined a mission God long ago put in motion."
Your turn! Leave a comment and then add your post to Linky Tools below. I look forward to reading your story!
Powered by Linky Tools
Click here to enter your link and view this Linky Tools list…