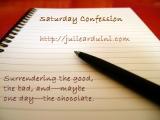 It's been awhile since I've confessed, and Saturday is the day I do it. For new readers it's not to air my laundry, it's to encourage. Because there is one thing I know—the true defeated one likes us to think we're the defeated ones. And if I can shed light on my struggles and surrender process, chances are you can relate. Together we can surrender together and find that freedom that I KNOW exists for us.
Yesterday I shared that my word for 2015 is revive. For whatever reason, God created me as a word picture girl. I learn best that way and remember better when I have a visual. This is the scenario He gave me.
Scar tissue.
I can hear Jimmy Fallon now.
"Ew."
But it works.
I had severe PCOS and in my reproductive years had multiple surgeries. Some were related to PCOS, some were C sections, one was a hysterectomy at age 38 to be functional because the pain was that bad. All good, legit reasons for surgery. They helped me.
But those good things gave me scar tissue.
And it took a surgeon to go in and clean me out. When he did, I was able to live at optimum health again.
Nothing horrific has come my way yet the scar tissue built. Some from grief or wounds I haven't dealt with from years past. Some from stress. Some from awesome things that happened but I let life overwhelm and I didn't deal with it as wisely as I could have.
So, scar tissue.
I believe 2015 for me is surrendering those areas, yes, the good, the bad, and—maybe one day—the chocolate. I want to live at the best place I can in body, mind and spirit.
And getting rid of the scar tissue for personal revival is just the thing.
Can you relate?
The word came to me in November. I was tired, burning the candle at both ends. Not recovered from the move or the stress of it. Off kilter from being vulnerable and dealing with some emotional ambushes I wasn't ready for.
I was so spent I can't say it was a prayer, but it was definitely a confession.
"I feel dead inside."
And in that moment, the word came in a whisper.
Revive.
I've searched images and combed through definitions trying to figure how this word is going to play out. And in that I've realized I need to live it out to find out.
So, stay tuned.
Tell me, what's YOUR word for 2015?
As I scratch my head in awe that 2014 is here and gone, I'm even more amazed at the ways God delivered on the words He gave me to focus and live for in the year. Because 2013 was abundance, it was awesome He gave two words for 2014.
Chosen.
Preposterous.
I knew right away chosen didn't mean I was elite or better than. It meant quite the opposite. God was ready to take a flawed mess like me and somehow use me to further His Kingdom.
Preposterous because to anyone with any smarts about them, with anything on paper—it's going to look ridiculous. All day long.
We knew 2014 would be the year we would move simply because He was asking us to trust Him to.  We packed in faith without a lot of direction. We thought we found the house only to have it fall through with deception to boot. But from that disappointment came the house God had for us all along. More than we could have asked for. A place to minister to others. Grow as a family. Take sanctuary in Him. For less money than the other house would have been that didn't offer even close to what we now have in cozy and warm. Talk about chosen. So preposterous.
2014 was the year my writing life went into turbo boost. My surrender message and a lot of chocolate took center stage as I signed off on my FaithWriter stories from years past for their anthologies. I signed a three book contract with Write Integrity Press for the Adirondack surrender romance series Entrusted, Entangled and Engaged. Entrusted is out now and I love hearing from readers that they felt like visiting the Adirondacks and that the people of Speculator Falls felt like friends.
Ministry work ebbed, flowed and transitioned to new opportunities I never would have considered. To have a voice, to be a voice that can encourage and cheer others on for youth and women of all ages.
The kids stayed strong with the move stress and marched through their school year with Passion play performances, school play debuts, Fun Arts, spelling bee, National Honor Society induction and driving.
My husband watched his employer transition with a new name. For most of the year we thought he was traveling to India. It was on, off, on, on hold, off, on, and now on hold until further notice. There might be other changes that he's up for.
What I love is these words aren't just for me. Have you prayed and asked Him what His plan is for you? He's got some pretty chosen and preposterous things for you, too.
Tomorrow—stay tuned.
I'll reveal the word He gave me to live out in 2015.