I know towards the end of summer, many people still have travel plans and a need for a good read.
I have on my tablet a load of books I want to read for enjoyment, not for writing or review, so my thought is perhaps that is your case, too.
Let's add a FREE eBook to your collection, okay?
On Friday, August 18 and Saturday, August 19, ENGAGED will be a free eBook on Amazon. Make sure to double check as glitches sometimes happen, but after 3am Eastern on the 18th, you should be good to go.
About ENGAGED:
Trish Maxwell's back in Speculator Falls with egg on her face and a lot of apologies to make. She left the mountain town for her dream job in New York City, only to come back unemployed. With no prospects, she works at her family's department store and makes amends as she finds a new passion creating window displays for Adirondack businesses. She works hard and tries to convince the people of Speculator Falls she's changed for the better.
As Trish pitches in with community events, she meets paramedic Wayne Peterson, the one man who doesn't seem to judge her. She even makes friends with Jenna Regan, who helps Trish when people demand to know what's next in Trish's life. Living in New York City has been her goal, but the more she's around Wayne and the Adirondack area, the more she's drawn to revising her plans. Just when Trish thinks the plan for her life's coming together, a second chance comes her way that could give her every career goal she's ever wanted, but threaten to tear her and Wayne apart. Can Trish surrender fears about her future and discover God's plan for her?
Although this is book 3 in a series, I believe you can read it as a standalone without confusion. However, if you would like to start from the beginning, ENTRUSTED is a free eRead at juliearduini.com, and ENTANGLED is available at a low cost. All books are available for print, AND I created a devotional ebook using the characters from this series as well as my surrender stories to help you in your surrender journey.
You can locate FINDING FREEDOM THROUGH SURRENDER here.
Feel free to spread the word to other readers. If you enjoy my books, reviews on Amazon and Goodreads are the best way. The more reviews a book has, the more Amazon makes it visible. Thank you for considering Julie Arduini books for your summer!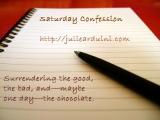 Last week we took a quick trip back to our hometown to visit family. It was the first time in awhile all four of us were together in the same car, so I was the passenger. Right away I noticed something.
There was bird poop covering quite a bit of my side of the window.
My husband was out of wiper fluid and the car wash we tried to go to was closed. We had a schedule to keep, so off we went.
I know the route. There are things I look forward to.
The barns.
The bridge.
The lake.
And everytime I looked out my side of the window, there was no beauty in anything I was glancing at.
Everything was magnified by bird poop.
Then it hit me.
When I have a bad attitude, that's my bird poop. No matter what pretty thing is before me, my attitude clouds the beauty before me. I miss a blessing because I can't get past the white mess called my attitude.
It's not a pretty visual, and neither is a bad attitude. You've been around people with the terminal grumpies. Nothing is good enough for them. Everything is bleak. And if you're honest, you can't get away from them fast enough.
Are you that kind of person?
This winter has been harsh. About two storms ago I resolved to be foul. Even on a sunny day all I could focus on was the ice. My aching wrist. Another day off from school. I missed the cardinals in the snow. Blue skies.
Don't have the mindset that is akin to bird poop when there is such a beautiful backdrop surrounding you.
That was my lesson this week.
What's yours?