I'm thankful for the twenty-five years we spent with our son, before he died by suicide. It took me a long, long time to really mean this above the pain and sorrow, and now I do! Happy birthday today to Joshua. He would have been thirty-nine.
Bio: Jean Ann Williams is a member of American Christian Fiction Writers. She writes regularly for Putting on the New blog and Book Fun Magazine on the topic of child suicide loss. Her book "God's Mercies after Suicide: Blessings Woven through a Mother's Heart" started out as a blogged book on her Love Truth site. Jean Ann and her husband of forty-seven years have thirteen grandchildren from their two remaining children. They reside on one acre in Southern Oregon where they raise a garden, fruit orchard, goats, and chickens. Jean Ann's favorite hobbies are practicing archery, hiking through the woods, and big game hunting with her bow.
CreateSpace: https://www.createspace.com/6569595
Shortlink: https://goo.gl/wju4dm
Amazon: https://www.amazon.com/Gods-Mercies-after-Suicide-Blessings/dp/0997701617/ref=tmm_pap_swatch_0?_encoding=UTF8&qid=1496152701&sr=1-1-fkmr0
I was stunned to open my Facebook feed and find it full of tributes to Robin Williams. I knew he wasn't even 65, so I wondered if it was his heart. I was devastated to read and now know it was a suicide.
His family shared that he had been struggling with deep depression. His own confessions regarded his addictions. I love to read biographies and such and most of the great comedians had ravaging inner pain. Many medicate with alcohol or drugs. All in that category used humor, and we found it entertaining.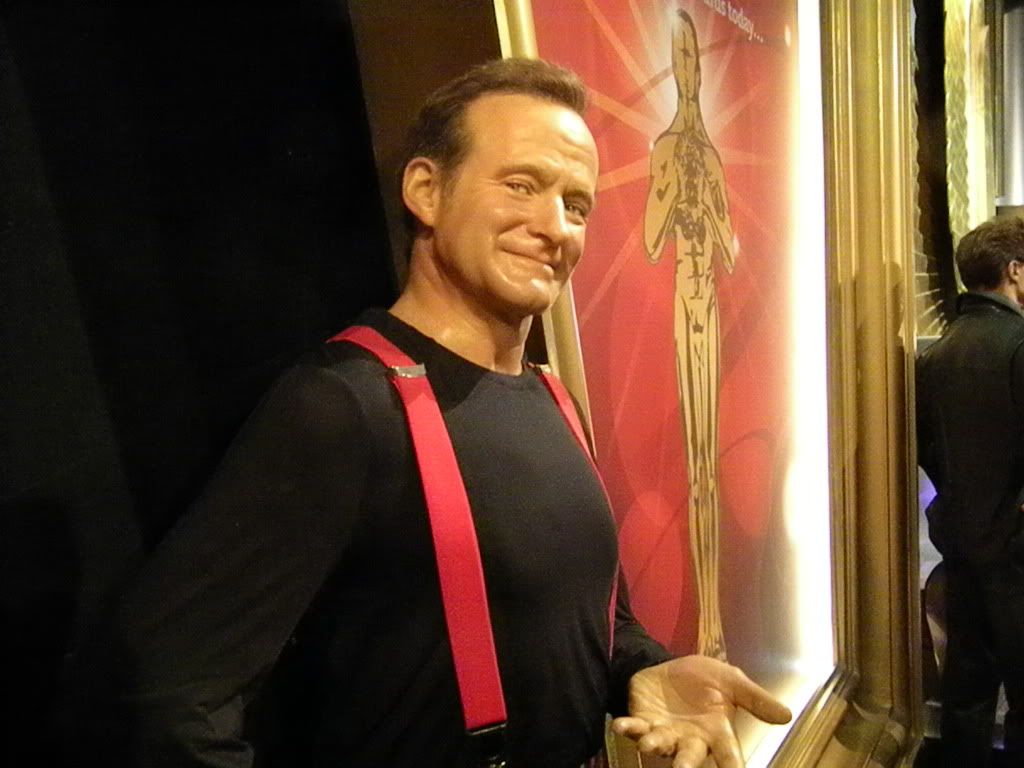 I suspect his death is especially hard because his talents knew no bounds. Hysterical stand-up. Oscar winning drama. Laugh out loud interviews he hijacked. Touching tributes to causes and people like St. Jude's. TV. Movies. I can't think of another person like him, not before, not up-and-coming.
Now my Facebook feed is full of posts, articles, updates and comments regarding depression, suicide, God's word, eternity. I don't think any of these help his family. I pray something does. I can't imagine the torment of anyone left behind after a suicide.
My hope is that through my small experience with depression someone might get a glimpse of what it is like. It took decades for me to realize I had hormonal imbalance. I suffered with severe PCOS, so I'm not sure if the two were related. But when I was in a certain time of the month I could feel a change and it was as ominous as a dark cloud and still night in the midwest. Nothing would be wrong otherwise and a thick veil of darkness consumed me. I was rocked with shame, for what, I don't know. But it perpetuated knowing people needed me. The physical drain, almost like a vaccuum suck somehow took all energy and joy out of me left it impossible to manage the easiest of tasks. It wasn't that I didn't want to. I simply could not. Like I said, it was absolutely consuming.
This would hit hard for twenty minutes straight. That doesn't seem like a lot, but I'll be real here. It was such an intense darkness that I can think of many times I got a suitcase out and started to pack. I thought if I ran somewhere, anywhere, my family would be free of what my torment delayed them in having.
Three times I can recall walking to the medicine cabinet. I picked up pills and stared. I knew what I was contemplating but I was that void of hope and that full of desperation. And yes, this was as a Christian, and a strong one at that.
I longed for someone to bust in the door when I'd hide and tell me I was worth it. Who would hold me and let me cry or ooze the darkness out in whatever way. No one did. For those closest to me, they admitted they didn't know what to do. They thought I wanted to be alone. I felt like I had no choice.
My story has a happy ending, and it is only by the grace of God. I finally broke down and confessed everything to my doctor. I now take a prescription medication that balances my moods and curbs menopause effects. Even with a hysterectomy, I still struggle. I'm upfront when I'm having a hard time. It's not as dark or isolating but I get frustrated. My memory isn't what it used to be. I have trouble sleeping. I tire easily than I used to. But it's no where near where it was.
What do I wish the world knew?
1. It's the darkest, most isolating and oppressive experience in the world. If you haven't experienced it, you shouldn't give answers as an expert.
2. It's a vicious cycle, always looming. Just when you start to crawl out of the pit, there is a tug on your ankle threatening to pull you down and keep you there. It is frightening.
3. Isolation is the game plan of oppression. Love the person, no matter how much they protest, that they are going out with you for coffee. Show up with bagels. They will say they are busy and fine. Show up anyway.
4. If you're not sure what to say, admit that. Transparency is an oasis. Patronizing, packaged answers are a wasteland. I didn't feel better when I heard "I don't know what your problem is." Or, "You just need to snap out of it." If I could have, I promise you, I would have led the way.
5. Jesus Christ CAN set you free. I admitted above that even as a Christian I struggled, so I get that you might argue why bother? Because without Him, I promise you, I'd be a dead statistic. Knowing HIm gave me enough hope to speak out, to call and seek help. I could picture Him next to me, weeping with me. That helped me so much. He is real, He is for you. Don't go another step without Him.
To learn more, please visit the following: peacewithGod.net
First appeared at Christians Read
Last week I read about retired NASCAR driver Dick Trickle's suicide. My parents dated by attending races at the Chemung Racetrack where then amateur Geoff Bodine was always put last in line to see how fast he'd get up front and win. Once married and with children our parents continued to watch NASCAR, much to my dismay at the time. But when I married and moved 7 miles away from the famed road course, Watkins Glen, I fell in love with the sport, too. Dick Trickle was beloved not just for the name that makes teens giggle, but because he drove the wheels off anything for years.
When I read about his death, he apparently had been suffering with a pain in his chest that doctors couldn't figure out what it was or what to do to alleviate the pain. It was crushing, chronic, and life-altering. You have to be pretty desperate to take the option he did. I can't imagine his suffering anymore than I can get a hold on the heartbreak for those he leaves behind.
But desperation I'm familiar with, and this isn't an easy confession. I don't know a lot of people who want to raise their hand and say I felt so out of sorts my mind conjured up fantasies where the pain could be gone. Thing is, those images never play out the consequences, and no one wins in a suicide. I so get that, and my heart breaks when I learn about a grieving family.
But for years I grew up and in a situation where hormonal imbalance dominated my thought life. When that time of the month came I could feel an emotional plunge and month by month, year by year it enhanced. By the time I was married I started hiding from my husband because the depression was so deep I was ashamed. There were times I got out a suitcase and put it on the bed thinking if I ran away I could spare him the experience. When the plunge abated I'd put the luggage back and go back downstairs and re join civilization.
It grew even worse after pregnancy, birth, and then the grief and physical change from miscarriage. For those that don't experience depression there aren't adequate words to explain what the mind does. But dark, void, hopeless and full of shame and fear were my constant companions, and trust me, they came without invitation and stayed. No one knew what to do with me. I heard from what I call Job's friends, if only I'd done this or if I were stronger in faith, I'd snap out of it.  I could feel it coming on and retreat upstairs where I would weep, I mean those wracking sobs that give you a migraine, for days. And the desperation took me to a place where I went to the medicine cabinet and picked up a bottle and thought what if.
My faith, shaky as it was back then, was just enough to hang on, even holding the bottle, but refusing to open it. And when the feeling passed, I dried my tears and rejoined society. It was in my opinion, 1000% hormonal, for me.
As I aged, physical symptoms accompanied the feelings and because my faith was stronger, I decided to ask ladies to pray and find a doctor that would hear me out. I'm not a girl that believes pill popping is society's answer to problems. Quite the opposite, actually. But for me and my situation, the doctor prescribed a daily medicine to balance me. I had a hysterectomy where we already knew I had severe polycystic ovaries, PCOS, but he found extensive endometreosis. The physical pain had been constant and life-altering. The imbalance was staggering.
And today the desperation is all but gone.
I had a short season where I believe God touched me and no medicine was needed, and it was fantastic. But for whatever reason, the situation returned, and I remain on medication. The one hormone issue I battle, especially in warm weather, is not a hot flash, but a temperature increase so sharp and all encompassing that it is evident everywhere. I have to change clothes sometimes several times. I get anxious in public when I suspect this will manifest. But that's the worst thing I deal with, and I thank God those fantasies I used to go to have been permanently shelved.
The pain Dick Trickle suffered with was physical and apparently so intense this to him was his only option. For Matthew Warren, Pastor Rick and Kay's son that recently passed away, his pain was emotional and perhaps more hidden from most people. Yet that desperation was real to both of them. It was a fantasy for a season for me.
Do I have a 1-2-3 solution for you or your loved one feeling desperate? How I wish I had an easy fix. But I will tell you taking every single thought, and for me my mind is a constant run even in sleep, to Christ made a vast difference. I am a visual person, so I had to picture myself taking my thoughts and letting them go at the foot of the Cross. That continues to help me. I picture my desperation as the devil and Jesus fighting over me. In my desperation the Holy Spirit shared with me that the devil doesn't want me to know he is the true defeated one. His job is to make me feel defeated. So when those feelings came, I took thoughts to Christ and pronounced I was not defeated. And visual as ever, I pictured it as an arm wrestle between the devil and Jesus, and Jesus wins every time.
If this post hits home for you, may your hidden pain dissipate at the foot of the cross and in the arms of Jesus. May He erase desperation and replace it with hope and joy, and of course, a healing. 
(((hugs)))