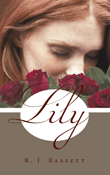 Book Description
California, 1900—Nestled in the foothills of the northern California coast, the town of Laurel Springs is home to high-spirited Lily Blair, the daughter of Rev. William Blair. Lily delights in being spoiled by her grandmother and father, and even though she lost her mother to childbirth, she glories in life itself and continuously pushes the bounds of propriety.

Having her every whim indulged as a child leads to a tough road as an adult. Lily falls in love with James Conti and wants to marry him, but James heads off to fight in the Great War, leaving Lily alone and heartbroken. When her father wants to send her off to boarding school, Lily makes yet another rash decision and marries a man she does not love.

In the ensuing years, Lily endures hardship and loss, a sharp detour from the pampered existence she once enjoyed. Yet as Lily struggles to cope with these unexpected changes, she discovers just how powerful God's love and forgiveness can be. But will it be enough to get her through the darkest days yet to come? 

Full of vivid historical detail, Lily is an emotional coming-of-age story that celebrates the strength of the human spirit.
I was intrigued by Lily immediately because B.J. Bassett did something that is considered a risk when writing a heroine: she created a character that is hard to like. Thing is, right away we understand why Lily acts the way she does, she gets away with it for good reason from her Father. And although Lily's choices had me shocked more than once throughout the book, I kept reading.
Why?
Because I couldn't stand not knowing if things were going to change in her life.
B.J. painted a hard but necessary story against a beautiful historical backdrop to show how deep redemption flows. You name it, and Lily either considered it, or did it. But a lot of her choices made her do a little thinking, and she has compassion for others. Not everyone, but it's there.
And just when you think all hope is lost, Lily sees the light.
I'm not giving more than that, because I want you to read it. The story flows at a good pace and I found the characters well-developed. I especially enjoyed James.
There are a couple words that readers might find offensive, but I believe they were put there to show the desperation of the people and their circumstances. Because bottom line, Lily is surrounded by Biblical truth, and redemption through Christ is clearly offered.
I think this is a great story for anyone who loves historicals, romance, and especially anyone who feels their choices makes them too lost or far gone for forgiveness.
I received Lily from the author in exchange for an honest review.
Yesterday I presented an interview with author Sharon Srock. Today I have a review of her women's fiction book, Callie. This is Book One in the Women of Valley View by HarbourLight, an imprint of Pelican Book Group.
I think it's natural for every woman to want to help, make a difference, be a rescuer. I also te think it's reality to have the very best of intentions and have things go horribly wrong. When it does, the urge to never help again is something I can relate to.
That's why I believe readers will enjoy Callie. She's not a college-age model as most TV characters appear, but a fifty-something grandmother with frustrations and dreams. But when tragedy strikes, Callie wants to retreat. Yet as a grandmother and Sunday School teacher, she's drawn to a young girl who looks like she needs help. Trust is a mutual thing as Callie as to trust it's worth helping and that results can be different, and for the family she encounters, they have to trust things will work out for their benefit.
In the middle of this story of friendship, grace, and healing are strong, well-developed characters that will become your friends. I especially enjoyed the interactions between Callie and her husband, Benton.
I found Callie a warm and tender read, perfect for a night by the fireplace.
Book Description:
Three dire circumstances. Three desperate prayers. One miracle to save them all. Callie Stillman is drawn to the evasive girl who's befriended her granddaughter, but the last time Callie tried to help a child, her efforts backfired. Memories of the tiny coffin still haunt her. Samantha and Iris Evans should be worried about homework, not whether they can pool enough cash to survive another week of caring for an infant while evading the authorities. Steve Evans wants a second chance at fatherhood, but his children are missing. And no one seems to want to help the former addict who deserted his family. For Steve to regain the relationship he abandoned, for his girls to receive the care they deserve, Callie must surrender her fear and rely on God to work the miracle they all need.
Readers, you are in for a treat. Sharon Srock and Harbourlight have a free PDF available for you to download that contains a glimpse of Callie. You can enjoy by clicking here.
But wait, there's more! You have a chance to win this gift basket containing:
A copy of Callie's story
A certificate for Terri's story when it releases in April
A 6 piece Cherry blossom bath set
A cosmetic bag
A Bath Wrap
A Cozy pink eye mask
A Pair of aloe infused booties
A Hair Turban
A Tennis Bracelet
A 25.00 Amazon gift card
From Sharon: "The rules are easy. For every reader that comments on my feature, they get an entry into the drawing. Please remind them to include some contact info with their comment. A winner will be drawn Monday November 19th. The items add up to well over 100.00 in value."
You can purchase Callie from Barnes and Noble, Amazon, and Pelican Book Group.
I received Callie from the author in exchange for review.
Before I start, I need YOUR thankful posts. My plan is to hand my blog over to you in November so I can write a 50,000 novel in 30 days. All you have to do is write why you are thankful. It can be funny or serious. As short as a paragraph or as long as 750 words. Send to me at juliearduini@juliearduini.com with a short bio and optional picture. Sign off as you want the world to know you (anonymous, full name, first name only…) I don't assign dates, it is first come, first served. I've run out of slots the last two years, so please send in as soon as you can. I don't have words to explain what an impact these have on everyone.
***
Today I'm sharing a true story to encourage those who thought 2012 would be amazing, and it was anything but. My point of the story is not only does God restore all the locusts have stolen, He outgives what we lost in the first place. My prayer is you know Him, not of Him, because of His Son, Jesus.
I was a junior in college, ready to transfer to a NYS school that had a great reputation nationwide. I worked in retail and was learning the duties of a third key manager. I was the one who made the actual bank drop, so I was the one holding the bag last. I assure you, I dropped the bag at the bank.
The next day the manager tried calling me in the era before cell phones. I was at the school over an hour away, so I didn't know anything was amiss until later in the day. I called as soon as I got the message and learned the bank bag was never received by the bank. Police were called and they interviewed me and the manager separately.
It didn't take long before I realized what was going on. The local police told me to fess up and tell them where the bag was. And I learned months later that the manager was in another room insinuating I had it. I was a kid, really, and a naive one. But I was also sassy and told them they were bugging an honor student when every night I try to get to my car and dodge the drug deals. I knew they weren't equipped to deal with this case, but the cards were in their hands. And they were looking at me.
The company wasn't as concerned as I was, they were able to write it off. It wasn't a huge amount, not even back then, but still. It was the mystery of it. I touched the bag last. I dropped it in. And to this day, not one person called to ask why their check never cleared.
The saga dragged on past the summer and into my new college life. I learned the state troopers wanted to give me and the manager a lie detector test. Because I was away, I went to a different barracks and met with a kind but tough as nails man who explained how the lie detector process works. I'm telling you, you can't fail purely on nerves because I was a 19 year old girl scared to death they were going to accuse me like the local police did.
I learned immediately I passed with one exception, one question. I knew. The question is do I know who might be involved.
It was then the trooper explained that for them, the focus was never on me as ringleader, but on me as naive kid being bullied by another. There was a rumor that a manager on the street we worked on was in trouble with a loan shark and needed fast money. Their eyes were on the manager, and she failed the test.
I admitted I truly didn't know, but more than one source was coming to me and telling me that the manager was pointing the finger at me.
My name was cleared. They never made arrests, and I went on with college life. Months later the company headquarters called. They wanted to give me a bonus for my trouble.
And they insisted the manager present it to me, while she got nothing.
As you can imagine, it was an awkward meeting and did not go over well. I went on to graduate and pursue a job in my field. A year plus later I was in the running for a job that sounded like a dream. I knew some of the interviewing team, and one of them called me. Did I have any enemies? I had no idea what he meant. Then he gave a name.
Turns out, she was in the running for the same job. She learned I was strongly being considered, and started a phone campaign to stop them.
At this point, I was young in faith and so full of hope. God would redeem this mess, I knew it. I just didn't know how or when.
I got the job, and part of my duties was to visit where she worked and meet with her, a different position than the retail one we had years before. I was scared, but I called her and told her this is a clean slate and I don't want trouble. We can do this, if she's willing. She said she was.
One of our mutual clients was in a home and I decided we should visit her together. She agreed, putting us in a car together. I'm chatting her ear up about Jesus, and my guess is if she could have pulled the handle on the car and jumped out, she would have. Suddenly there was a flash of lighting out of nowhere. Nothing like I had ever seen. The radio flickered, same for dashboard instruments. I kept driving.
A construction worker waved me down and asked if we were okay. I said sure. He said our car was hit by a freak lightning. He couldn't believe we were okay. Young, chatty me rambles on saying of course we're okay, Jesus Himself watches over me. I act as if my car getting hit is an everyday thing as I drive with the person who made life challenging for a season and now we're colleagues. I look over to her, and she's pale.
"I don't know what it is about you, but you always come out on top. What I did to you was awful and you never seemed upset. Now this. You have an amazing God."
Yes. Yes, I do.