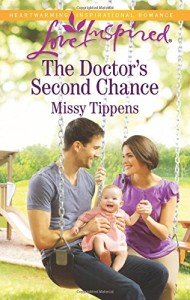 Book Description:
The Bachelor's Baby 

Jake West's troubled cousin leaves him with a most unusual parting gift—her newborn baby girl! And now the small-town contractor is forced to seek help from the very woman he resents—the new big-city pediatrician who practically stole his uncle's practice, Violet Crenshaw. Violet knows she shouldn't be consorting with the enemy. But she can't resist the adorable baby and her handsome new caretaker. Violet traded her chance at motherhood for her career years ago. But raising a family with Jake could be everything she's ever wanted.
This is one of six books sent to me from the Love Inspired Line as part of their Mother's Day promotion. The books are on sale from April 21-May 28.
BONUS:
The Doctor's Second Chance wastes no time starting the story with action and conflict. Jake's a bachelor's bachelor with work deadlines when his troubled cousin leaves her baby with him with little hope she plans to return. Jake has no idea how to handle a baby. Not even how to feed or place one in a car seat. He's so desperate he has to visit the doctor he let the community know hurt his uncle and aunt in a business transaction.
Violet's hurt that Jake worked so hard to damage her reputation but she's focused on setting up a good practice. When he comes in with a baby in tow she has to set aside her anger and help. What she doesn't count on is finding reasons to keep visiting. Both Abigail and Jake mean a lot to her.
But a lot of mystery surrounds Jake's cousin and they all might be in danger. And Violet has a secret that no matter how many times Jake tries to understand her background, she's not willing to share the details. Will they overcome the obstacles?
I loved The Doctor's Second Chance. The author did an amazing job creating a hero to root for. Jake wants to keep his promise to his cousin but he's not equipped. Jake's compassionate and the transition Jake and Violet go through from enemies to friends is a natural one. Violet also is compassionate despite her desire to stay business-minded. I really enjoyed their journey. This was a fast read and an entertaining one. I think you'll agree.
To purchase The Doctor's Second Chance, click here.
I received The Doctor's Second Chance from the publisher in exchange for an honest review.
Tags: author, baby, book review, doctor, fiction, Harlequin, Julie Arduini, Love Inspired, Missy Tippens, redemption, romance, The Doctor's Second Chance
About Me:

Wife. Mom. Author. Reader. Blogger. Amateur nature photographer. Chocolate eater. Encouraging you to surrender the good, the bad, and---maybe one day---the chocolate.

Find me across social media @JulieArduini, and follow me on my Amazon Author Page.

Where Else You Can Find Me

Step Into the Light Blog Talk Radio Show


Contributor: Jasmine's Place

Contributor: Patient Worthy

iRun4
Rare Mom

Every Other Wednesday: Christians Read

Surrendering Time Series & Recent Releases

Join the Fun

Member

Archives