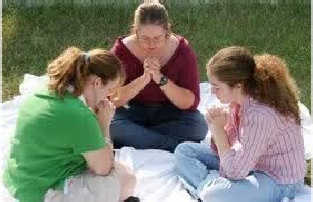 This is a re-post from May 2011, the Saturday before Mother's Day.
Tomorrow can range in several scenarios.  I remember as a kid riding down a country road seeing a woman pushing a lawnmower. She looked hot and tired and what I remember the most was who was watching—a man I guessed to be her husband.  As a child I thought why should she be doing that? Isn't it Mother's Day?
I also remember watching church services where moms were given hyacinths and carnations, books and Bibles to celebrate their motherhood. During some of those services I was single. Some of them I was married and a mom. But the ones that stand out most of all were the times I was infertile.
Maybe that's you. I know there aren't perfect words to give you because as well meaning as so many tried, nothing they said helped me forget a moment that I wanted to be a mom accepting the church gifts on Mother's Day.  I detest patronizing cliches and believe it or not, I'm not a fan of Bible verses thrown my way in those moments either.  I know the Bible, I knew those verses and they felt like salt on the wound.
What I hope to give is my story.  My story is just me, no one special, definitely not perfect. I couldn't pay my way to a different circumstance. What I had that you can have is to believe God. No matter what your outcome is, believe God.
I learned in 1995 I had polycystic ovaries, PCOS. This is an endocrine disorder that can render infertility and this was something my doctor spent a lot of time sharing with me. The ironic thing was prior to that appointment, being a mom wasn't a big goal on my list. Yet I'd recently met the man I knew was going to be my husband and the minute being a mom was taken off the screen, it was the one thing I wanted.
My case wasn't typical. Beyond having irregular periods I had chronic pelvic pain. My newlywed days were spent going to work and then right to bed. It was hard and there were a lot of tears. My hormones flew all over the place so it was a difficult time. I was fairly new in faith so I felt punished by God.
Now I get I was blessed.
Yes, blessed.
I did all the things a confused infertility patient would do.
I obsessed online with all the groups, medical forums, trying to conceive loops, the whole shebang. The keyword here isn't shebang, it is obsessed. I let those websites become my Bible and I took their words as promises. I cried when I saw families and I felt a heavy, heavy ache those church services that honored Mother's Day.
If that's you, you're human. I've been there.  What will make you blessed is to leave there. It's a pity rut that is impossible on your own strength to dig out of.
Your story might not have the same variables as mine. If you've read anything of mine for a time you know I am a mom. I have two kids. Blessed?  Absolutely. How did I get there?
Medically I had a wedge resection, a procedure not done much anymore that took half of each ovary out. Turns out my ovaries were five times the size of normal. Taking them out that way enhanced my chances to conceive when I thought in prayer when I surrendered my fertility it meant saying goodbye to any biological chance. I felt better immediately and I was pregnant in less than a year.
The blessing was He equipped me to believe Him. I'm not a gal who trusts anyone easily, especially my Heavenly Father. Yet surrendering the dream of my heart was the biggest thing I could give Him. I totally meant it when I told Him I was on His team no matter what. I know He desired to make me a mom and I am very grateful.  What makes me blessed, I believe, is I would still love and trust Him even if He had not. Only God can put that kind of faith in someone like me.
By giving me impossible circumstances and the power for me to believe Him, He calls on me to believe big for others. I don't always know the outcome, I rarely do. But time after time He'll have me stand up and proclaim He's faithful and that they can not just survive this thing, but thrive…in Jesus' name. I've watched people become pregnant with God's promises against all odds and what set them apart is they believed God…especially if it didn't go the way they wanted.
That's blessed.
This is a post I've tackled before but I've switched my blog server around enough that it's something I thought I'd revisit.
Earlier this month I confessed that I used to hate January 2nd. One year I had a $12,000 car accident while 10 weeks into a high risk pregnancy. Four years later, I learned on January 2 day I miscarried.
Last year I wrote about how it took me a long time to not judge those who ended their pregnancies by choice. I realize that's something that affects ever one in four women, and on the other side of my grief I understand how many women hurt from that loss. I've yet to meet one woman who jumps for joy and exclaims how glad they are that they had an abortion.
But today I'm going to tackle my miscarriage experience. I believe someone out there will read this at just the right time for them, and pray my post helps in some small way.
As I mentioned on January 2, my miscarriage started during worship time at church on New Year's Eve day. I was an infertility/high risk patient because of PCOS, and had a 30 month old at home. I was so sick during that first pregnancy, and although everyone told me each pregnancy differed, deep down I knew something was wrong from the get-go. I refused to utter it, afraid if I said it, it would come true. Instead, I asked for prayer.
The ER wouldn't confirm it, instead telling me to wait until the doctor's office opened at the beginning of the new year. My doctor brought me right in, in fact I was the first ultrasound of their 2001. It didn't take long for his optimism turn. The progesterone I took to maintain the pregnancy was also why the miscarriage wasn't showing many physical symptoms. He told me to stop the progesterone and let nature take its course. He gave his condolences, gave me brochures, and scheduled a follow up appointment.
I remember at the time being strong because the office was so sad. I encouraged them and stood tall as I walked out. I was alone because my husband stayed home to watch our son. When I turned on the ignition I heard My Redeemer Lives and the phrase Let Everything that Has Breath Praise the Lord.
I barely made it two steps inside our home when I announced the news, and collapsed into his arms. I don't know how long I cried, but I did.
The crying didn't stop for a year.
But that first night I remember needing to attend my brother-in-law's birthday. Everyone said they would understand if I didn't go, but we felt like we should. Right before we left our pastor called and offered to come over. My husband answered the call and said it was okay, no need. After all, "We have peace about this."
That's when my anger began.
And lasted for a year.
The physical discomfort was there, but all these years later it's still the onslaught of emotions. I was scared because I didn't know what to physically expect and it was still, in my opinion, one of those issues you weren't supposed to talk about. Because of that, I was anxious about what to do when the baby literally passed. Would I recognize what we believed to be our daughter? I was still in the first trimester. This really upset me.
When the time came, I was beside myself. I had no idea what to do and felt like I had no one to talk to.
So I wrapped what I found, small as it was, and kept wrapping, hoping I was being respectful and having a burial of sorts. I hid my wrapping for awhile, still not sure what to do. I don't know how long I hid everything, but it was a long time. And when I felt the time was right, I took care of the wrapping in a way I felt was respectful and permanent.
Yet—much longer I held onto the cards, letters, articles, notes, and anything that came from that time. I printed all the e-mails. In fact, I still have the box. I wrapped it in pink baby wrapping and everything went in there. Everything. From the congratulations cards when we first announced to the test I had in a baggie to all the cards before and after. In time I let go of the test and probably the cards from the beginning, but I still have the box. I don't open it anymore, but I know where it is. That 30 month old is now 13 and a few months ago he learned of the miscarriage. I let him know where the box is and we could look at it anytime, or not.
For too long I held onto the anger. For those that have miscarried, they get it. Wal*Mart tempted me in ways I didn't think possible. I'd see parents slap their young children. Call them the "f" word. Scream at them. I can't tell you how many times I had to leave the store before I accosted the parents in anger. Justice felt so foreign to me I was certain if I took action, I'd end up in jail, not the parents.
I was angry at teenagers for their pregnancies and my blanket judgement that they were all clueless and undeserving. Big families? Same thoughts. They met their quota, it was someone else's turn who deserved to be pregnant. Namely, me.
I reserved my deepest seething grudge for my husband. How dare he speak for me, tell our pastor that "we" had peace? We did not. What I didn't know was right away God gave him a vision of what the baby's condition was. Her care would have been constant, her pain great. My husband totally got that God is God, and even if we didn't understand this, we needed to trust Him. I didn't get that same vision for years.
How did I not become an angry person for life? By His grace, that's for sure. He let me know if I kept this up, I was doing nothing but "spinning my tires." Oh how I spun. When it seemed like I'd spin into isolation, furious at the world, my best friend since kindergarten stepped in. I rebuffed her offers for playdates, or for her to come to me. She finally gave a date and time and told me to be there. When I arrived, she let me know I had an hour to speak my mind-say everything, no matter how profane,  just get it out. God could handle it. He already knew. So just stop hiding it and let it out.
So I did.
In those 60 minutes, I aired everything growing in my heart, and by speaking it, I grew lighter. When I was done, she led me in prayer for forgiveness, healing, and restoration.
It was amazing.
The process was slow, but I was done spinning tires. In a matter of months I started attending a study at church, and on my own began the Believing God study by Beth Moore. The church study helped me continue to surrender, and there was significant growth in my faith. The Beth Moore study was online with thousands around the world. Toward the end of the study she gave a call to picture our mountain, and watch it crumble. I activated a stomp as I sat in the computer chair, and I could see a huge mountainous boulder turn to little pebbles that I stepped over.
I knew I was free.
At the end of the study I told God I still wanted to know the medical reason behind the miscarriage. I knew He had every right not to share that with me, but if that was the case, I needed Him to take my longing to know away. A month after the study I learned I had an undetected infection. I was told that yes, that definitely could have been the reason. I took an antibiotic.
A month later, I was pregnant.
If you're spinning your tires, please know if I could reach across the screen and hug you, I would. I'd tell you that you had an hour to spill it, and nothing would offend me, and that Your Heavenly Father's shoulders can take it. And then I'd start a prayer and I'd believe God this would be the beginning of the healing process for you. One that would refine you and make you stronger than ever. The same? No. Will you ever forget? No, I haven't. But I get it.
And one day, I think you will, too.
((((hugs))))
Saturday I enjoy sharing my Character Confession courtesy of Noelle Mena at Pliable in His Hands. Read on to read my confession. This is a new server/site resdesign so if you like what you see here please follow and/or subscribe. I appreciate it. Oh, and Monday is my DVD and book review for Lysa TerKeurst's Made to Crave. You're invited!