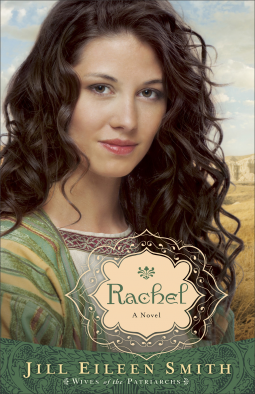 Can true love overcome a legacy of betrayal?

Rachel wants nothing more than for her older half sister Leah to wed and move out of their household. Leah wishes her father would find a good man who would love her alone. Unbeknownst to either of them, Jacob is making his way to their home, trying to escape a past laced with deceit and find the future God has promised him.

But the past comes back to haunt Jacob when he finds himself on the receiving end of treachery. The man who wanted only one woman ends up with sisters who have never gotten along and now must spend the rest of their lives sharing a husband. In the power struggles that follow, only one woman will triumph . . . or will she?

Combining meticulous research with her own imaginings, bestselling author Jill Eileen Smith not only tells one of the most famous love stories of all time but will manage to surprise even those who think they know the story inside and out.

Jill Eileen Smith once again delivers a heartbreaking and comprehensive look at another woman's story from the Bible. This time it's Rachel. This book transported me back to the days of Rachel, Jacob, and Leah. I could hear the sheep. Smell dinner. See the emotions between the two sisters who are pitted against each other when their father decides to marry Leah to Jacob, even though it is Rachel he loves. When Rachel is allowed to marry, it brings about a competition for his affections.

This is fiction, but it's obvious so much research went into this story. These characters come alive and their story becomes multi dimensional as we're allowed a peak as readers as to what this must have been like for the three. Jacob just wishing there could be peace. Leah delivering her first child and wishing it would be the key to making Jacob love her. Rachel enjoying the passion her and her husband share, but longing for it to be just them every night. It's heartbreaking, and mesmerizing all at the same time.

If you love Biblical/history, you'll enjoy this. If you love romance, you'll want to read this. And if you crave a story that picks you up and takes you back in time to witness love, jealousy, conflict, and family, Rachel is a must read.

To purchase Rachel, click here.

I received Rachel from the publisher in exchange for an honest review.

***

Have you signed up for the Julie Arduini newsletter? On February 14th subscribers receive the first installment of my contemporary romance, Match Made in Heaven.

Beth Prescott realizes there's more to her new job with the Hammondsport senior citizens when her clients keep trying to match her with their grandsons. She wants to excel at her job and push past the memories of a bad romance.

Dean Kellerman returns to the area to help his grandfather and forget his mistakes.

The two run into each other and find the only thing they have in common is Walt Kellerman. As they work together can they enjoy a friendship, or, will their secrets divide them once and for all?

Visit juliearduini.com and sign up through the right sidebar. Make sure you activate by looking for the email from Julie Arduini/Mailchimp
"Eat Like Jesus" offers a simple, scientific, and comprehensive Bible-based dining theology, examining and explaining what the Bible teaches about food and eating. 

Drawing heavily from the Bible texts, "Eat Like Jesus" puts food-related topics such as veganism, kosher diets, cleansing rituals, and animal physiology (including diet, hygiene, diseases, etc.) into proper perspective, harmonizing New Testament accounts of Jesus, Peter, and Paul with Old Testament teachings of Moses. 

"Eat Like Jesus" uniquely reveals why the first law in the Garden of Eden was dietary, why Noah took extra pairs of certain animal species into the Ark, what kind of animals did Peter saw in his vision, and what Jesus really meant as he "called all foods clean".

Eat Like Jesus is a book dedicated to the Scriptures and what they say about food. From clean and unclean to Moses to the Garden of Eden, Andrew L. Hoy is passionate about going through the Scriptures and offering a look at Kosher Christianity.

I was impressed with the research that went into this book. It is full of Biblical history and different translations. One of the charts explains different verses and looks at it from a Kosher Christianity vs a Dispensational Christianity perspective.

It's so well researched and presented I found this to be more of an academic book than one a casual reader interested in a Biblical based diet might be. I think if someone is looking for a bottom line of what foods they should and should not eat based on Kosher Christianity, they might be frustrated to find the information they are looking for. However, for a Bible student hungry for a book full of God's Word and thoughts on food, this is a perfect read.

To purchase What Would Jesus Eat, click here.

To learn more, visit here.

I received a .pdf from the author in exchange for an honest review.