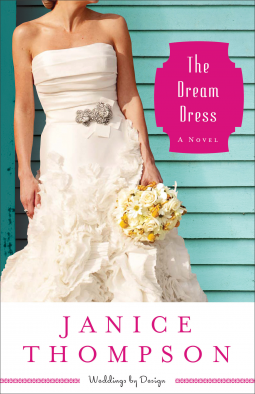 Book Description:

A seamstress at a swanky bridal boutique, Gabi Delgado dreams of doing more than ripping out seams and fitting dresses to doe-eyed brides. She wants to see her own dress designs gracing the young women of Texas. When Jordan Spencer, the editor of Texas Bride magazine visits the shop to do a feature, Gabi is devastated to lose her job in his very influential presence. Convinced she'll never get her dreams off the ground now, Gabi needs lots of encouragement–especially from her friend Bella Neeley–to take a chance and start her business. And as she gets to know Jordan, she discovers that she may have to take a chance on love as well. Could it be that she'll have to design her own wedding dress soon?
As always, Janice Thompson delivers fun, laughter, and romance as she takes readers back to Galveston, Texas, to spend more time with their favorite quirky characters along with fabulous new ones.
The Dream Dress contained everything I love in a book. As always, there was humor through rich characters you wish could be your friends. There is romance, and in this case, Jordan is so romantic, he is swoon-worthy. There are the people you root for like Mimi-Carmen, Gabi, Jordan, Scarlett and Bella. There are the people you want to smack, like Demetri. And as only Janice Thompson can, she blends it all beautifully, complete with stories from the Bible that perfectly complement the story without being preachy.
The Dream Dress is a winner because I think a lot of readers can relate to Gabi. Childhood was less than ideal. Rejection is strong enough that she keeps her dreams to herself. A perfect man? They go out with everyone else, but not her. The Dream Dress takes the reader through Gabi's journey, and what I love is this can be our experience too. Gabi learns to trust. Forgive. Find friends. Love. A purpose that makes her want to get up every morning.
As a fan of the Weddings by Design, I loved "seeing" Bella and Scarlett again. Gabi keeps up and shines in their company. But I believe The Dream Dress stands on its own. But for your sake, find everything of Janice Thompson's, especially the Bella and Wedding books and enjoy.
To purchase The Dream Dress, click here.
I received The Dream Dress from NetGalley/publisher in exchange for an honest review.