I love to chat. Food. Current Events. Sports. What Jimmy Fallon did last night on The Tonight Show. What God's showing me.
But sometimes I have to bring up discussion that's more business related. I struggled with that for a long time but realized if I don't talk about my writing and where to find it, there isn't an opportunity to share resources God has for you to live free in Christ.
So that's a talk I need to bring to you today. A bit of writing stuff is going on, and I want to let you know about it. If you want to tell others, I'd love that.
Match Made in Heaven. It's not too late to join other Julie Arduini newsletter subscribers as they follow Beth Prescott and Dean Kellerman in Match Made in Heaven. It's my contemporary romance that offers surrender issues, chocolate, and the Finger Lakes setting of Hammondsport, NY. The April issue offers archive links to previous installments as well as the current one. Subscribe for free in the right sidebar at juliearduini.com and watch your inbox for activation.
Rose Blooms. This short story is one you can vote on, and I hope you do. My plan is to expand it this November as part of NaNoWriMo and write a rough draft as part of a new Finger Lakes contemporary romance series. Read and vote here.
To Write a Story. Valerie Comer was kind enough to let me stop by and share my plotting resources. If you wonder what goes on with fiction creation, read my process here.
Jasmine's Place. Have you discovered the beautiful thing that is Jasmine's Place? It's an e-zine for women filled with articles and interviews on family, beauty, fashion, faith, cooking, and more. The publishers have been so kind to allow me to participate with each issue. I've been interviewed, wrote articles, shared short stories, and created blurbs. This is an international project and one I'm very proud to work with.
Christians Read. Did you know I blog every other Wednesday with Vicki Hinze, Kathi Macias, Sarah Goebel, James Rubart, Hannah Alexander, Maureen Lang, Beth Goddard, Tara Randel, Lynette Sowell, Yvonne Lehman, Kristen Heitzmann? Now Christians Read has a website, and I hope you bookmark it. You can read my posts, too.
Coming Soon. A couple years or so ago, a few of my FaithWriter challenge entries placed and were eligible to be part of the FaithWriter anthologies. The anthologies are taking shape so I'll keep you updated. I'm also working with a group of authors on a project that will encourage a segment of women who could use the support. I should have news on that  front, too. Stay tuned!
I have a confession.
For the longest time, I didn't know what dystopian meant. But freedictionary.com defines dystopia as this:
An imaginary place or state in which the condition of life is extremely bad, as from deprivation, oppression, or terror.
So when Peter R. Stone contacted me to let me know his novel, Forager, is now available, I knew what kind of novel he'd written.
And Dystopian is a hot genre to be reading right now. Thank you, Hunger Games.
I know Peter from FaithWriters and I let him know that I'd let you know Forager is available. Young adults especially love novels like this, and they are typically hard to buy for. So let this be an idea for Christmas.
Here's what Forager is about.
Eighteen-year-old Ethan Jones lives in Newhome, a town built upon the decaying ruins of post-apocalyptic Melbourne, ruins haunted by the ferocious Skel, a nomadic tribe of degenerate savages.

The Skel are ramping up their attacks on Newhome's foraging teams and infesting Melbourne's ruins in ever greater numbers. Is this part of a larger plan that could spell the town's doom?

Meanwhile, the last thing Ethan expects when he and his companions rescue a two-car convoy from the Skel is a Japanese teenage girl with an outlandish dress-sense, who after they take her back to Newhome, goes to great lengths to ingratiate herself into his life. But is it in gratitude for saving her life or is she seeking something more?

And what a quandry she places him in, for he knows the rules, that no man is permitted to be alone with an unmarried woman. But how can he drive such a gentle soul away when she touchs his heart so deeply, even though she clearly carries the pain of a broken heart.

At the same time, Newhome's police force, the Custodians, are suspicious of Ethan's foraging team's successes and are pulling out the stops to find out which member of his team has the illegal mutant ability that gives them an edge over the other teams. Should these peacekeepers discover Ethanis the mutant they seek, they will haul him away and dissect him like a frog.
To purchase on Kindle or a Kindle app, click here.
To purchase Forager as a paperback, click here.
To preview the first four chapters, click here.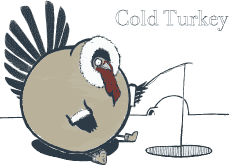 Cold Turkey
We use the expression to describe a sudden cessation of a bad habit. We resolve to quit smoking, drinking of alcoholic beverages or other addictive behavior. Bravely, we decide to go it on our own, declining outside assistance of support systems or medications to take the edge off the withdrawal. "I think I can, I think I can!"
Turkey and Thanksgiving are partners in time. The traditional family Thanksgiving dinner features the fowl and stuffing with all the trimmings. The aroma of basted baked birds tantalizes our appetites, and we can hardly wait to gather around the table to view carving of the golden browned center of attraction.
What do we do with leftovers? Is cold turkey something merely endured until a skeleton remains on a spacious platter? Maybe cold foreshadows our feeling of sadness at the realization that another family gathering has passed and mundane routines will return.
Our attitude of gratitude must never grow cold. We do not receive bountiful blessings by picking leftovers from a dead carcass. The resurrected Lord sustains life and through His gift of grace dishes out trimmings of unexpected joy and fulfillment. I come to Him daily with a hearty appetite, knowing He desires to fill me with His Holy Spirit. Thanksgiving is not a tip on a plate; it is praise on my lips!
"Let your lives overflow with joy and thanksgiving for all he has done (Colossians 2:7b The Living Bible)."
With God all things are possible!
Wing His Words Pam Ford Davis
Available now in book store: FORGET-ME-NOT DAILY DEVOTIONAL:  http://ebooks.faithwriters.com/ebook-details.php?id=520
http://www.teapottestimony.vpweb.com
http://www.faithwriters.com/member-profile.php?id=40416
http://pamforddavis.wordpress.com/about
Article Source: http://www.faithwriters.com-CHRISTIAN WRITERS
pamteapottestimony13@live.com
Freelance writer, wife, mother and grandmother.
Background as radio and television personality.
Collector of teapots and church hymnals.
Published articles in Christian magazines and devotional books.