Hi! Remember me? I'm the author of this blog. It's been so long I feel like I need to re-introduce myself. I look like this:
This blog was my first, my baby, the one writing vessel I clung tightly to as I sought publication. In the last couple years as I followed God's call to have my own writing and speaking ministry (and released four books,) this little blog hasn't featured my own voice for a long time.
And I hate that.
I miss it.
I hope to catch you up with this post, and most importantly, kick off what I think might be the 10th year of the thankful series here at juliearduini.com. Each November I hand the blog over to anyone wishing to share why they are thankful. There are some great guest bloggers lined up with amazing gratitude. I don't know about you, but I feel this is a critical juncture at this time, in this world.
I need to hear positive words. Encouragement. Affirmation. Thankfulness.
Why not start here?
If you aren't subscribed to the blog, click to the right sidebar and you will be able to receive the posts to your inbox. You don't want to miss the thankful series, trust me!
This year hasn't been horrible, but it's been hard. I figured I'd be thankful for the good, the bad, and the ugly.
Let's go.
THE GOOD
We have two grandsons! They both live in the same state (sadly, not the state we live in,) and are very close in age. It's going to be so much fun watching them grow up together.
Our daughter is thriving. She has braces, she is on student council, and bouncing back after a brutal 7th grade experience.
Our son is doing well as a sophomore at Kent State. This semester he's 100% online, and that's been such a blessing for me with various projects.
We have a wonderful family living in our rental property. God did an amazing thing orchestrating it.
I finished the Surrendering Time series, and am grateful for the readers who have been transformed by the surrender messages.
I received an invitation to join Inspy Romance, and love being a monthly blogger with them.
I created a community of encouragement called 180 Encouragements. For us, we pick a slip each school day and start it with words of life. It's also for anyone else to take the images/words and encourage someone else.
THE BAD
My word for the year is transformation and I never thought I'd see so much change hit so fast and hard. Our son saw so much change with friendships, school, and work. What was hard to watch was knowing he'd done all the right things. It was Christ refining him, growing him. As a mom, it was tough to observe.
As I mentioned, our daughter did not have a great 7th grade year. Like her brother, she was doing the right things and there were key people around her who destroyed the joy she so naturally carried.
Car repairs. My husband's retirement was on the table as something to talk about with a timeline. Then the transmission on his car went. The repairs were crushing. Our son's car had a major repair that was a fire hazard, and the dealer really could have cared less when I brought it to their attention, making us pay $200 more than they quoted, and that quote was outrageous. Retirement? We can't even afford for him to talk about it anymore.
We had a situation where we trusted and got burned. It was a financial gift that was a sacrifice for us that cost us thousands in the end. More than that, it paralyzed us from trusting for a bit. It forced us to work on restoring property we didn't have time or money to invest, but we had to. Things we lent that were nearly or brand new were lost or destroyed.
THE UGLY
Not even a week into the new year and we learned that our friend's three year old daughter was taken from them through the actions of a refugee who received her license although she can't speak or read English. Before this tragedy, she had already been cited for driving down the wrong way. In this instance she hit both the girl's father, and the girl, while her friends from pre school witnessed it. The driver was not cited, and last I knew, has her license and is still driving. I don't want to be political, but I will be real—this aspect of the refugee debate has not been discussed, and it is a real issue. No one should have to attend a funeral for a child. No. One.
All the changes with the kids took me to a new place I had not known outside of hormone imbalance, anxiety. I feared new situations for them and wanted to be one step ahead. I wanted to take their pain and wrap it in a ball and throw it all away. I yearned to talk to the people who hurt them, intentional or not, I wanted to have the last word. I was exhausted even after sleeping, craved sugary foods again, and felt like I backtracked in health progress from last year.
So many tragedies this year. Hurricanes. Earthquakes. Terrorism. Division. Ugly isn't a strong enough word.
It's hard to be thankful for the bad and the ugly, but as much as I can be for these hard and even terrible things, I am. With the kids, I had to lean on God and trust Him. Instead of acting on my temptations, I was able to wait on God and watch Him work wonders. And He is. I still have a quick seize of fear when something new or shocking comes our way, but my time is shorter in surrendering that fear to Him instead of trying to tackle it for myself.
With our friends, they are grieving, understandably. I am thankful to see they have a very strong support system. They created a page on Facebook encouraging people to do acts of Kindness in Regan's memory. Their goal is for her not to be forgotten. There is also space dedicated to Regan at The Wild Animal Park in Chittenago, New York. Families can now have a seat and photo opportunities at a place Regan loved. Many people came together to make this happen. Recently, people are painting rocks and hiding them as another way to honor and remember her. These are ways to make the goal a reality, and help her family.
These days, it's hard to be thankful. I haven't met anyone this year who has boasted of a perfect life. There is hurt and hardship everywhere. Thankfulness makes a difference and is a choice. I pray the posts throughout this month lift you up.
Just like you have for me.
Humble Thyself: 7 Steps to Resolve Conflict
By Susan K. Stewart
A recent undercurrent of discontent infected our congregation. I'd developed a terrible attitude about the situation, and I sat trying to be attentive for the sermon titled: Resolution: The Mathew Solution. I missed it.
During the following week, God led me to James 4:7-10. My heart opened to the clear steps to resolving conflict.
No matter the circumstances, submit to God. Ask for his wisdom to see the truth, not the colored viewpoint of humans. Be willing to follow him … wherever it may lead.
As we submit to God, we resist the devil. But the attacks will continue during the peacemaking process. Satan wants to convince us we aren't at fault and that following God's way is troublesome, a lot of work, and a hindrance to the outcome we want.
The more we resist the devil, the closer we draw near to God. As we move closer to him, the better able we are to resist the devil, remove our own desires and submit to his.
We've become ingrained with Mt. 18—go to the one who has sinned against you. Instead we should be looking at our own sin. "First take the log out of your own eye" (Mt. 7:5 NASB). We need to face our own sin before we confront anyone else's.
The goal of conflict resolution is reconciliation with God. To approach a solution to the friction, our own hearts need to be clean. This is done by seeking to please God, not other people. Not everyone will be happy, but God will be delighted.
Be miserable and mourn and weep
Sin is the root of strife and we should be saddened and repentant. As we submit to God's authority and purify our hearts, we come to realize how destructive our own sin is in the conflict.
Humility isn't weakness; it's the opposite of pride and admits we can do nothing on our own. When pride takes hold, we think we have the solution to any problem. But only God is the true peacemaker.
The next time conflict resolution is the topic, remember James's steps to peacemaking. Resolve the strife in yourself, and then you'll be prepared to help others.
Is there a conflict in your life? How will you follow James's steps to resolve it?
ABOUT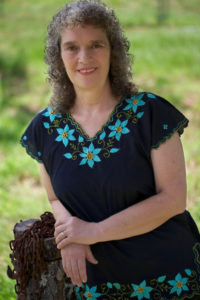 When she's not tending chickens and donkeys, Susan K. Stewart teaches, writes, and edits non-fiction. Susan's passion is to inspire readers and listeners with practical, real-world solutions. Her books include Science in the Kitchen and Preschool: At What Cost? and the award-winning Formatting e-Books for Writers. Contact Susan to speak to your group her website www.practicalinspirations.com.
Each year I share where I was when I first learned that we were a country under attack. For new readers, I was a work-from-home mom with a three year old who slept in late that morning. I was working when my sister messaged me.
Had I seen the news?
I lived in Upstate NY at the time and I was in shock like everyone else.
Although the devastation was beyond words, I saw some positive news from people who took the attacks as a wake up call.
Some married the person they had taken for granted.
Some went out and chased a dream instead of a dead-end job.
Some surrendered grudges.
Some realized the world didn't offer anything lasting and decided they wanted eternal security that Christ offers.
Great things in such a horrific period of time.
What sent me from shock to grief was how fast everyone forgot and went back to business as usual. Whether weeks, months or a few years after, the marriages ended. Unforgiveness ruled hearts. Negativity and division attacked our nation without pause.
As I reflect on the lives lost, the financial and health woes, the images the media will bring back that haunt and bring deep emotion, I grieve deeply.
We have children trying to kill parents.
An organization selling aborted baby parts.
A terrorist group spreading evil and fear through acts too graphic to mention.
An economy that's limping at best.
Politicians voting based on who lines their pocket.
"Church" group forgetting Christ when they demonstrate at funerals.
Core values and the Bible mocked when not long ago they were respected, if not outright lived on a daily basis.
Widows, orphans, homeless, the addicted, those with a different opinion ignored or abused.
This September 11th, reflect on where you were and any vows you made to change for the better. Where are you now? Are you part of the solution, or the problem?
Forgive us, Lord, for the way we've destroyed this nation with our selfish ways. May we experience an awakening from You that no one and no thing can stop. That jails would be empty because there would be no crime. Hospices would close. Unemployment lines would be short and non existent. Only You can change the course of this country. Despite our failures, please heal this land. In Christ's power, Amen.