Leaves changing color.
Pumpkin flavored everything.
Book Clubs starting new reads.
That's a great sounding fall, isn't it?
I can help you connect with a great book club because one starts Thursday. The best news? You don't need to leave home nor worry about others coming to you. Wear your sweats, visit when you can. Most of all, enjoy a fun romance that introduces you to a great set of characters who are working through surrendering fear, loss, change, and wanting to belong.
How do I know so much about this book club? It's the Books for Life group page on Goodreads featuring authors from Write Integrity Press and Pix-N-Pens as well as other authors and readers all over cyberspace. The book club is one aspect of the group. We have discussions covering many reading related topics. Genres, favorite heroes, and more.
The Books for Life book club kicks off with Entrusted, my Adirondack romance. Each Thursday I'll post discussion questions that you can answer any time. I'll be checking in often to answer and hope you do, too.  Then, meet me on the page each Thursday at 8pm EST and we'll talk about the chapters and I'll share behind-the-scenes information. I'm really looking forward to it. Even if you haven't read the chapters, please visit the page. I think we'll have a good time.
Purchase links and the reading schedule are posted. Go on over, introduce yourself, and I'll see you Thursday!
Entrusted Blurb:
Jenna Anderson, sassy city-girl, plows—literally—into Speculator Falls with a busted GPS, arriving in town as the new senior center director. She has only one goal—that of belonging no matter how out of place she appears and how angry she makes town councilman and grocer Ben Regan.

Her new life is so rural there are no traffic lights, and when she learns her car isn't equipped to handle the mountain terrain, Ben's grandmother offers her late husband's vehicle, further alienating the local businessman.

As she endears herself to the seniors at the center and creates a vision full of ideas, programs, and equipment, she ruffles Ben's plans to keep Speculator Falls void of change, including the store his grandfather built.

The two work through community events and shared heartbreak only to face off in a town council meeting where Ben publically rejects her proposal for the senior center, causing Jenna to react out of her fears about belonging.

She returns to Ohio where she realizes she needs to surrender her plans for the center and fears about belonging and trust her Heavenly Father when facing fear, change, loss, and love.  
Click here to visit the Books for Life group page.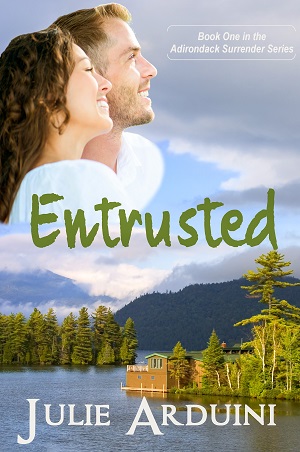 This is the worst kept secret confession.
I'm an introvert.
I love public speaking and big groups are a pleasure to speak to. However, they drain me. It takes me days to recover. At parties I'd rather bring a Kindle and have you approach me, but not for long.
If you define yourself as high maintenance, chances are I will shy away.
It's just who I am.
Imagine my glee to learn I don't have to, I get to facilitate a book club—online!
An introvert's dream.
We can wear pajamas!
We can have chocolate smeared on our faces!
And still connect with amazing people.
Starting Thursday, September 17, the Books for Life Book Club will host Entrusted on Goodreads for six weeks. Each Thursday we will post discussion questions for the assigned chapters, and then from 8-9 EST we'll have a live discussion to talk about the book and share behind the scenes information.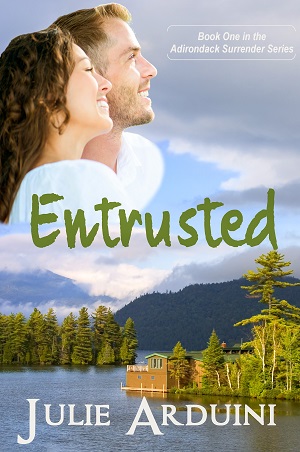 We're excited about it because we love talking books and writing. Over at Books for Life we already have discussions up about reading and writing, so join our group today!
Once we finish Entrusted, we'll take a short break and read Annabelle's Ruth by Betty Thomason Owens.
Entrusted purchase links:
Update: After Entrusted we'll discuss Annabelle's Ruth by Betty Thomason Owens.
Consider yourself invited!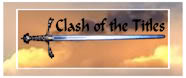 -guest post by COTT Senior Editor, April W Gardner
Since we're in the middle of Clash of the Title's two week summer break, we thought we'd introduce you to the book club COTT has recently begun. All this month we're delving into The Stones written by COTT champ, Eleanor (Ellie) Gustafson.
The Stones is a historical/biblical novel based on the life of Kind David. Most of us know how the story ends (wink), but Ellie presents the details in such a fresh and unique way that I find it's almost as if I've never read the story before. It's hefty reading, but I'm really enjoying it. Ellie's prose is lovely and almost poetic. It's enchanting. And the historical detail simply fascinates me. Actually, I'm quite in awe of all the research she'd done.
My favorite so far in the book is Abigail, David's third wife. She was always one of my favorite female Bible characters. I think it's rather romantic that saving her retched husband's life earned her the (future) king's love. Her dead husband was barely cold in the ground before David took her to wife. Talk about making an impression!
Quite the colorful character in The Stones, she's strong-willed (which wasn't a gift in those days) and usually the cause for tension. But it's generally because she's fighting for what she believes God requires of them. David's standing before God and the people is more important to her than her staying in his good graces, which she doesn't lose for long anyway. David loves her too much.
Care for a tiny peek into her personality? Here she is chiding David for bringing booty home from the Amalekites he's just raided and killed.
She says, "Did you consult Abiathar and the Urim and thummin to find out if you're the man to do it? It seems to me you're tearing off this 'vengeance' thing, when it's the Lord's business to—"
 "Enough, woman! You have a find hand on my faults and don't hesitate to say so." (great line, by the way) The flare died quickly, and David sighed as he wrung a cloth and wiped his dusty face. "Abigail, Abigail, you don't understand. We have our reasons. We—"
 "You mean Joab has his reasons. This was his idea, wasn't it?"
 "Yes, and it's a good idea." His voice grew irritable again. "We must get Achish to trust us. Once he thinks we've made ourselves odious to the Israelites… And besides, I thought you'd like clothes and jewelry."
 "They're soaked in blood. I'd never wear them" (Wow. A scene with this feisty gal is always interesting!)
Historical/biblical fiction is my all time favorite genre, but I can't help but wonder the entire time that I'm reading–Which parts are real and which are made up? In a book club setting, I get to ask the author questions as I'm reading. How fun is that?!
If you've ever had a question about the life of David, Ellie's your gal. She will be available all month long at the Clash of the Titles Book Club to chat with her readers and anyone who would like to meet another of our amazing COTT Champs!
WANT TO BE A PART OF COTT STAFF?
Clash of the Titles
, is on the search for a new staff member! If you are a writer who's looking to gain exposure, connect with other authors, add bullets to you professional bio, and have a blast doing it, we would love to chat with you to see if we are a good fit. Please contact us for more details: contactcott(at)gmail(dot)com.