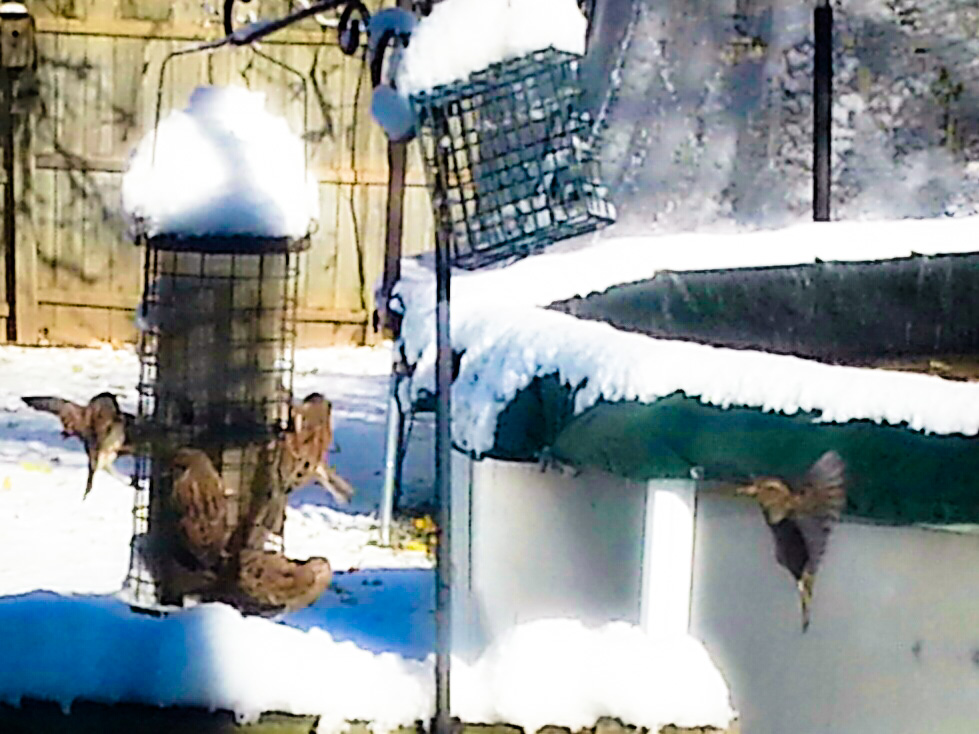 There are a few things I do beyond the wife and mom thing. I love to encourage others, especially women. There are times I feel a nudge to invest time in someone by sharing my story and what I learned along the way. Sometimes I do this through Bible studies. Other times, it is custom designed and I communicate as God leads.
That's where some of my time has been lately, working with a dear friend who is shedding an old mindset and adopting a new one. As I've shared with her how deeply God cares for us, how specific and intentional He is, I've seen the signs to remember this in my own life.
Like my birds.
For my birthday I bought a new feeder. I had no idea how much peace a simple feeder would bring, but I love when these guys stop by for a visit. At first I had trouble attracting birds, so my mom suggested black oil sunflower seed.
And they came in droves.
Since then my mom added that she mixes the black oil seeds with regular food because the birds love the black oil seeds so much it gets costly.
This is news I could have used awhile back. Now my birds are loving the premium choice food, and I'm just as hooked on having them visit.
And then it hit me.
Even though it might not feel like a premium experience at the time, God uses only the best to get our attention and draw us near. For my friend, those events have been masked in circumstances that seem like moldy food that no bird would want. But on further inspection she's realizing how far she was from a relationship with Him. She was phoning it in, and He knew it.
And He loved her enough to toss her some black oil sunflower seeds to bring her back.
That's my issue, too.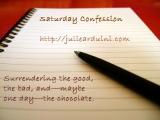 I am so passionate about leading others to freedom in Christ that I forget I'm worthy to spend time with Him, too. I forget that black oil sunflower seed is for me, too. 
A couple years ago I attended an interactive Bible study that each week transformed the sanctuary into the life of Esther. One week was the King's chambers. Each of us were invited, encouraged to go behind the veil and spend some time with the true King. And as soon as I sat and settled my heart, this nugget dropped into my lap.
You would receive so much more if you would come visit me behind the veil, instead of waiting on the outside while you usher everyone else in.
I have to be intentional about doing that. There are times I think everyone around me deserves the black oil sunflower treatment while I get some cheap blend. Or, in terms I really understand, I lead everyone to Dove chocolate and give myself the nasty kind at the $1 store.
I'm meant to enjoy the premium stuff. And so are you. It's more than setting an alarm for devotion time. It's a mindset. A lifestyle that is open to be with Him, hear from Him, and learn from Him at all times. That even in the craziest times, you're still tuned in, focused on Him against the chaos.
My husband once said that I had a direct line to heaven. As sweet as that sounds, it's not true.
We all have that direct line, it's just so few of us utilize what's been there all along.
So go behind the veil. Change your mindset. Adopt a new standard of living.
And enjoy that black oil sunflower seed.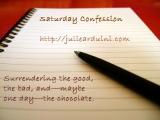 Last week we took a quick trip back to our hometown to visit family. It was the first time in awhile all four of us were together in the same car, so I was the passenger. Right away I noticed something.
There was bird poop covering quite a bit of my side of the window.
My husband was out of wiper fluid and the car wash we tried to go to was closed. We had a schedule to keep, so off we went.
I know the route. There are things I look forward to.
The barns.
The bridge.
The lake.
And everytime I looked out my side of the window, there was no beauty in anything I was glancing at.
Everything was magnified by bird poop.
Then it hit me.
When I have a bad attitude, that's my bird poop. No matter what pretty thing is before me, my attitude clouds the beauty before me. I miss a blessing because I can't get past the white mess called my attitude.
It's not a pretty visual, and neither is a bad attitude. You've been around people with the terminal grumpies. Nothing is good enough for them. Everything is bleak. And if you're honest, you can't get away from them fast enough.
Are you that kind of person?
This winter has been harsh. About two storms ago I resolved to be foul. Even on a sunny day all I could focus on was the ice. My aching wrist. Another day off from school. I missed the cardinals in the snow. Blue skies.
Don't have the mindset that is akin to bird poop when there is such a beautiful backdrop surrounding you.
That was my lesson this week.
What's yours?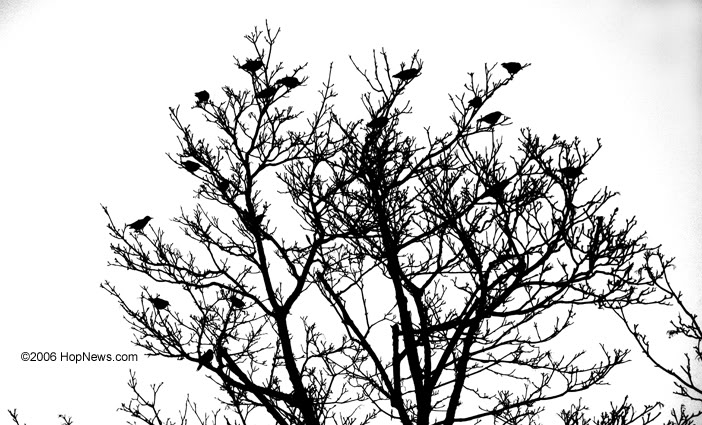 I never tire of learning, especially when it comes from those quiet times with the Lord.
Especially when it comes from the everyday things I usually take for granted.
We had one beautiful spring day where it was nice enough I could read outside. The birds seemed as excited as I was. I looked at a tree and noticed something.
The tree was full of birds. Singing birds. I know, nothing new there.
This is what got me. They were all sorts of birds. I'm not a master bird watcher, so I don't know their official names, but they were not the same. I believe there were two morning doves. A robin. A gray bird. A cardinal. A bird with a red belly. All in the same tree. Chirping their praises.
And here's what hit me–the tree is the Body of Christ. And in that Body, birds of a different feather can flock together.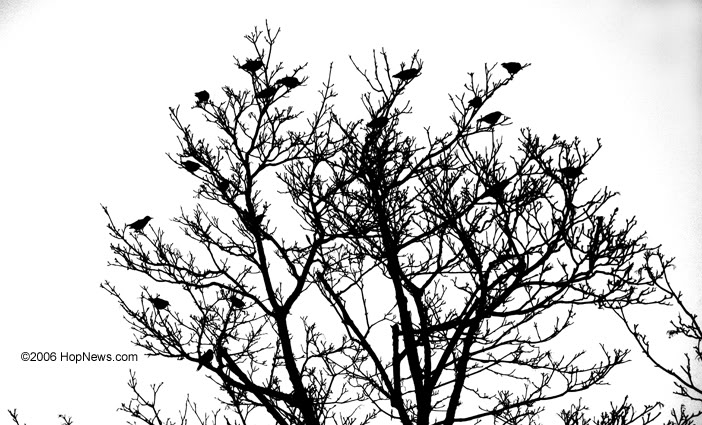 When I first entered into a personal faith with Christ, the questions were like this: What type of Christian are you? Catholic? Methodist? Wesleyan? Pentecostal? Saying I was a plain Christian just didn't seem to be enough for most people. I got to the point where I'd answer,
"I'm the type of Christian that loves Jesus."
And I'd scratch my head wondering, isn't that enough?
I felt intimidated because the Bible was new to me. But what I read, the entrance to heaven wasn't as complicated as college entrance exams. In fact, there is only one question:
Do you know Jesus? As in, did you enter a friendship with Him? Know Him beyond recognizing Him as a name, or a curse word?
I never saw where I'd be asked my denomination. And through the years I changed that answer, anyway. A few times. But One thing never changed.
My faith in Christ.
Those birds remind me of that. We are all different classes of birds. Some are cardinals. Others robins. There's the morning doves and the chickadees.
But we land in the same tree and sing.
I love that visual.
image from hopnews/photobucket