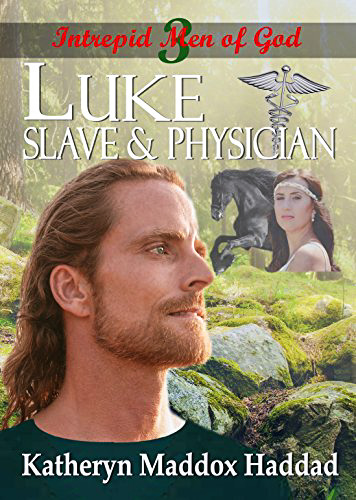 LUKE: SLAVE & PHYSICIAN
Physicians were always slaves in first century Roman Empire. Each wealthy household had their own physician, and Caesar began telling his military to have a physician follow them around. This means that "Luke, the beloved physician" that wrote the gospel of Luke and Acts of the Apostles was written by a slave or perhaps a freed slave.
This says a lot about Luke's character. He is apparently not bitter.  He rises above what life has handed him.  In early millenniums of history, during war the losing side's soldiers paid for their loss the rest of their life, for they were made slaves of the winning side.
I investigated major battles of the Romans in the first century and just prior, and found a major battle that took place in Germanica in the area of today's Holland. It was the Battle of Baduhenna Wood, AD 28.  Since he seemed to be younger than Paul, I made Luke eight years old when his Viking father apparently was killed, and Luke became a slave. That would have made him about fifteen years younger than Paul.
Despite all this, he apparently did not show bitterness toward his master. What master would provide an education for a bitter slave? This slave was taught to write. Not only that, but his style of writing was almost in the classical style.  His master gave him a good education.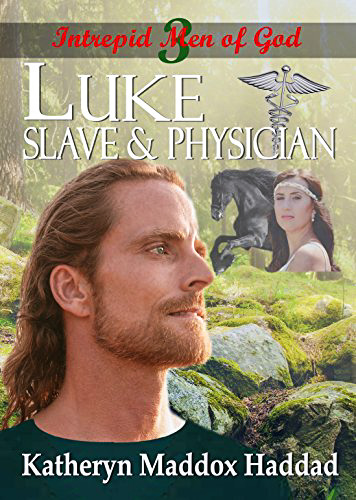 Perhaps he had always had a knack for treating people's wounds and diseases. His master apparently let him apprentice to someone in order to become a physician. Would a master have provided this kind of education/apprenticeship to a bitter slave?
Luke did not meet Paul until around 51 AD.  What does Luke do with his life those twenty plus years? If he was captured during war by Roman troops, whoever took him probably remained in the military. Men signing up for the military signed up for thirty years.  So, it is likely he was with the Roman army most of that time.
In Luke: Slave and Physician he is never sure his father was actually killed. All anyone knows is that he was not there at the end of the Battle of Baduhenna Wood. Throughout the rest of the book, every place he goes, he walks around singing a little song his father had taught him, hoping to find his father someday. He could have been bitter because of losing his father at such a young age.
It wasn't until he met Paul that he learned about Christianity. Luke was not only a slave all those years, but he was a pagan. He probably many gods. Because he was so open to Christianity, he must have struggled all those years with his beliefs. At one point in my book he climbs Mount Olympus which is near Berea in Greece, so he can interview the gods themselves. Of course, he does not find them, and his anger at the non-existent gods grows.
Throughout Luke: Slave and Physician, Luke is involved in military affairs as his regiment moves from fort to fort. Being blonde because of his Nordic heritage, he becomes a spy for them and goes down into Parthia which Rome was never able to conquer. He is gone several years surviving mining disasters, deathly heat in the deserts and mining accidents. He also meets a young lady and falls in love with her, but she is kidnapped and taken to Kandahar. He follows her there and…well, I'm about to tell you too much.
In my book, Luke writes his gospel and Acts after Paul dies. By then, the apostles have scattered. He travels the world to find them, and usually they are in the midst of some kind of predicament with the local pagans.
Through it all, Luke never becomes bitter.  How could a bitter man write two books of the Bible?
Are you bitter? Do you know anyone who is? Let Luke, slave and physician be your encourager.
Katheryn Haddad was born in the cold north, but now lives in Arizona where she does not have to shovel sunshine. She enjoys hot weather, palm trees and cacti in her yard, and a computer with the letters worn off.
With a bachelor's degree in English, Bible and social science from Harding University and part of a master's degree in Bible, including Greek, from the Harding Graduate School of Theology, she also has a master's degree in management and human relations from Abilene University.
Her newspaper column appeared for several years in newspapers in Texas and North Carolina ~ Little Known Facts About the Bible ~ and she has written for numerous Christian publications.
Currently she teaches English over the internet every morning, using the Bible as a text book. Most of her students are Muslims. She has taught some 6000 thus far, and has former students, now Christians, in hiding in Afghanistan, Iran, Iraq, Yemen, Somalia, Jordan, Uzbekistan, and Palestine. "They are my heroes" she declares.
She is a member of American Christian Fiction Writers, Christian Writers of the West, and is also an energetic public speaker who can touch the heart of audiences.
Website: http://inspirationsbykatheryn.com
Purchase LUKE: Slave and Physician HERE