How Surrender Saved My Marriage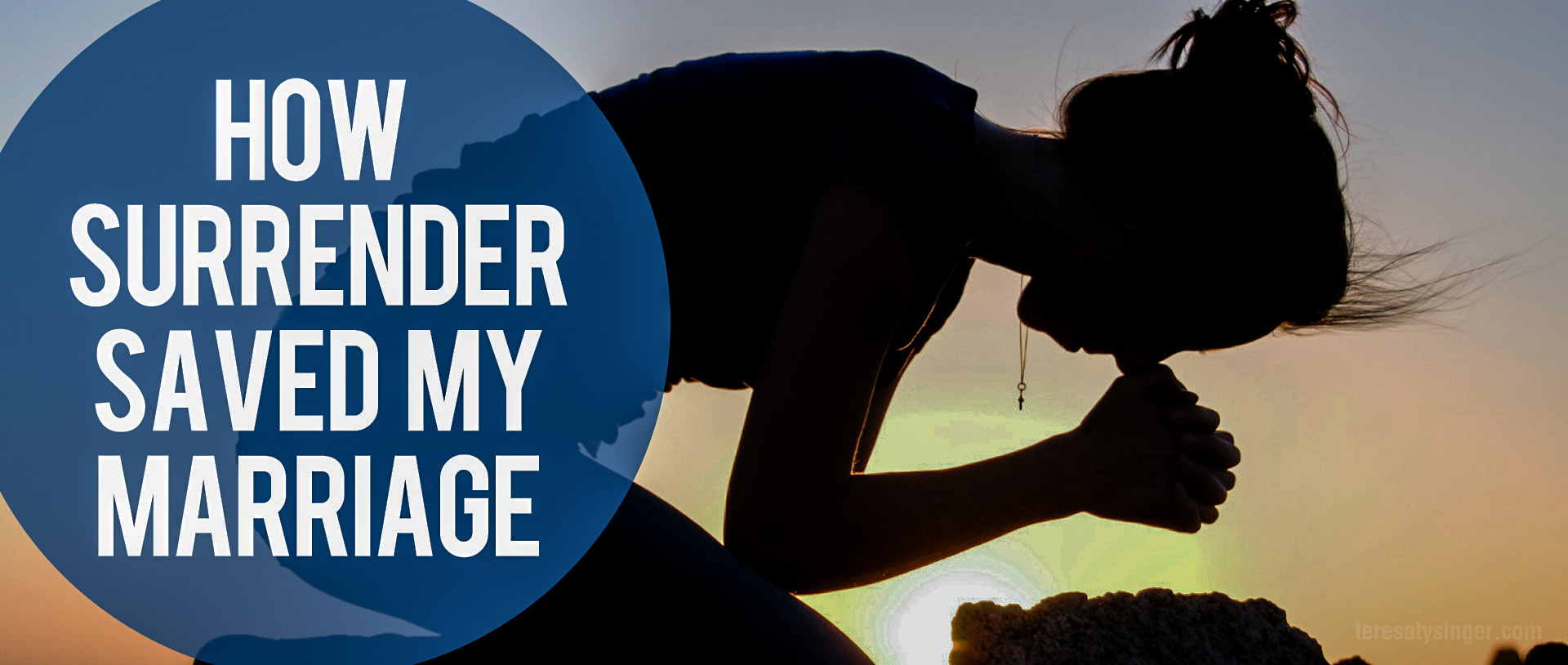 By Teresa Tysinger
A special thank you to Julie for allowing me to share with you today!
It is my belief that surrender happens at the cusp of time when hope is at a low and desperation is at a high. It usually happens on our knees as we shake under the burden of whatever we must give up to God.  At least, that's my personal experience.
My husband and I married young, at twenty-one to be exact. Blinded by young love, attraction, and a feeling that we had everything figured out. I realize now what babies we were. (We joke with our parents now, asking what they were thinking allowing us to wed so young!) I supported him as he finished college, he supported me through graduate school, we bought a house and had a baby. But seven years in to our marriage, things were falling apart.
Though I was fully aware of my husband's love of professional theater and his lofty ambitions, I began to resent the long hours spent on shows – often on the road for months at a time. When he was home, we argued. I felt abandoned, which led to unfair nagging and complaining all the time. We had no idea how to reconcile our different expectations for life together. Finally, we both acknowledged this was not the marriage we wanted. We both began to consider that life might be better apart. It was a heart-wrenching time when finding a solution felt impossible.
Then God began to reveal an escape route. My husband was offered a job in Dallas, Texas – which felt like a million miles away from our home in North Carolina. My exact words, I believe, when he first told me about the opportunity was, "I'm never moving to Texas." Oh, I'm embarrassed now at my lack of faith!
During this time, we had the least hope and a lot of desperation (and fear, anger, resentment). We decided to lean on the reminders of our family and church friends. We took time to pray. I prayed fervently that God soften my heart. That he CHANGE me in ways I could not change myself. I prayed for my husband, too, of course. And I'm sure he prayed for me.
Then, something amazing happened.
We moved to Texas. We surrendered our own understanding, our own desire to write our story, our fear that expectations might not be met according to our plan. If you ask either of us even today, we'd both say we didn't want to move to Texas. Even after landing in the Lone Star State, neither of us wanted to be there. Yet, daily, we surrendered to the peace we both felt – undeniable peace – with the decision to move. We trusted God wanted us here. In a place we'd both found jobs to keep us together, with our daughter, working in the same town.
In Texas, we had no choice but to lean on one another for support. The fresh start brought challenges that solidified us as a family unit. We found a marriage counselor and worked on our struggles in therapy for over a year.
And, we fell in love. I sometimes tease him now that the first time we "fell in like," but eight years later we finally "fell in love." Through the struggles, we experienced what love really is.
Surrendering does not always mean things will have a fairy tale ending.
We're still in Texas four years later. I'd never in a million years believed we'd still be here. Interestingly, during these four years, my husband even travelled to New York City for 10 months to work on Broadway. But thanks to the hard work we did to reroute our relationship and lean on God at the center, I was able to happily support him through it without resentment or anger.
To many people, surrender is a word synonymous with defeat or weakness. Yet, surrendering my marriage to God's will feels like the bravest thing I've ever done. In my moment of greatest weakness, down on my knees, I found the strength to reach up.
Though I can't find the person with whom to credit it, I adore this quote and would like to leave you with the thought:
"Transformation happens on the other side of surrender."
What do you need to surrender to God? How might God transform you through surrender to Him?
Teresa Tysinger is a wife and mother transplanted from North Carolina to North Texas. When not working as the Director of Communications for a large downtown church, she writes charming southern romances inspired by grace. As a member of American Christian Fiction Writers, Religious Communicators' Council, and the Association for Women in Communications, Teresa has spent over a decade committed to telling stories of faith through written word. She loves coffee, caramel, and stories with happy endings.
Connect with Teresa:
Web – http://teresatysinger.com
Facebook – https://www.facebook.com/teresatysingerauthor/
Twitter – https://twitter.com/tmtysinger
Pinterest – https://www.pinterest.com/teresatysinger/