Is there anything better than encouragement?
Okay, chocolate is definitely on the list.
Well, I've done a lot of praying this last quarter on what specific things could I be doing to reach the most people with the message I believe God has me to share.
The message?
Simply, Surrender Issues and Chocolate.
What do I mean?
I believe people find freedom when they surrender. That was the one quote that jumped at me when I watched War Room. Miss Clara said something to the effect, "Before you can have victory, you first have to surrender."
My goal is to encourage and cheer as you lay those things down.
Sometimes they are good things. I've had to surrender a home and loved ones because a job took us somewhere new.
I've had to let go of bad things. Fear of what people thought of me. Fear of rejection.
And, I confess, I'm not quite ready to give up the chocolate. But maybe, one day I will.
I think we can all relate. So, to cheer you on, starting in January I'm sending a sweet, weekly encouragement that will help you in your surrender journey.
Each week in your inbox you will find a short surrender based message that will always include some chocolate mention. I want you to start your week right and feel less alone. The encouragement my free gift to you.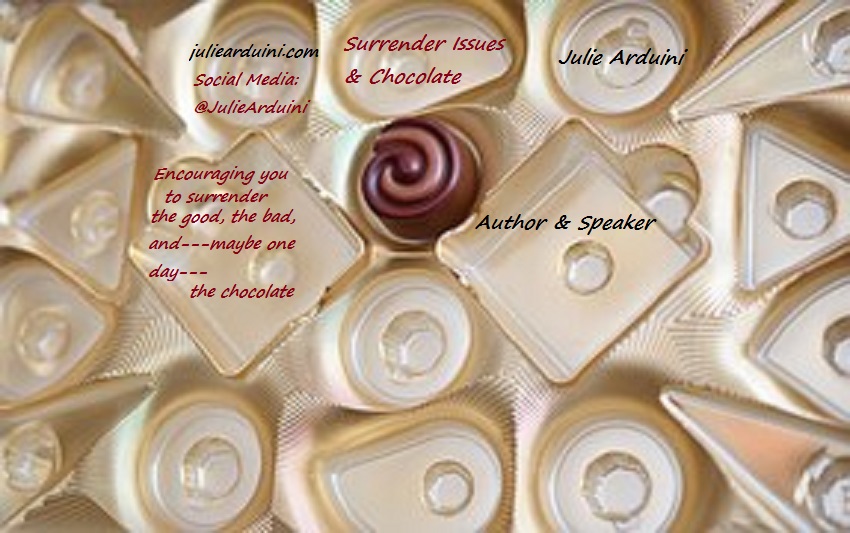 Want in? I hope you do.
Please tell others, let's have fun in 2016 together!