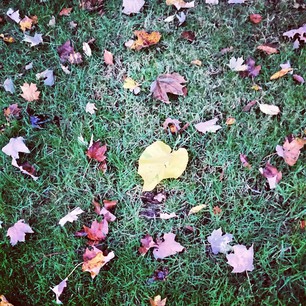 When I first took this picture, I smiled thinking about the other leaves and how inferior they must feel around this big yellow leaf in the middle.
and that reminded me of a story.
About a huge giant who laughed as he slayed solider after soldier from the Israelites who dared fight him.
But, David.
Look at the tiny leaf that is at 11:00/top left in the picture. The leaf is so small you could almost dismiss it.
But, David.
David was a shepherd, not a warrior. Yet when God tapped him as the one to take down the giant, victory was assured. It wasn't because of armor, he took it off because it was cumbersome. It wasn't because of training, he basically stumbled out of the field.
It was because of God and David's not just believing in Him, but believing Him.
What new door has opened for you that seems so huge you could never knock it down?
But, God.
He's got this.
And, He's got you.