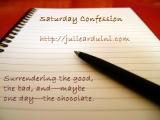 June is a fairly busy month for me and I can't seem to come up with any brilliance I need to confess this week that I didn't already share on Facebook.
I thought I'd take a second and share where you can find me across social media and cyberspace. It's easy to assume everyone knows this, but as my writing life becomes more active, I don't want to miss anyone. I'll also share what I think about each place.
Please feel free to find me, connect, and show others how to find me.
Facebook Personal Page—This is where I engage the most. I share everything here, writing stuff, family updates, etc…I won't accept requests that fully explain who they are or are pictureless or written in another language.
Facebook Writing Page—Not long ago all the experts said build this page, get your followers, this is the future. There are times I think the powers-that-be sit in the FB offices and ask how could they screw up a good thing. If not, it's a consquence of changes to business pages. I'm not working as hard to build this page because no one will see it without me paying money. It's sad, because we have great conversations there. If you set your notifications for my writing page as a favorite, it should come through on your newsfeed, but still, a shame.
Twitter—I'm not on as much as I want to be, but I love to connect here.
Google+—-This isn't as user friendly as I wish, but what I do understand to do, I like. I want to engage here, so if you say hello, give me time to respond, find you. Otherwise, yell and I'll find you there to say hi back.
Pinterest—I pin my blog posts here and once in awhile while waiting I'll look at other pins. My account is quite active, but as far as chat, etc…there isn't much of that there.
Instagram—I love to post my amateur nature pictures here. I don't do a lot of writing updates here, but I love looking at your pix here.
I'm not on Tumblr because I don't quite understand it. Anyone care to explain it to me?
The number one way in 2014 I'm trying to connect is through my newsletter. I read a lot of Jeff Goins, Jon Acuff and Michael Hyatt and they all say social media changes so much, so fast, that building a database through email is the best way to stay in touch. To thank subscribers I have a story I'm sending this year through the newsletter.
Match Made in Heaven is a contemporary romance where Beth Prescott didn't count on her new job at the Hammondsport senior complex included matchmaking. She'd rather focus on her career and forget the past. Dean Kellerman moves to the Finger Lakes area to help his grandfather and hopefully earn forgiveness for the many regrets he's carrying around. When Walt Kellerman volunteers as part of a senior program, neither Beth or Dean realize how good Walt's volunteering is good for them, too. Can they overcome their pasts to realize they are a match made in heaven?
I'm having so much fun writing this, and the feedback and new connections through subscribing has been great. Want in? I'd love it. Subscribe for free by filling out the form on the right sidebar of juliearduini.com and watch your inbox for activation. There's also a Pinterest board for Match Made in Heaven, as well as the other manuscripts I have.
Heidi Glick, Elizabeth Maddrey, Kym McNabney, Paula Mowery, Donna Winters and I recently handed in our infertility devotional tentatively titled A Walk in the Valley to Chalfont House Publishing. Stay tuned to their page for updates.
There you have it. I believe in faith there will be more places to connect, but for now, come find me. Tag, you're it!