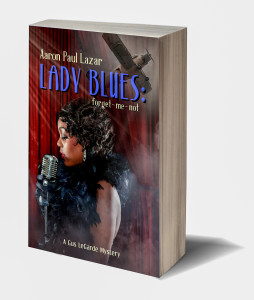 Book Description:
Past and present collide when an Alzheimer's patient's fragile memory holds the key to solving mysteries dating back to World War II—including a long lost secret love affair.

Music professor Gus LeGarde is just doing a favor for a friend when he agrees to play piano for church services at a local nursing home. He doesn't expect to be drawn into a new friendship with an elderly Alzheimer's patient dubbed "the music man" or to stumble across a decades-old mystery locked inside the man's mind.

Octogenarian Kip Sterling doesn't know his own name—but he speaks Gus's language, spouting jazz terms like "cadence" and "interlude" and "riff." He's also obsessed with "his Bella," but nobody knows who she is.

When Kip is given a new drug called Memorphyl, he starts to remember bits and pieces of his life. Gus learns Bella was Kip's first and only love, but their relationship was shrouded in scandal. Intrigued, Gus agrees to help search for her. Could she still be alive?

Horrified when the miracle drug suddenly stops working and patients begin to backslide, Gus panics. Can he help Kip find his beloved Bella before all the memories disappear?
What an enjoyable read Lady Blues was. Gus LeGarde has another mystery on his hands when a senior citizen in a nursing home befriends him and starts remembering his past after taking a new medication. Suddenly many residents are being discharged thanks to the miracle cure found inthe form of a pill. But just as fast as the medication helped, Kip and his peers are starting to regress. It's up to Gus and his strong support system to find out why.
I loved flipping the pages to find out the "why." It's a great mystery with a backdrop I don't see too far out of the realm of possibility of being a real news headline. Lady Blues takes place in one of my favorite places, the Genesee Valley of Upstate NY. Aaron Paul Lazar does a fantastic job bringing Livingston County alive to readers with places like Livonia, Honeoye Falls, Conesus, and even a Rochester mention.
There's also history to adore, and I did. For music lovers, Gus is a music professor at a college that sounds very much the same one I graduated from. It's music that first brings him to Kip, and Kip's entire life is wrapped up in music. When Kip remembers his past love, Bella, a blues singer, there is the tie-in to history, Kip was mentored by Glenn Miller. The key to Kip and Bella being torn apart is found in Glenn Miller, too. I loved the entire music background, the war, and how everything worked together.
Lady Blues also has strong secondary stories that are multi dimensional, but don't take away from the main plot and characters. Sieg and Lily, Curtis, and Camille.
A head's up, there is some profanity.
All in all, Lady Blues was a wonderful blend of mystery, romance, music, and history.
To purchase Lady Blues, click here.
I received a copy of Lady Blues in exchange for an honest review.