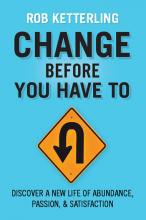 Book Description:
What will it take for you to change? We've all heard it said, "The road to Hell is paved with good intentions" and we all know good intentions won't cause us to change. For most of us, however, it takes a crisis, a tragedy, a pain so great that change is actually forced upon us. By then, it's way too late. But what if… what if you could find the strength to change before the pain, before the crisis, before the tragedy? What if you could change before you have to? In this book, Change Before You Have To, I'll give you the keys I've found that can help you change your relationships, your weight, your job, your finances, and your emotional and spiritual state before the crisis; before you have to. No more excuses, no more good intentions, it's time to change and live life to the fullest!
In this motivating book, Pastor Rob Ketterling starts off with a bang by sharing how the book idea formed. In a casual conversation he remarked how much work he'd have ahead of him if he were suddenly a widower in need of a new wife. His wife, very much alive, asked, why wait to make a change for someone not even real when you could be changing for the love of your life. It hit him hard and he realized most of us change when we need to. But few change before.
The author gives examples from his own life as a Little Debbie snack cake fan trying to get in shape. He also uses statistics, Biblical examples, and stories to drive home points to inspire change. The chapters are short and each one has bullet points at the end to summarize. There are discussion questions, too.
"I remember the feedback I received after I publicly admitted I needed to make a change. Someone told me, 'Really? Pastor Rob, you're so disci­plined in every area of your life. You have a great marriage, great kids, and you've got your spiritual life going on. Yet you missed it big time in the area of being physically fit.'

What they really thought was that because I was a pastor, I was above being addicted to anything. Not true. Addiction is addiction. And I was addicted to having second and third helpings, lying around, and munching on little snack cakes.

Maybe you can wear a short-sleeve shirt, your biceps are just bulging, your body fat is 8 percent and your cholesterol is 160. Maybe you can eat food all day long, and it doesn't affect you. Maybe you're great. But you know what? Maybe your marriage is a wreck. And that's the area you're hoping nobody notices.

Maybe I covered up my fat by untucking my shirt, but you're likely cover­ing up some areas of your life, too. The book of Proverbs says, "Even a fool is thought wise if he keeps silent (17:28). So you just kind of nod your head, go on about your life, and hope no one notices the changes you need to make in your life.

   It's time for you to get honest with yourself and those you love. I think it's time for you to admit there are areas of your life you have not changed that need to change. And you can either change because you have to or change before you have to. It's your call."   — Rob Ketterling in Change Before You Have To, published by Influence Resources
I found this a quick read with potential for lasting impact. Although I don't think this is written for men only, I think they will especially relate and benefit. The change he mentions isn't just fitness, but finances and addictions.  The author is Biblical, humorous, and authentic, so I wasn't surprised when Mark Batterson wrote the foreward. For Batterson fans, I think you will also enjoy Rob Ketterling's work here with Change Before You Have To.
To purchase Change Before You Have To, please click here.
I received this book from the publisher in exchange for an honest review.
Ladies, in addition to Change Before You Have To, I also recommend Lysa TerKeurst's Made to Crave.