Gail Kittleson
"If the only prayer you ever pray is thank you, it is enough." Meister Eckhardt
Enough—such a multidimensional word. The meaning changes with the person, and within our own lives, this word transforms, sometimes moment-to-moment. Culture, upbringing, spirituality, and general outlook alter in our concept of enough.
Once, during a particularly down time, I wandered through an eclectic second hand consignment store, and one wooden sign grabbed me. "You are enough." Me? I sure didn't feel like enough.
But in this month of Thanksgiving, it's good to connect gratitude with enough in our personal season of life. If the South Carolina floods devastated one's home, gratitude may erupt at having a warm place to sleep and food to eat. For others suffering health challenges, a new day with the sun peeping through the window may cause thankfulness.
This year, I'm especially thankful for my vocation. For its steadfastness, even when I didn't have confidence to pursue it. I'm grateful for second chances for my writing to bloom. Specifically, I celebrate my debut novel's release, and inclusion in a Christmas anthology. And another contract!
Thank you, thank you, thank you, my heart whispers—for the tenacity not to give up, though sorely tempted, for my gradually-developing skills that led to publication and for my patient husband, through so many rejections and pitfalls. Thanks for my daughter, who always listens and encourages, and for writing friends far and wide who commiserate, rejoice together, and make honest manuscript suggestions.
The list goes on … reflecting on these gifts makes giving thanks a no-brainer, as they say. I may be a late-bloomer, but I'm blooming. Thanks, thanks, thanks!
Julie's note:
Because Gail is thankful, she'd like to do some giving!
I'd like to give away a kindle copy and an apron like the one my heroine wore to TWO people who comment on my writers' FB page or on my website.

Bio:

Our stories are our best gifts, and blooming late has its advantages—the novel fodder never ends. Gail writes from northern Iowa, where she and her husband enjoy gardening and grandchildren. WhiteFire Publishing released Gail's memoir, Catching Up With Daylight in 2013, and her debut women's historical fiction, In This Together (Wild Rose Press/Vintage Line) greets the world on November 18, 2015. Please feel free to contact her—meeting new reading friends is the frosting on her cake!
Contact links:
www.facebook.com/gail.kittleson
https://www.facebook.com/Gail-Kittleson-author-1799350843625035/timeline/
https://www.linkedin.com/pub/gail-kittleson/43/935/b06
https://www.goodreads.com/author/show/3459831.Gail_Kittleson
Purchase link:
http://www.wildrosepublishing.com/maincatalog_v151/index.php?main_page=product_info&cPath=195&products_id=6492
http://www.wildrosepublishing.com/maincatalog_v151/index.php?main_page=product_info&cPath=195&products_id=6492
Cover: see below
June Foster is one of my favorite authors. For one, she's good. She tackles hard subjects with a softness and grace that leaves the reader wanting more. Second, she's a giver. She takes time with others to share tips. In my case, spend a crazy amount of time to make sure once and for all I understand the difference between showing and telling. For that, I'm forever grateful.
Ryan's Father takes June's writing and the reader to the next level. The book is about Ryan, a teacher who has had to fight for everything he has. Most of all, temptation. He's had little support most of his life and yet through adversity, has a strong relationship with Christ.
Sandy is a nurse who at surface looks like she's had little trouble in her life. She meets Ryan during an earthquake and she's instantly attracted to his faith. From faith forms a deep friendship, but something is in the way that Sandy can't quite put her finger on.
Ryan's Father is June's best work to date. She developed Ryan and Sandy with layers of personality, issues, heart, and pain. The progression with both characters in their journeys is slow and natural. The conflict is real, especially with strong secondary characters like Greg, Allen, and Dr. Arrington. The issue itself is one most authors wouldn't touch. It isn't easy or popular to address from a Biblical perspective. The last "celebrity" to try created a firestorm. That's why June Foster is the perfect author to go there.
Ryan's Father isn't an easy book to read because of the topic, but it's important. At the end she shares her heart with readers in a tender way that embodies the story itself. And she writes something that I think is important not to overlook. Ryan's Father is for anyone seeking freedom from the issue she writes about. If anyone reading loves someone living in this lifestyle, don't force the issue or the book on them. It's the last thing June would want.
But to read a natural progression of a flawed friendship between two broken people, it doesn't get any better. In top notch writing from June, and in content that I'm so glad she addressed.
To purchase Ryan's Father, click here.
I received Ryan's Father from the author in exchange for an honest review.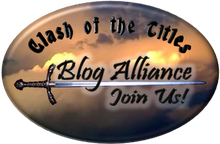 *This clash sponsored by
WhiteFire Publishing
The first five hundred words of any story are usually enough to clue us is as to the author's style, the tone the book will take, and whether or not the story will hold our interest. It's those five hundred from two different unpublished novels that Clash of the Titles presented to you last week. 
Will Ramirez's Soul Yearning
and
Nancy Kimball's Chasing the Lion


****


We asked our readers which they would be most likely to continue reading and this is how they voted:
CHASING THE LION
In addition to a hearty welcome to the COTT family, as announced yesterday, Nancy was invited by Astraea Press to submit a complete proposal for immediate review.
Maybe one day very soon, we'll see 
Chasing the Lion
 come back to Clash of the Titles to compete as a published novel!
This is what our readers had to say about Chasing the Lion:
*The first excerpt really grabbed my attention- especially since it stirred my emotions… and my love of mystery. 
*What was the answer his mother gave that caused this strong boy to run away? Very well done!
* Who's the dad?!?! I'm hanging off a cliff wondering!
Author Nancy Kimball
From the blood-soaked sand of the Roman arena, a divine destiny will rise.
For as long as Jonathan Tarquinius can remember, everyone has wanted something from him. His brothers want him dead. His master's wife wants his innocence. The gladiator dealers want him to fight, and die, for their greed. The humble slave girl who tends the wounds on his body and the hidden ones on his soul yearns for him to return to his faith in God.
God wants something from Jonathan, too. Something more than anyone could ever imagine.
What Jonathan wants is simple—freedom.
The young warrior's journey will push him to the very limits of human endurance and teach him the only true freedom is found in Christ. The greatest battle Jonathan ever fights will not come in the arena, but deep within himself, when he is forced to choose between vengeance and forgiveness, knowing the fate of all he holds dear hangs in the balance.


Monday, March 5, COTT will see the start of yet another unpublished clash. This one however, carries the theme of speculative fiction, a newer genre that's taken the market by storm. Come on by for another opportunity to vote and win a copy of previous COTT Champ Diane M Graham's new novel, I Am Ocilla!