Between the ages of 8 and 12, kids often start to wonder if Christianity is true. In Cold-Case Christianity for Kids, detective J. Warner Wallace draws readers into the thrill of high-stakes investigation by showing them how to think rather than telling them what to think. In this children's companion to the bestselling Cold-Case Christianity, detective Wallace gets kids exicted about testing wistnesses, examining the evidenece, and investiagting the case for Christiatnity. Includeds author illustrations and links to a website (coldcasechristianityforkids.com) where kids can download activities, fill in case notes, and earn a certificate of merit. Detective Wallace gets kids excited about testing witnesses, examining the evidence, and investigating the case for Christianity.
This is an excellent book to challenge upper elementary/tweens to find their own faith in Christ. Using mystery as a backdrop, readers gather clues, examine evidence, add "tools" to their "investigative bag," and more.
I really enjoyed this book. I like that the authors want kids to think through the evidence and find Jesus without being told to. There are illustrations and a link to a website with more activities. J. Warner Wallace is a cold-case detective who has been featured on Dateline, Fox News, and TruTv.  His expertise makes this book a real deal for kids and their quest to solve mysteries.
If you have a child between the ages of 8-12, I highly recommend Cold-Case Christianity for Kids.
I received this book from the publisher for review.
To purchase Cold-Case Christianity for Kids, click here.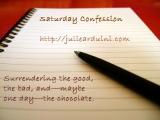 It was a rare summer Wednesday evening where I actually had teaching to do with tween girls. One of the girls was back after missing several weeks for sports, so we played catch up. The unit was "Commitment to Christ." The lesson was basically why He's worth following.
At first I wasn't very excited because it wasn't that long ago I read the same lines and gave the exact examples. But this is a girl who is hungry for teaching and in a desperate need to be armed with knowledge and relationship to tackle life outside church walls. I made sure I gave the lesson with enthusiasm, paying extra attention to the second point.
His ways are best.
The lesson explained that our ways don't always match up with His, and that's okay. Because He knows best. We should trust Him. I gave examples of situations she might encounter to drive home the point.
And when I drove home, I had no idea that lesson would be of use to me.
My husband let us know that the sellers backed out of the deal. The house we were counting weeks until it was ours to run in the yard, build a doghouse, set up a writing area, invite others to for fellowship and ministry—was gone.
Just.
Like.
That.
My plan was to get a closing date, pack up the rest of our stuff and move in.
And I thought that was God's plan, too.
I didn't want to get on board with His plan. The house reminded me of a life I left behind, and of people I miss. I can't let go of that. Again.
Then the lesson came to mind.
He does know best.
He makes all things work together for good. 
We have to trust Him.
I promised God that I'd never share a thing or teach a lesson if I wasn't willing to learn and live it first. It took me 24 hours, some mad questions directed His way, a few tears, and a large turtle pecan with chocolate ice cream DQ blizzard to get on board.
But agreeing with His plan is right.
Even if I don't understand it.
So, we start the house search again.
Trusting Him.
***Have you subscribed to my newsletter? Not only do you receive monthly writing updates that can help you with reading and gift ideas you also have delivered to your inbox my Finger Lakes based contemporary romance, Match Made in Heaven. This surrender story features surrendering the past and health issues. Only my newsletter subscribers will have this in 2014.

To subscribe for free complete the form in the right sidebar of juliearduini.com and watch your inbox for activation.***