Book Description:
Jade returns home to Chapel Springs after years of protecting her fragile heart. Then along comes Daniel, making her long to dance again.
Creative and complicated, Jade McKinley felt like a weed in a rose garden growing up in Chapel Springs. When she left, she thought she'd never look back. But now, pregnant, alone, and broke, she has no other choice but to return.
The mayor of Chapel Springs, Daniel Dawson, has been an honorary member of the McKinley family for years. While his own home life was almost non-existent, Daniel fit right into the boisterous McKinley family. He's loved Jade for years, but she always saw him as a big brother. Now that she's back, his feelings are stronger than ever.
As Jade attempts to settle in, nothing feels right. God seems far away, she's hiding secrets from her family, and she's strangely attracted to the man who's always called her "squirt." Finding her way home may prove more difficult than she imagined.
Dancing with Fireflies is in the running for my favorite book of 2014. I read it in one sitting, Jade and Daniel captivated me that deeply. Denise Hunter dealt so gracefully with tough topics. A physical assault resulting in a pregnancy. An unmarried woman expecting a child. Jade was well-developed and her fears were real. Even to trust someone as dependable as Daniel.
Daniel is a hero to swoon over. He cares about his community. He's loyal. He's always there. Romantic? Oh, so romantic. But he doesn't feel safe telling Jade he's loved her for years.
This is a beautiful romance wrought with conflict. Like I said, so well-crafted I kept turning the pages to learn what was next. I strongly encourage you to pick up Dancing with Fireflies.
To purchase Dancing with Fireflies, click here.
I received a copy of Dancing with Fireflies from the publisher in exchange for an honest review.
This week I accompanied our youngest to a birthday party at Chuck E. Cheese's. Don't get me started on the marketing genius who thought a rodent should make for a great mascot for a kids' restaurant, that's for another day.
She loves these parties but has one problem: she is afraid of Chuck E. Cheese.
We've told her it's most likely a high school kid trying to pay their texting bill (as in a recent episode of the Disney show, Good Luck Charlie) and that the person is more likely scared of the kids and their antics than we should be of him/her. I watched our daughter  and until he showed, she was paralyzed by fear strictly out of anticipation.  Once he showed, she was fine.  It was waiting for him that put her on such high alert.
I'm the same way when I open biscuits. The packaging is better but it wasn't that long ago I was squeezing and twisting the canister waiting for the pop and was certain my heart rate tripled in anticipation.  Once it popped I was fine, it was knowing it was coming.
This reminds me of the times we're living in. I read a lot of blogs and social media and between Egypt, Libya, gas prices and now the earthquake in Japan, there is fear across the land. Fear of what's next is as paralyzing as waiting on Chuck E. Cheese to make his appearance.
Matthew 24 warns that there will be awful things happening in the last days—wars, rumors of war, famine and earthquakes.  We're there, those things are happening and are threatening to continue. Fear is a constant temptation to grab onto much like closing my eyes when I open the biscuit canister.
Fear doesn't stop the inevitable.
Peace is a supernatural consequence of rock solid faith and prayer that gives the courage to brace for all things—waiting on Chuck E. Cheese, opening biscuits, and fearing natural and economic disasters. When people ask how I survived that season or overcame that time it wasn't because I made perfect choices. I overcame by peace God alone can give through my believing in His Son.  Faith in Christ gives me the knowledge that in time of stress I can lean hard on Him and be still and know He is God.
And He's Sovereign.
That means He's bigger than Chuck E. Cheese.
And the coming pop from my biscuit opening.
And war.
And famine.
And mean people.
And natural disaster.
And the economy.
And as the VeggieTales so eloquently taught me, God is bigger than the boogie man.
Will you trust God through seeking a friendship with His Son, Jesus, today?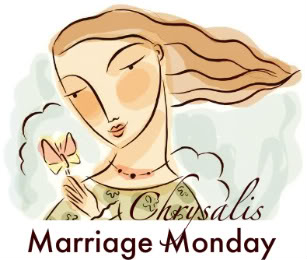 It's Marriage Monday! Here is an invite from e-Mom:

Please accept my invitation to join us for Marriage Monday on March 7, 2011.
Our Topic for March is "Trust"
As always, you have all the freedom you need to cover the subject matter in whatever way you want. You can post prose, a bulleted list, a video, a slideshow, a poem, or a song—whatever the Spirit leads you to share with us. You're the expert, and we're counting on you to teach us a few new things to apply to our own marriages.
Blessings,
e-Mom @ Chrysalis
http://chrysaliscafe.com
http://facebook.com/ChrysalisCafe

My Story:
It was probably Fall 1995, less than a year from our August 1996 wedding. Although I knew Tom's family well, Tom himself came into my life with a bang. When God decided it was time for us to meet, it was fast. We were engaged three months to the day he asked me to be his girlfriend.
I was a fairly new Christian not yet dealing with wounds I'd let penetrate my heart. Even the pure and true love Tom was pledging wasn't enough to take down the walls around my heart I erected.
So when he asked what was wrong, I said nothing.
Over.
And over.
And over.
Right up until the morning we met but needed to drive to church separate. He asked one more time what was wrong. I gave my standard answer, burdened by the lie we both knew I was telling.
And in our stress….we both backed into each other's vehicles.
The fender bender was minor but the internal damage felt a total loss. Tom took that as a last straw knowing I wasn't being truthful and the pressure led us both to hit something so obvious and visible. He was hurt and shut down just when I panicked enough to decide it was time to start talking.
It took nearly a week before we had communication. I had no idea if the wedding was still on and if I could get over the guilt that I allowed my fears to kill something so good before it even really started. When he finally approached me I learned how essential communication is. And if you can't be honest with your spouse in the small things, you aren't going to do well with the covenant called marriage.
Learn from my mistakes. If you're dealing with fears or hurt, communicate them. Don't think you can handle it yourself. Find a pastor or counselor with a Biblical foundation to speak to. I can't say enough about the John and Stasi Eldredge book, Captivating.
And may your marriage be blessed.
You deserve it!