Last month I shared how I was an iBloom lurker and this year took the plunge and bought the planner. I was so sold on it that when there was a call out for women to partner with iBloom, I wanted in.
The iBloom Life and Business Planner has been the one tool I keep using as I move forward as an author and speaker. As a wife and mom. Volunteer. Friend.
Great news is, you can try it for FREE the month of August!
iBloom Life & Business Planner Sample
The iBloom Life & Business Planner:
Has enough space for me to fill in all my tasks and activities

Has monthly accountability with goals, relationships, victories, and more

Weekly, monthly, half-year and yearly goals and how they are going. Space to dream and journal
When I first got my planner in the mail, the first thing I noticed was how organized yet comprehensive it is. Every aspect of my life is covered in the planner, but the planner is organized. I'm not overwhelmed, but inspired. I want to hit those tasks and mark them off, not the planner collect dust.
I wasn't sure I would use the space above each week, but I do. I use that section to write out sermon notes. Already I'm going back to read them. At the bottom of each day is a box. I know some mark off their workout stats. I use it for business mileage. There is just so much to this planner, right down to a holiday guide to keep track of your purchases.
I hope you'll grab your free sample of this planner while you can! Follow the link to download your August sample now.
iBloom Life & Business Planner AUGUST 2016 SAMPLE
You won't be disappointed.
In the beginning of 2013, I felt led to start my own blog. I wrote about God, but nothing in particular. I also ended up going through a divorce that year, which completely changed my life. I was married for 19 years. I was a stay at home mom for a great deal of that time. The last 3 years had been dedicated to my three children, because we pulled them out of public school to home school.
As I sit and type this up, I am thankful for so many things. It is hard to pick just one.
I am thankful for my Heavenly Father who has gotten me through the rough spots. This  journey we call life is not an easy one. Being a Christian is not a "get out of trouble" free card. We are still going to have hard times. Jesus even said, in John 16: 33, "33 "I have told you these things, so that in me you may have peace. In this world you will have trouble. But take heart! I have overcome the world."
It's not an IF, it's a WHEN type thing. God is always here for us, no matter what.
I am also thankful for my children, friends and family. Without them, I don't know where I would be. They have made me laugh, hugged me as I cried and told me the truth when I did not want to hear it.
God has really moved in my life and heart over the past several months. He has started talking to me in every day ways. I have started writing those things for others to see that He is there, daily. He cares about our daily lives and He just wants to help us make it to tomorrow.
Take a moment and think about what you are thankful for. Maybe it's totally different from me. And, guess what? That's ok. 
Jill Barlow is a mom of three, an administrative assistant to two, and a writer. Divorced after a lengthy marriage, she started finding God in her every-day life. Jill says, "God really cares and is interested in talking to us through the little things. Showing people His love and character in a way they might not have ever experienced is my passion." You can find Jill at www.coffeewithsnoopy.blogspot.com and on Facebook .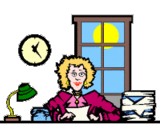 My husband learned pretty fast that if he truly was content having me as a wife who works from home, the last thing he better say in public or private is that I stay home all day eating bon bons. I'm a peacemaker (or long to be) and I think no matter what a women does, outside the home as a lawyer, IT person, doctor, assembly line worker, barista—or inside the home—butt wiper, PB&J master, laundry, budget person, Pampered Chef consultant, freelance writer, and let's face it, those that work outside the home most likely come home and do many of the inside jobs, too—It. Is. Work.
Okay, I totally know that was a paragraph, not an appropriate sentence.
Anyway, I stay home and write, or attempt to. I also help out with different ministries and constantly think of things to encourage women. I just finished up a webinar book study on Made to Crave. I can't sit still.
I'm feeling harsh over a two word sentence I heard this week. We had our Super Tuesday voting and I asked someone if they had a chance to vote. No, but only because by the time they got there, the polls had closed. After all, they said, "I work."
That's a trigger word for me. Apparently it touches on an insecurity with me, because I remember being intimidated sitting in a room full of women who worked traditional schedules outside the home, and I watched eyes glass over when I defined myself as a stay at home mom.
I just want the whole world to get on the same page. All women work. Mom or not, inside or outside the home.
This week I worked on editing critiques, creating a proposal, marketing my writing and a ministry event, I worked on laundry. I learned our basement drain is clogged so I'm researching a snake drain option to free the clog. I'm trying to figure out how to fix the dishwasher option so water doesn't leak out the bottom. I've doled a lot of medicines, taken care of a sick child, helped with homework, worked on book reviews, spring cleaned the room the hubby and kids use for entertainment, paid bills, collected insurance information for various medical claims, made doctor appointments for two, researched dog arthritis, created meals, ran errands, taxied kids, and made plans for lab work. Oh I did lighter things like watch my DVR shows, but I'm always doing something even when the TV is on.
Those two words get me everytime when someone else is saying them, implying perhaps I don't work. It feels harsh, and I'm tempted to be harsh back.
Saturday is my confession day, and I just want to get on the top of a platform, raise my fists and scream, "I work!"
But more than that, I'd rather come alongside someone else who might have the same insecurity and say, "My friend, you work. Most likely too hard. But I thought you'd like to know I notice."
What is a trigger for you that makes you defensive?