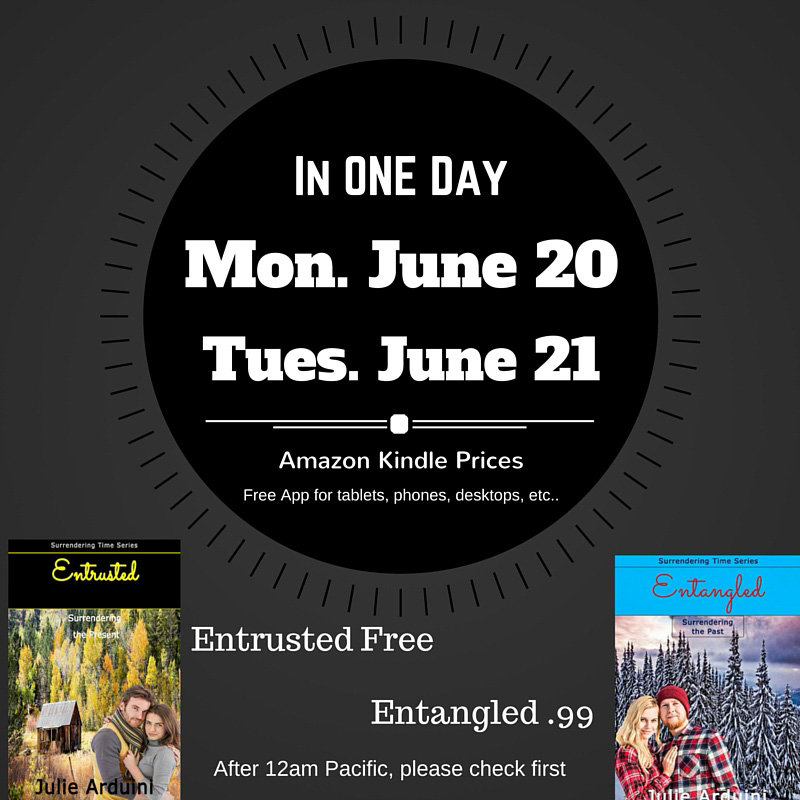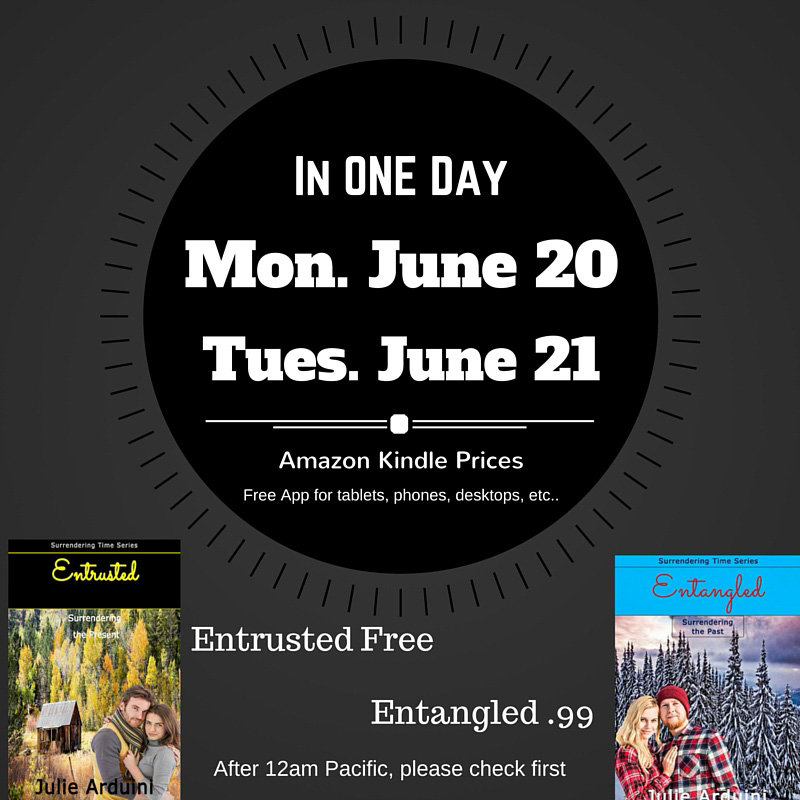 NOTE: If you receive this blog via email, the sale might already have started.
Although Ohio has seen 90+ temps already (and snow in May,) it is now summer. One of my favorite things to do is watch our daughter swim and have a book on the deck.
And now, I want to put a couple books in YOUR hands.
If you enjoy the feel of a "real" book, I priced ENTRUSTED and ENTANGLED so you could buy both and spend less than $20. Typically, you would see a full length novel sell for $15 each. I believe that much in these stories getting to people and changing lives.
If you have a Kindle, or a tablet, laptop, desktop or phone that you use for reading, I am having a sale on the ebook versions of ENTRUSTED and ENTANGLED Monday, June 20 and Tuesday, June 21. Remember, if you don't have a Kindle, download the FREE Kindle app to your device and start reading!
ENTRUSTED will be FREE. Yep, no cost at all.
ENTANGLED will be .99. You can purchase both books in the Surrendering Time Series (book 3, ENGAGED, due later this year) for .99 ebooks. That's how to say hello to summer!
About ENTRUSTED:
Purchase Link: http://ow.ly/RGOs301mVag (Please check to make sure you've selected preferred format, and that the ebook sale started. It is slated to begin Monday, June 20, approximately 12am Pacific.)
"You need to go home, city-girl. You don't belong."
Jenna Anderson, sassy city-girl from Youngstown, Ohio, plows–literally–into Adirondack village, Speculator Falls, with a busted GPS and a determination to fit in as the newest resident. She wants to live a life without regret and make a difference. Moving to become the senior center director is the biggest risk she's ever taken, and she believes her ideas are worth investing in. The senior citizens have been hurt by the last director, so Jenna has to work hard to earn their trust. When they embrace her, she thinks it's time to show the seniors she intends to stay and make the center beautiful for them.

Town councilman and grocer Ben Regan is as broken as the flower box Jenna demolished. He's grieving from the double loss of his grandfather's passing and his former girlfriend leaving town without saying goodbye. His grief is so strong he wants to shut down the senior center before there's too much change and heartbreak. Re opening the senior center and hiring a new director was never his plan. Jenna isn't a Speculator Falls local and she has too many plans that will cost money the village doesn't have. She's too excited about his dream to expand the store his grandfather built. The harder he tries to keep Jenna at a distance, the more they are thrown together to work on community projects. They build a slow relationship, but the council needs to vote on the senior center's future. Can Jenna show Ben both her and the center are worth trusting?
About ENTANGLED:
Purchase Link: http://ow.ly/1ryi301mVyX (Please check to make sure you've selected preferred format, and that the ebook sale started. It is slated to begin Monday, June 20, approximately 12am Pacific.)
"You need to leave me alone. It's the least you can do."
Carla Rowling has been given her dream of attending cosmetology school. The gift is so generous she feels unworthy because of choices she made as a teen. The pressure mounts as Carla juggles school, is a single mom, helps her best friend Jenna plan her wedding, spends time with boyfriend Will Marshall, and deals with the fact that her son's father is back in their lives.

Will Marshall is the one Speculator Falls resident everyone can count on. His truck deliveries are reliable. He's the first to help friends like Ben Regan with boat work or be a card partner with Bart Davis. Will's ready to settle down with Carla, loving her is natural. He's bonded with her son, Noah. But when Carla starts cosmetology school, she puts emotional distance between her and Will.

Can Carla release her past and create a future full of highlights, or, will she burn her options worse than a bad perm?
Julie Arduini reviews Every Bride Gets Confused by Janice Thompson.

Road's End is comprised entirely of senior citizens whose kids have grown and left for greener pastures. Hugh, Melanie, and Bristol (one of the few sane people in town) are faced with a crumbling church in desperate need of repair and renovation, a dwindling congregation of opinionated, ornery senior citizens, and a camel—yes, a camel. And if that's not enough, the trio and the rest of the Road's End residents, are soon mired in danger and intrigue when a group of gun-toting drug dealers arrive in town, bent on killing the church handyman, and conspiring to ruin the doggonedest record-breaking blizzard the town has ever seen.

Poor drug dealers.
Is it wrong to call a mystery "fun?" I don't care. Deborah Dee Harper's Misstep is a wonderful mystery that is laugh out loud fun to read. There's Hugh and Melanie, a couple looking for a quiet retirement when they are called to the pastorate. Before they can process the news there's a chicken. A blizzard. Vandalism at the church. People confessing murders. A camel. Bad guys holding the women hostage. And then there's the oldest virgin Mary the church has ever seen.
I read this in an evening because Misstep is full of comical characters and a heartwarming story, wrapped in mystery. Deborah has a strong writing voice and an army of strong characters that make Road's End. I can't pick a favorite character because they were all rich.
As for the mystery and the Christmas miracle, I never saw any of it coming. I'm pretty good at figuring out mysteries, I'm rarely stumped. This plot twist was brilliant.
To purchase Misstep, click here.
I am one of the authors affiliated with the publisher and received this from Write Integrity Press. However, all thoughts are my own and the only expectation was that I read it and be honest.