I'm winding down sharing the Love Your Spouse Challenge, Day 6, from Facebook. Chances are you've been discouraged. That you've prayed for something and wondered if God ever heard. Be encouraged! We saw so many prayers answered as we watched Tom's daughter marry and we interacted with so many people from Tom's first marriage. It was a blessing and one of the highlights of my own marriage. Read on!
Love Your Spouse Challenge Day 6.
I was tagged by Susan and anyone who would like to play, please do! This is from 2011, Mandy's wedding. It was a beautiful event on a beautiful day where I saw prayer after prayer answered.
Even now I look back and think about what Rocky said. I have gaps. Tom has gaps. Together, we got no gaps.
***
I'd love for you to win, but you can't if you don't enter! Click to learn more.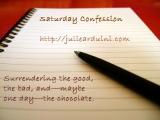 A few years ago there was a new show I was hearing buzz about. It was a comedy that I heard a great ensemble cast with sharp writing. It seemed a lot of my peers were watching it, but I had enough shows on my docket and figured one more would do me in.
Then I heard it was edgy and I definitely felt there was a tsk tsk to anyone who called themselves a Christian caught watching it.
I forgot all about it.
Until it started on re-runs.
I watched one show and understood why religious folks weren't excited. Why my Jesus friends weren't admitting to watching it.
And why I haven't been able to stop.
The show?
Modern Family.
I get it. Things get complex when one of the families is not straight. Then there's the teenager who has admitted she's chosen to lose her purity. The show hasn't once pretended to be Biblical and didn't ask to be the standard for any family to aspire to.
It's got some sharp and observant writers displaying the reality in and around us.
I laughed until I cried when I watched Claire, a mom around my age, try to change a channel that her techie husband wired together. Why? Because that's our family. My husband is a programmer and I need three remotes to turn the stinking thing on. I can relate.
Although the similarities end with me and the character Gloria being second wives, there's a lot of writing in that marriage that resonates with me. My husband is a decade older and sometimes the age means nothing, and other times, it's a little obvious. And we are able to laugh at those things.
There's a lot of poignancy in the writing. I've teared up when the step-son was in an accident at his step-dad's workplace and the employee was fired. The child didn't think it was fair and finally Jay speaks up and says "no one, and I mean no one is going to harm my kid and not pay the consequences." It was the first time Manny heard Jay refer to him as his kid. Jay reminds me a lot of my dad, and the actor that plays him was one of my dad's favorite.
Claire and Mitchell talking things out that still hurt from their childhoods. I relate to that.
There's a friend from my past that is Cam. Watching Cam have a sensitive moment makes me smile. His parenting style against Mitchell's could be any parent. And as for their lifestyle, even they make fun of how non political they are about it. Now, these are the repeats, so maybe that changed. I haven't handed in my Jesus girl card, nor have I stopped reading my Bible. But the scenarios are real things out there.
I've been struggling, I think putting our house up for sale is bringing back emotions from the last time, and that was when my dad passed away and our baby was so sick. It was horrendous, and I'm extra emotional lately. Tonight I turned on the TV and it was the episode when Jay was trying to return a dog. He was driving around and the more he did, the more the dog grew on him.
And in a voice-over, Gloria talked about how she always wanted a strong man who could say no to her.
When Jay walks into the house with the dog, hands him to the step son and coarsely said "not a word," Gloria continues. "But instead, I have Jay." And it's not a put down.
I started to cry. Because that was my family growing up. It's me now. It's people in my life. It's their flaws. Their strengths. Their loyalty to each other. The laughs at each other that bring about a lesson learned where they laugh with each other.
I'm not saying everyone should watch this show. I'm about conviction. If it convicts you, don't watch. I respect that. My husband said he doesn't see why I bother. For him, it's more of a chick show than anything that offends. I promise I'm not on a campaign for readers to start watching.
But my Saturday posts are about confessions. Mine. And I love a show with top-notch writing. Ensemble casts. Emotions that tug. Laugh out loud moments. And people, I watch Modern Family.
It's one of my favorite blogging routines—-Character Confession Saturday. I post how I'm feeling not because I like to air my dirty laundry but because I'm about surrender. I'm about living in victory. And after 41 years I realize the enemy likes to make us feel isolated, that no one but us feels that way. Honestly, my Saturdays are to shatter that lie. You aren't alone!
Where do I start?
Amazed that in 15 years I went from bride…
…to step-mother of the bride.
Amazed at how friendly everyone was to us. I met many family members that belonged to wife #1 and they not only were so kind to my husband, they went out of their way to meet me and our kids. I didn't expect anything bad, but I can't put into words how genuinely gracious everyone was. Amazing.
Amazed at how beautiful the state of Wisconsin is. In their favor it rained poured the entire trip until we reached the Wisconsin state line. Our entire time in "Wisco" was sunny, warm and downright gorgeous.
Our 13 year old remarked that he was so impressed with the rural beauty that he wondered if he might live there one day as an adult.
Amazed at God's provision and favor. We prayed specifically for these things and I asked others to do the same. We needed a roll-a-way bed and received SO much more. We were in the Dells and had a room next to a late night wedding reception. We were exhausted from our own wedding time and wanted peace and quiet. The front desk person not only gave us a new room, she gave a free upgrade in the quietest part of the whole resort. Because we arrived late Saturday, the entire WING was ours Sunday. We had a wonderful time and if a Dells stay is on your agenda, I highly recommend the Wintergreen Resort.
Amazed at how much we missed our healthy ways of eating. My husband changed his diet in February and the rest of us followed suit this summer. Collectively we've lost 63 pounds. I'll be posting next week some tips we implemented but even packing snacks, and bottled water we still ate out. I tried to choose salads and wraps. Yet let's just say our stomachs still rebelled.
There are so many adjectives in the dictionary, but only one sums our recent wedding vacation up:
Amazing.