Will You Accept September's One-on-One Challenge?
by Gail Goolsby
Everyone wants to know and be known intimately by someone. We want to have relationships where connections can be quick and meaningful. September is One-on-One Month. Consider what you can do to ramp up your relationship investment.
The most important people in our lives should not have to wonder if we care about current challenges they are facing or achievements they have completed. They should be able to answer affirmatively that when they talk—we truly listen.
How can we experience the most from our meetings and conversations?
How can we communicate our presence, our full attention to the other person?
In Your Face and Off Your Phone
In today's culture, being physically present and not looking at a phone are keys to quality conversations.
In a 2014 study conducted by Shalini Misra from Virginia Tech in Blacksburg, people were observed from a distance conversing in a coffee shop. More than factors of age, gender, ethnicity, mood, topic, or relationship closeness, the presence of mobile devices impacted the overall satisfaction of interaction between participants. The absence of mobile devices resulted in higher level reports of empathy and superior communication.
With the present technology overload, device-free gatherings are unusual, whether in a restaurant, home, or conference room. The challenge is daunting but vital. Put aside beeping, blinking, tweeting equipment when engaging a person or a group.
Presence is Proximity and Purpose
When we do have the opportunity to connect one-on-one with a friend, family member, co-worker, or employee, we show our desire to be present with:
Curiosity (find out something new)
Good questions (go for deeper than surface reports on work and activities)
Engagement (make eye contact, maintain positive body language)
Appreciation (share something valuable about person)
Active, responsive listening (don't interrupt, occasionally check for understanding)
Focus (avoid looking around, letting thoughts wander)
Humor (tell a funny anecdote to release endorphins for everyone)
Satisfaction for All
Maybe the exchange happens while walking through the neighborhood or during a car ride. Perhaps in a kitchen, park, coffee shop, break room, or child's room before bedtime.
Wherever, whenever the chat takes place, plan to be present and phone-free and make it a quality time that both of you will enjoy.
Accept the September One-On-One challenge and purpose to have satisfying conversations with the important people in your life. Who will be first on your list?
~+~
Gail Goolsby, MA, MEd is a lifelong educator, including past leadership at an international school in Afghanistan. Gail and her pastor husband of 38 years live where the wind blows over the prairie in south Kansas. She counsels and coaches using God's Word to help others learn to live well. www.gailgoolsby.com
Last month I shared how I was an iBloom lurker and this year took the plunge and bought the planner. I was so sold on it that when there was a call out for women to partner with iBloom, I wanted in.
The iBloom Life and Business Planner has been the one tool I keep using as I move forward as an author and speaker. As a wife and mom. Volunteer. Friend.
Great news is, you can try it for FREE the month of August!
iBloom Life & Business Planner Sample
The iBloom Life & Business Planner:
Has enough space for me to fill in all my tasks and activities

Has monthly accountability with goals, relationships, victories, and more

Weekly, monthly, half-year and yearly goals and how they are going. Space to dream and journal
When I first got my planner in the mail, the first thing I noticed was how organized yet comprehensive it is. Every aspect of my life is covered in the planner, but the planner is organized. I'm not overwhelmed, but inspired. I want to hit those tasks and mark them off, not the planner collect dust.
I wasn't sure I would use the space above each week, but I do. I use that section to write out sermon notes. Already I'm going back to read them. At the bottom of each day is a box. I know some mark off their workout stats. I use it for business mileage. There is just so much to this planner, right down to a holiday guide to keep track of your purchases.
I hope you'll grab your free sample of this planner while you can! Follow the link to download your August sample now.
iBloom Life & Business Planner AUGUST 2016 SAMPLE
You won't be disappointed.
I try as a mom and mentor of sorts to stay on top of the latest terms, crazes and technology. Not to be the cool middle aged lady, but to know what's out there trying to harm my kids and children I care about. I'd love to say I always know the latest, but often I'm still behind the times.
Like when I heard the term "ghosted." It was in a picture I saw of Scarlett Johansson. She was accused of ghosting Sean Penn, someone she had been involved with but no longer was. The commenters felt she was icing him out, treating him as if he wasn't even in the room.
Apparently, that's ghosting. It's ignoring the relationship, whether in person, texts or calls. It can be romantic or friendship.
And I've ghosted long before it was a thing.
Years ago, I mean YEARS ago there was a boyfriend who disappeared. He went off to college but never said goodbye. I was angry more than anything else.  Everyone had their theories but months later, he came calling. As if this never happened. Talk about ghosting. He flat out disappeared. And when he returned, he asked for my number.
And I gave him the wrong number.
And he knew it.
His last words to me were, "You don't want me to call you, do you?"
And I said nope and drove off.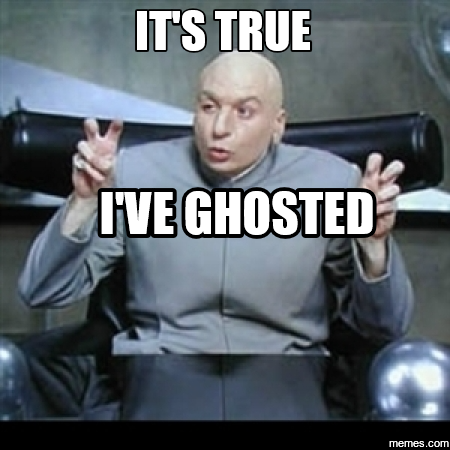 As an adult, I've been ghosted and I've done the same. There's no good excuse because when it happened to me it was almost as painful as losing my father. I ached. It was a loss that took me a long time to process.  Choices needed to be made outside of my power and who I am and how I live were outside the parameters. Someone had to go. I was an easy elimination to be rid of. I was obviously not as valued as I had valued them. That fact just about did me in.
When I've ghosted as an adult, it was never malicious or fun. I simply was at a loss. Either the relationship ran its course and I didn't know how to communicate beyond what I'd already done, or, the other person required more out of me than I was able to give. Sometimes I ghosted because I gave and gave and gave and nothing changed because the other person was content to stay as is and keep coming me for changes. There were times I backed off because it was too draining, too high maintenance for me to handle. I also became invisible when I realized the relationship wasn't what I thought it was. I was a crystal ball of sorts, the go-to when there was a crisis or a prayer request. When I was in need of prayer and support, I stood alone against the people I eventually ghosted. Lastly, I ghosted because trust had been broken and we knew it, but I didn't have the courage to say so. I closed my circle in tighter and moved on.
I'm not proud of it and yet if I had to do it over again, I can't say I'd act differently just yet. That's the beauty of Saturday confession. I'm working on it, but I'm not perfect.  I'm simply being transparent enough to share my confession.
Right now in any of those situations I don't have words that would be comforting. I'd create more hurt with honesty, and I definitely don't want to lie. So like my wedding song, I Say Nothing at All.
Ghosting. Have you done it? Has it been done to you? Don't be invisible. Share in the comments.