Yesterday I shared over at Christians Read that years ago I struggled with what I knew was a call on my life. It's not only come to pass, it's more specific.
I gave advice on how to avoid taking over and failing because we are not equipped.
What I didn't say is how hard I'm struggling.
Early on I was so guilty of trying to save everyone. It never worked because that isn't my job, and my health took a hit. A friend said, "Keep it up and it will kill you." I have to hand the burdens over to Jesus. He fights for me. For the women I pray for. Not only does it have to be enough, it IS enough.
This year, even with that wisdom, I have been overcome with how unequipped I am. I battle guilt. I want to have the answers, the resources, the magic wand when they reach out to me. But the call isn't any of those things. I'm only to pray and say as I feel I'm supposed to.
And guess what?
The silence is deafening.
He doesn't want me to do a lot of talking right now.
In its wake, come the taunts. It's not God's voice and it isn't mine. It's the true defeated one, the one with so limited resources that he's trying to convince me I'm the defeated one.
And it is a battle, my friends.
Surrendering not to the defeat but the taunts is draining. I'm a girl that wants to know why, and often with this prayer thing comes two things I hate and grieve, and deal with often. Loneliness and rejection.
Those things have been so intense this year I've thrown myself on the ground and just cried it out. I've realized there is power in tears, those are prayers that transcend language and I've got to get it out.
But it takes a lot out of me.
And once it subsides, I want to process it. Is it something I'm going through for my own life, something within our family? Because this has been a year I feel like those are critical prayers where my voice is the only one. Is it for those I'm standing in the gap for? Because never before have I had so many women coming at once with heartbreaking needs that hurt to hear. I hate hearing women are hurting. I see so much potential and most of these situations are strong women believing maybe not today, but someday they won't just survive, but thrive. If I have to go through the valley for them, I'd do it. But not knowing the why I am having these times is hard.
Trust me, there is a lot of good stuff going on. We pressed in hard for our son to find steady employment and gradate from high school. The Lord gave us a picture of what his life looks like to Him and it is happening. It's a beautiful thing. Our daughter is enjoying a good stretch of health after a rough spring. I'm finally okay with my husband's job change and working from home. There are two books out with my name on the front that God is using to speak to women. Those are amazing praises.
But I'm the one that vowed to talk about surrender and make sure before I challenge anyone else, I'm doing it first. To be authentic even if no one else wants to hear it, or understand. So here I am. Maybe I'm waving in your imagination. Maybe I'm collapsed on a rug with a mouth full of chocolate and tears. Whatever you see, I'm all in.
And by faith, I have to believe that's got the gates of hell shaking.
This is one of those posts that isn't fun to write because it takes me back to a time I didn't love and of course, I don't come out looking too great in it. But I know I'm supposed to share it, and I believe it will encourage someone out there.
Our newlywed years weren't normal or easy.  I had chronic pain because of a severe case of PCOS. There were many days I was in bed because of pain as soon as I got home from work. I had to receive shots in the backside that were not easy to give or receive. And then there was the baggage.
I came into the marriage with low self esteem and huge trust issues. I was a wounded person who usually felt better wounding others.  It wasn't a good place.
My husband worked a new job with a lot of hours. He was in community theater. We were new in our church and wanted to be active there together. We grieved his kids not living in the same state anymore and trusted God had them and us.
When he had a bad day from any of these stresses or even something else, I had one thought and one thought only.
It's me.
I'm the reason he's upset.
It's my fault.
It will always be me.
It will always be my fault.
When he needed time to chill, I took that as a personal rejection. I didn't get that men need their cave time. When he's ready to talk, he will. But my own emotional baggage couldn't allow me to see that. So I'd chase him down, causing more stress.
And guess what?
It wasn't about me until I made it about me. And that's when real conflict started.
I had a lot of problems then, and a big one I didn't realize was one I think a lot of young women are also dealing with: you want your husband to be your savior.
Sorry, ladies, he can't. He's human and he's going to fail. The harder you pursue him with that expectation, the faster he's going to retreat. I tell you from experience. Then your pain is that much stronger because you've got another man in your life who has rejected you.
How did I get out of that spiral? It wasn't easy or fast. I had to hit a rock bottom and realize even when his bad day wasn't about me, I had a lot of healing to take care of. I had people praying. I read a lot from Chuck Swindoll to Sheila Walsh. I went through two Bible studies that changed everything—Believing God by Beth Moore and Captivating by Sheila Eldredge. I started to see my Savior was there to rescue me, He is Jesus, not my husband. And when I put that in the right order, everything changed.
My view of a Heavenly Father wasn't healthy because I was envisioning someone with closed arms disappointed in me. Pressing in through my relationship in Christ and giving Him everything about me re wired my thinking. God's arms are open wide even when I goof up and it is about me.
Now that I'm healed from those hurts, I don't rely on my husband to be the source of all my happiness. I have the discernment to know when he's having a bad day when to approach and when to wait. I no longer have those internal alarms going off thinking he's upset with me.
If this is a struggle for you, I pray something in this post gives you hope to seek healing as well. If you are not part of a Bible reading, Christ centered church, I pray you find one and surround yourself with people who can pray for you. I'm rooting for you!
***
I try as a mom and mentor of sorts to stay on top of the latest terms, crazes and technology. Not to be the cool middle aged lady, but to know what's out there trying to harm my kids and children I care about. I'd love to say I always know the latest, but often I'm still behind the times.
Like when I heard the term "ghosted." It was in a picture I saw of Scarlett Johansson. She was accused of ghosting Sean Penn, someone she had been involved with but no longer was. The commenters felt she was icing him out, treating him as if he wasn't even in the room.
Apparently, that's ghosting. It's ignoring the relationship, whether in person, texts or calls. It can be romantic or friendship.
And I've ghosted long before it was a thing.
Years ago, I mean YEARS ago there was a boyfriend who disappeared. He went off to college but never said goodbye. I was angry more than anything else.  Everyone had their theories but months later, he came calling. As if this never happened. Talk about ghosting. He flat out disappeared. And when he returned, he asked for my number.
And I gave him the wrong number.
And he knew it.
His last words to me were, "You don't want me to call you, do you?"
And I said nope and drove off.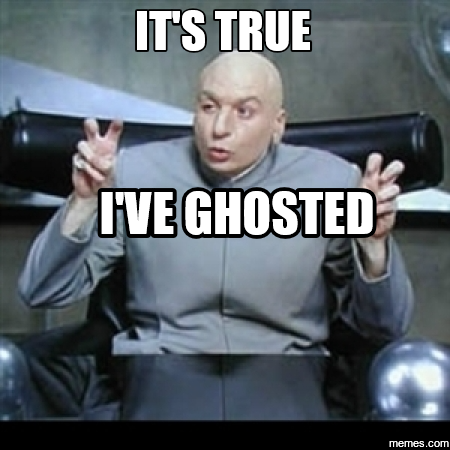 As an adult, I've been ghosted and I've done the same. There's no good excuse because when it happened to me it was almost as painful as losing my father. I ached. It was a loss that took me a long time to process.  Choices needed to be made outside of my power and who I am and how I live were outside the parameters. Someone had to go. I was an easy elimination to be rid of. I was obviously not as valued as I had valued them. That fact just about did me in.
When I've ghosted as an adult, it was never malicious or fun. I simply was at a loss. Either the relationship ran its course and I didn't know how to communicate beyond what I'd already done, or, the other person required more out of me than I was able to give. Sometimes I ghosted because I gave and gave and gave and nothing changed because the other person was content to stay as is and keep coming me for changes. There were times I backed off because it was too draining, too high maintenance for me to handle. I also became invisible when I realized the relationship wasn't what I thought it was. I was a crystal ball of sorts, the go-to when there was a crisis or a prayer request. When I was in need of prayer and support, I stood alone against the people I eventually ghosted. Lastly, I ghosted because trust had been broken and we knew it, but I didn't have the courage to say so. I closed my circle in tighter and moved on.
I'm not proud of it and yet if I had to do it over again, I can't say I'd act differently just yet. That's the beauty of Saturday confession. I'm working on it, but I'm not perfect.  I'm simply being transparent enough to share my confession.
Right now in any of those situations I don't have words that would be comforting. I'd create more hurt with honesty, and I definitely don't want to lie. So like my wedding song, I Say Nothing at All.
Ghosting. Have you done it? Has it been done to you? Don't be invisible. Share in the comments.