One Proposal for An Improved Marriage
by Lori Lipsky
For the first time in our marriage, we decided to read a book at the same time so we could discuss it together. Credit for the idea goes to my husband, but I was excited about the plan and in total agreement with our book choice.
My husband had once asked a well-read acquaintance we both respect to recommend several books that had been most influential in his life. One of the authors this man mentioned was Dostoevsky. We decided to choose Dostoevsky's The Brothers Karamazov. I'm a bit ashamed to admit what happened next.
I could make excuses, but the quick truth is my husband read the book right away and then patiently waited for years for me to complete it. I started in several times but got bogged down in the early pages by the long Russian names. Prior to this I had read Tolstoy's Anna Karenina and some Chekhov stories so I'm not sure why I struggled. I guess I allowed myself to be distracted by life and by other books, and I put off the Dostoevsky. As I look back, I regret not making The Brothers Karamazov more of a priority. I eventually purchased an audio copy of the book and completed the novel.
After I finished listening to the book, we shared our impressions with one another. Remarkably, my husband remembered details of the book quite well. Since then, we've read or listened to dozens of books and discussed them. We have different tastes, but our interests intersect with authors like David McCullough, Louise Penny, and David Baldacci. When it's time to order another Audible book, we'll sometimes collaborate to choose a selection we agree on so we can both listen on our own, but then have the book in our shared reading history.
Our book talk is informal and brief, but it's a treat to talk books with my husband. We've found discussing books often sparks interesting conversation. Good books teach me more about who I am, but each new book we share helps me learn more about my spouse, too. We're learning together as a couple. We discuss dreams and ideas. Books get us talking, and in marriage, communication is a good thing.
About the Author:
Lori Lipsky is a writer and teacher. Her poetry and short fiction pieces have appeared in a variety of literary journals and magazines. She lives in Waunakee, Wisconsin with her husband, where she teaches piano at a private music school. You can find her at lorilipsky.com and on Twitter @LoriSLipsky
I know towards the end of summer, many people still have travel plans and a need for a good read.
I have on my tablet a load of books I want to read for enjoyment, not for writing or review, so my thought is perhaps that is your case, too.
Let's add a FREE eBook to your collection, okay?
On Friday, August 18 and Saturday, August 19, ENGAGED will be a free eBook on Amazon. Make sure to double check as glitches sometimes happen, but after 3am Eastern on the 18th, you should be good to go.
About ENGAGED:
Trish Maxwell's back in Speculator Falls with egg on her face and a lot of apologies to make. She left the mountain town for her dream job in New York City, only to come back unemployed. With no prospects, she works at her family's department store and makes amends as she finds a new passion creating window displays for Adirondack businesses. She works hard and tries to convince the people of Speculator Falls she's changed for the better.
As Trish pitches in with community events, she meets paramedic Wayne Peterson, the one man who doesn't seem to judge her. She even makes friends with Jenna Regan, who helps Trish when people demand to know what's next in Trish's life. Living in New York City has been her goal, but the more she's around Wayne and the Adirondack area, the more she's drawn to revising her plans. Just when Trish thinks the plan for her life's coming together, a second chance comes her way that could give her every career goal she's ever wanted, but threaten to tear her and Wayne apart. Can Trish surrender fears about her future and discover God's plan for her?
Although this is book 3 in a series, I believe you can read it as a standalone without confusion. However, if you would like to start from the beginning, ENTRUSTED is a free eRead at juliearduini.com, and ENTANGLED is available at a low cost. All books are available for print, AND I created a devotional ebook using the characters from this series as well as my surrender stories to help you in your surrender journey.
You can locate FINDING FREEDOM THROUGH SURRENDER here.
Feel free to spread the word to other readers. If you enjoy my books, reviews on Amazon and Goodreads are the best way. The more reviews a book has, the more Amazon makes it visible. Thank you for considering Julie Arduini books for your summer!
May 2017 New Releases
More in-depth descriptions of these books can be found on the ACFW Fiction Finder website.
Contemporary Romance:
Amish Brides by Jennifer Beckstrand, Molly Jebber, Amy Lillard — Under bright blue skies, wedding bells ring–fulfilling sweet dreams, impossible wishes, and joyous new beginnings among these three new stories. (Contemporary Romance from Kensington Publishers)

Sprouts of Love by Valerie Comer — An overzealous community garden manager delivers more than the food bank manager can handle. Can love sprout amid the tsunami of vegetables? (Contemporary Romance, Independently Published)
Summer Dreams by Delia Latham — God's love…reflected in the waters of the Pacific, and in the eyes of a young couple who walk its moonstone shores. (Contemporary Romance from White Rose Publishing [Pelican])

Right Where We Belong by Deborah Raney, Melissa Tagg, Courtney Walsh — Three sweet stories of small-town romance by three tried-and-true authors. Whether in a quaint home bakery in Langhorne, Missouri, a cozy boho coffee shop in Maple Valley, Iowa, or a charming lakeside cottage in Sweethaven, Michigan, love grows best in small towns just like this! (Contemporary Romance, Independently Published)
A Spring of Weddings by Toni Shiloh and Melissa Wardwell — Two Spring wedding novellas, "A Proxy Wedding," and "Hope Beyond Savannah." (Contemporary Romance from Celebrate Lit Publishing)

True to You by Becky Wade — Former Navy SEAL John Lawson hires genealogist Nora Bradford to help him to uncover the identity of his birth mother. As they work side-by-side, this pair of opposites begins to suspect that they just might be a perfect match. (Contemporary Romance from Bethany House [Baker] Publishing)
Cozy Mystery:
What the Bishop Saw by Vannetta Chapman — A fire blazes out of control in the San Luis Valley of Colorado, leaving an elderly, Amish bachelor dead. Bishop Henry Lapp rushes to the scene, and he learns the fire was no accident. When the police point the finger at a suspect Henry knows is innocent, the bishop must decide whether or not to use his mysterious, God-given gift—one he's tried desperately to ignore all these years—to try and set the record straight. (Contemporary Romance from Harvest House Publishers)
General Contemporary:
A Season to Dance
by
Patricia Beal
— The heart wrenching love story of a small town professional ballerina who dreams of dancing at the Met in New York, of the two men who love her and of the forbidden kiss that changed everything. (General Contemporary from Lighthouse Publishing of the Carolinas)
Looking Glass Lies by Varina Denman — A poignant and relatable novel, Looking Glass Lies captures the war women wage against themselves, and the struggle to see beauty reflected in a mirror not distorted by society's unrelenting expectations. (General Contemporary from Waterfall Press)
Historical:

Blind Ambition by Carol Ashby — What began as a bored man's decision to try a different road turns into an emotional and spiritual quest that changes the direction of his entire life. (Historical from Cerrillo Press)
Wings of the Wind by Connilyn Cossette — A broken and bitter Canaanite woman dresses as a man to fight against the invading Hebrews, never expecting that she would live to be captured and married to one of her enemies, and certainly not to find love and healing among the very people who killed her family. (Biblical/Historical from Bethany House [Baker] Publishing)
Historical Romance:

The Secret Admirer Romance Collection by Amanda Barratt, Lorraine Beatty, Molly Noble Bull, Anita Mae Draper, CJ Dunham, Jennifer Uhlarik, Becca Whitham, Kathleen Y'Barbo, Penny Zeller — Shy expressions of love lead to nine historical romances. Declaring one's love can be hard–even risky–especially when faced with some of life's greatest challenges. (Historical Romance from Barbour Publishing)
The Noble Servant by Melanie Dickerson — She lost everything to an evil conspiracy . . . but that loss may just give her all she ever wanted. (Historical Romance from HarperCollins Christian Publishing)

My Heart Belongs in Ruby City, Idaho: Rebecca's Plight by Susanne Dietze — It's a mail-order disorder when newlyweds realize they've married the wrong partners with similar names. An annulment seems in order–and fast. But when the legalities take longer than expected, Rebecca Rice wonders if Tad Fordham wasn't the right husband for her all along. . . . (Historical Romance from Barbour Publishing)
A Love So True by Melissa Jagears — They begin with the best of intentions, but soon the complications pile up and Evelyn and David's dreams look more unattainable every day. When the revelation of a long-held secret creates a seemingly insurmountable rift between them, can they trust God still has a good plan for them despite all that is stacked against them? (Historical Romance from Bethany House [Baker] Publishing)

Road to Harmony by Sherry Kyle — When Jonas returns to Harmony, Elena's heart is torn between her secret love, and the storeowner her parents hope she marries. (Historical Romance, Independently Published)
Hills of Nevermore by Janalyn Voigt — Can a young widow hide her secret shame from the Irish preacher bent on helping her survive? (Historical Romance from Mountain Brook Ink)
Romantic Suspense: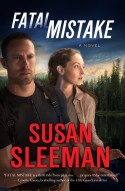 Fatal Mistake
by
Susan Sleeman
— Each day could be her last…but not if he can help it. An FBI agent must protect the woman who can identify a terrorist bomber in bestselling author Susan Sleeman's riveting romantic suspense novel. (Romantic Suspense from Faith Words [Hachette])