Sorry it's been quiet here, there's quite a bit going on behind the scenes, and I'll share more in the coming days. It's a busy time, but an exciting one!
A big part of being an author is also being in marketing. That's not natural for most authors, we just want to write, and that's true for me. Thankfully, I went to college for public relations/communications, so I have a handle on marketing challenges. Like everyone else, I don't love it, but it's part of the call.
Some people make talking about our books very easy. Patti Shene is one of those people, so it's no wonder she hosts a show on Blog Talk Radio called Step Into the Light.
Patti interviewed me on Valentine's Day and it was a fun time. We talked surrender, chocolate, Valentine's Day and about my writing.
It's about 45 minutes long and if you wondered what Upstate NY sounds like, give my interview a listen!
It is also on the right sidebar of juliearduini.com.
Tags: author interview, Blog Talk Radio, Blog Talk Radio Interview: Step Into the Light, books, chocolate, Julie Arduini, Patti Shene, surrender, Valentine's Day
Have you ever connected with someone through e mail and it was just a click? You felt like you knew the person and wanted to have coffee with them? That has been my feeling towards author and blog talk radio host Patti Shene. Through ACFW (American Christian Fiction Writers,) we somehow crossed paths online and touched base because of the Adirondack Mountains.
You probably know my Surrendering Time series, ENTRUSTED, ENTANGLED, and ENGAGED are all based in the Upstate NY region that features 1 million acres. Patti has history there as well, so I always enjoy when I hear from her.
Tomorrow Patti and I are going to have a chat, and YOU are invited! Patti hosts STEP INTO THE LIGHT, a program on Blog Talk Radio. My interview will be live at 10am Eastern. We plan to talk about surrender issues, chocolate, and Valentine's Day. I'm sure we'll talk about writing, too.
If you would like to learn more about any of these things, or, if you're just curious to hear what an Upstate NY accent sounds like, come check it out!
Listeners can access show via telephone or over the internet
Internet URL:  http://ow.ly/yk19308Yh9G
Guest call in: 646-564-9712
I'm thankful for people like Patti that have a passion to share her time to encourage others. She has a great roster of speakers who have given their personal stories to share in hopes of helping listeners. I hope you check it out!
Tags: author, author interview, Blog Talk Radio, chocolate, Chocolate and Interview on Blog Talk Radio, engaged, Entangled, Entrusted, Julie Arduini, overcoming, Patti Shene, Step Into the Light, Surrender Issues, testimonies, Valentine's Day, Valentine's Day 2017, Valentine's Day: Surrender
THANK GOD FOR MEMORY
Two deaths in the space of four months—first my mom in February, then my husband in June—labels 2016 a tough year in my history book.
Death of a loved one is never easy, but to experience two losses in such a short period of time is like having the ambulance transporting you after a car wreck you just survived T-boned on the way to the hospital.
You've barely had time to catch your breath from the first gaping wound when another is inflicted.
Grief is nebulous, yet poignant; crippling, yet cleansing; personal, yet universal.
The last word that comes to mind when hearing the word "grief" is "thankfulness."
Yet, would grief exist if joy, happiness, and love had not precluded it?
When I struggle to put grief in perspective with the goodness of God, I am drawn to the book of Job. We all know of the misery he suffered, the unspeakable sorrow he bore, the devastating despair that enveloped him. Yet, how did he respond?
His wife said to him, "You are still as faithful as ever, aren't you? Why don't you curse God and die?"

10 Job answered, "You are talking nonsense! When God sends us something good, we welcome it. How can we complain when he sends us trouble?" Even in all this suffering Job said nothing against God – Job 2:9-10
It was harder to accept my mom's death than I thought it would be. I was so sure I was "ready" when Mom passed. Although mentally keen as a knife drawn across a sharpening stone, physical maladies, pain, and exhaustion warned us her days on earth were nearing their end. To be honest, my sister and I prayed for her relief from suffering.
Since her death, too many moments have come and gone that I wish I could share with her. The fact that I can't produces a dull ache, kind of like the nag of an arthritic joint on a cold, cloudy day.
Although we had been forewarned of the gravity of his condition, my husband's passing was much more difficult to bear. Reports from the surgical suite were optimistic, so much so that I went to the hospital chapel and thanked God for his mercy in bringing Manuel successfully through yet another surgery. It was upon my return to the waiting room that I was informed he had suffered cardiac arrest and was unable to be revived, despite heroic efforts by the surgical team.
Kind of reminds me of Job in a remote way. I'm sure that iconic Biblical character asked more than once how life could be so good one moment and so bleak the next.
The loss of my husband has inflicted a more acute, more frequent pain that throbs like a knife slash to the gut. His death has forced me to examine myself as a widow, a self-sufficient woman, and a child of God.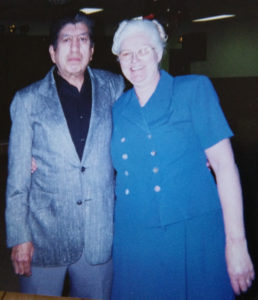 The drug that renders my pain bearable through both of these losses is memory. Sure, photographs, videos, greeting cards, and conversations with others whose lives they also touched trigger vivid recall of the part these loved ones played on my life stage.
Yet, it is the intimate moments of laughter and tears, triumphs and failures, dreams realized and hopes dashed, shared within those relationships that bind me to Mom and Manuel across the span of time. Without that treasure trove of deep seated memories that allows me to drink my fill, the pain would be so raw that it would surely crush my spirit under its weight.
There is much in my current circumstance that I have to be thankful for, but the one gift from God that stands out most prominently for me during this stretch of my life journey is memory.
My sentiments about this blessing are reflected in the following poem, recited by me at my mom's funeral service and printed on my husband's memorial card.
God gave us memory,
A dear and precious gift,
That on our darkest day
We could receive a lift.
He knew we'd suffer pain
Along life's rocky fall,
And so He gave our brain
The power to recall
Our loved one's tender smile
Or kind, devoted touch,
The guidance thru each trial
That fueled our love so much.
Though gone from here below
And where we cannot see,
Love leaves our heart aglow
Thanks to our memory.
So when your day is long
And sadness in you burns,
Your loneliness is strong
And there seems nowhere to turn
Take a moment from the day
To get down on your knees,
Bow your head to pray
"Thank you, Lord, for memories."
Patti Shene
Can you find thankfulness in any grief you may have experienced this year?
BIO: Patti has had short work published in two anthologies and local publications. She has three novels in progress. She has conducted workshops at Christian Writers conferences and served as an editor with a small publishing company. Patti loves to promote writers, both published and unpublished, on her two blogs, Patti's Porch and The Over 50 Writer. She shares stories through personal interviews of those who have found their way from a dark place back to light or those who help others back to light on her weekly Blog Talk Radio show, Step Into the Light.
Patti lives in Southeastern Colorado and is fortunate to reside in the same town as her daughter and fifteen year old granddaughter, her only grandchild. Still, her heart brims with memories of the Adirondack North Country of New York, where she spent many childhood vacations and still returns periodically to visit family.
Website-www.pattishene.com
Twitter – https://twitter.com/PattiShene
Facebook – http://ow.ly/QN1u306koqf
Facebook (Step Into the Light page) –  http://ow.ly/CRNS306koSJ
Blog talk radio show http://www.blogtalkradio.com/stepintothelight
Tags: author, Bible, death, death of parent, death of spouse, grief, Job, Julie Arduini, memories, Patti Shene, Thank God for Memory, thankful