THE STAR MOVIE REVIEW: A FILM FOR EVERY MEMBER OF THE FAMILY
Julie's note: This review from Deanna Evans can be found here.
I was asked recently if I'd like to review THE STAR movie, based off of the very first Christmas, from the animal's perspective surrounding Christ's birth. This was something I had never done before but was excited about doing.
Wow and Wow! This film has it all from start to finish you will be mesmerized by its characters, colors and the story surrounding the Nativity. When I finished screening the movie, I was loving it! The story of Bo the Donkey along with Mary and Joseph flooded my heart with all kinds of emotion. I watched the film three times with the same reaction after each viewing! Bring in the amazing music and singing of Mariah Carey's title track song for The Star, you have a new playlist and movie for Christmas!
In Sony Pictures Animation's The Star, a small but brave donkey named Bo yearns for a life beyond his daily grind at the village mill. One day he finds the courage to break free, and finally goes on the adventure of his dreams. On his journey, he teams up with Ruth, a lovable sheep who has lost her flock and Dave, a dove with lofty aspirations.
Along with three wisecracking camels and some eccentric stable animals, Bo and his new friends follow the Star and become unlikely heroes in the greatest story ever told – the first Christmas.
CAST OF CHARACTERS
The voices of the beloved characters are like no other. Steven Yeun, Gina Rodriquez, Zachary Levi, Keegan-Michael Key, Kelly Clarkson, Anthony Anderson, Aidy Bryant, Ving Rhames, Gabriel Iglesias, Patricia Heaton, Kristin Chenoweth, Christopher Plummer, Tracy Morgan, Tyler Perry and Oprah Winfrey.
If you're like me try and figure out who is who in the film. Some may be easy to figure out but others you may have to think about or look up.
One of the goals of director Timothy Reckart was to make these animated characters feel life-like, so that we, the audience, would be drawn into the story and be able to relate to the way they thought and acted. During the interview with director Reckart, he stressed this importance when he said, "the goal was to create characters that were based on clues we have in the Bible that also gives each character an opportunity to have an arc." I was thankful the director took this approach and was cognitive of the actual biblical story. Animated films need to take some creative liberties when retelling a biblical story, which often includes adding humorous (and fictitious) elements. But I felt director Reckart stayed within the bounds of reasonable storytelling. There are many examples throughout the movie but one example is when the donkey named Bo interacts with a sheep by the name of Ruth. These characters take our minds back to the Old Testament narrative of the story and book of the Bible Ruth.
A MOVIE FOR EVERY MEMBER OF THE FAMILY
The take away from this movie will leave you feeling ready to enjoy the Christmas season ahead. Reminding us of the true meaning of Christmas. This will be a welcomed addition to the Christmas Classics seen year after year. I know it will be in our home!
THE STAR OPENS IN THEATERS NOVEMBER 17, 2017
Check out some of the online interactive activities:
Interactive Animated Coloring Book

By DEANNA EVANS
Deanna Evans is a freelance writer for Flyby Promotions, a Blogging Network and contributing writer for Telling Ministries.  She is a busy Pastor's wife and mother to a young son, who keeps her days filled with adventure.
Image credit © 2017 CTMG, Inc. All Rights Reserved
It's been almost a week and no doubt you've been as bombarded by news reports, interviews, Facebook updates, tweets, and YouTube clips regarding the life and death of Whitney Houston. Although I post ahead of schedule, I still waited to write about it because I wanted to process it. There is a lot in what I'm reading that rings true.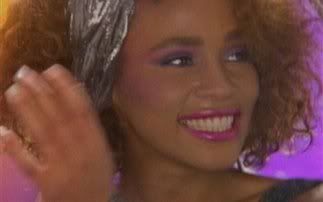 For instance, I'm a Gen X'er. I grew up singing How Will I Know picturing my crush of the week as I sang into my hairbrush. I had posters of Michael Jackson on my wall and to this day I can't think of a piece of music that was an experience, that defined an era as Thriller did.  Corey Haim and River Phoenix were part of my cinema experiences. And if I'm clocking in at 41 and holding, and these Gen X icons were close to my age, well, their deaths were just too soon.
Of all the press out there on Whitney's death, there is one interview that stands out for me. I believe it's the infamous "crack is whack" interview with Diane Sawyer ten years ago. Perhaps it's Oprah. Whatever interview it was, the question was this—
What is your devil?
Her answer was transparent, very much so given the secrets and acting most celebrities are forced to hide behind.
"The devil is me."
She went on to say she is her worst enemy and her best friend. Throughout the week I've talked to kids and read comments from adults who blame her ex-husband Bobby Brown for her decline. I'm well aware of his reputation before they married and by no means am I saying he played a part of a saint in their marriage.
But Whitney knew and spoke what we all need to own up to, myself included.
We have the free will in this life to make choices.
She knew that and admitted for her choices, she was responsible for the answer on who the devil in her life was. It was her. In my life, it is me. I might not have cocaine readily available, but I know how to get my hands on so much chocolate it was nothing for me to down a near bag of M&M's for breakfast. That choice, as Lysa TerKeurst writes in Made to Crave, is more permissible than hard drugs, but is it beneficial? No. My health takes a  hit when I make choices like that, and the option to dive into gluttony is always there.
That's what I learned from her death—to be aware of the devil that is me. To make choices that are healthy and to own up and take responsibility when I mess up, and I will.
How about a lesson I learned from her life?
No matter where your faith is or isn't, the same word regarding her life has been tossed around. Gift. She had a gift. My belief is God created her with purpose to sing. It's not for me to say if she did so in a manner that advanced His Kingdom, but I know she made so many people happy and her voice was second to none. Her gift was music and she was active in that industry. I know so many people gifted in so many ways and they spend all hours of every day in every part of life but the area where they are gifted.
I refuse to let that be me.
This year is still pretty new and yet I feel frustrated with my writing life. There isn't anything too tangible happening in 2012 beyond setbacks and delays. I understand writing is a process and there is a huge learning curve. Those who truly want it have to go after it day after day with little thanks. Only yesterday I wondered if I'm crazy to even try.
Then I remembered the gift. I'm not the best writer out there. I get that. But I know it is what God has called me to do. He has and will continue to equip me, and what a gift that is. I refuse to put that gift down.
I might not have a shelf full of trophies, but I'm going to use what I have while I have breath to do it.
And that, my friends, is what I'm taking away from the life and death of Whitney Houston.
photobucket