Wish You Were Here
| Beth K. Vogt

Allison Denman is supposed to get married in five days, but everything is all wrong. The huge wedding. The frothy dress. And the groom. Still, kissing the groom's brother in an unguarded moment is decidedly not the right thing to do. How could she have made such a mistake? It seems Allison's life is nothing but mistakes at this point. And pulling a "Runaway Bride" complete with stealing, er, borrowing her best friend's car doesn't seem to solve her problems. Can Allison find her way out of this mess? Maybe she just needs to stop orchestrating everything. Allison prefers being the one in control, and giving it up is not going to be easy. But to find her way again, she will have to believe that God has a plan for her and find the strength to let Him lead.
I've followed Beth's writing for quite awhile. I'm a MOPS (Mothers of Preschoolers) mom and now mentor mom, and Beth has been encouraging moms in this organization with her work with MOPS. I remember when her non-fiction book about having a baby after 35 came out.
Then I visited Susan May Warren and Rachel Hauck's My Book Therapy, a cyber team full of helps for fiction writing, and Beth was there. Beth? A fiction writer? I kept an eye on her, wondering how that would work out. I confess, it was part for my own curiosity as most of my writing credits are non-fiction, but my heart has been fiction. If Beth made the jump, could I?
I can tell you this, Beth has made the jump, and it's a successful leap into fiction with her debut novel, Wish You Were Here. Beth doesn't dip her toes in the fiction waters, she jumps right in by delivering an unconventional romance. When Allison's story starts, she's five days away from her wedding and ends up kissing her soon to be brother-in-law. She runs from her own wedding. How can a story move forward when it looks like Allison is boxed into a corner?
Beth Vogt delivers. She not only writes Allison out of the runaway bride corner that kissed the fiance's brother, she creates profound characters and deep backstory. I finished Wish You Were Here in one sitting because it was unique and full of heart. Each chapter features a postcard message, and there is bonus material at the end that I really enjoyed. The story if full of memorable characters, my favorites being Meghan and Aunt Nita. Contemporary themes that could give hope to readers are woven into Allison, Seth, Daniel, and Hadleigh's stories. What I love is if anyone else in their debut novel tried to incorporate so much, it would be convoluted.
I'm curious about Beth's motivation with Scoti. She gives a quick glimpse into his character, and it threw me, especially as this is a Christian novel. It's not bad what she hints, but I admit, I'm curious as to why she went there. But it doesn't take away from the story. Another memorable moment–I LOVED the shout out to Susan May Warren and Rachel Hauck.
For all the readers who struggle with surrendering control and offering forgiveness, Wish You Here isn't just a good summer read, it's a must read.
About Beth:
Beth K. Vogt provides her readers with a happily ever after woven through with humor, reality, and God's lavish grace. She's a non-fiction author and editor who said she'd never write fiction. She's the wife of an Air Force physician (now in solo practice) who said she'd never marry a doctor-or anyone in the military. She's a mom of four who said she'd never have kids. Beth has discovered that God's best often waits behind the doors marked "Never." She writes contemporary romance because she believes there's more to happily ever after than the fairy tales tell us. Beth earned a journalism degree from San Jose State University and met her husband Rob when he knocked her down at a karate studio. They've been married for 31 years. They have four children, ranging in ages from 28, 25, 23 and – thanks to a funny thing happening on their way to the empty nest-a 10-year-old. The Vogt Team, which now includes a "daughter-in-love" and "son-in-love," enjoys hiking and camping in Colorado. Read more about Beth at her website:http://bethvogt.com
Link to buy the book:  http://ow.ly/aQTEk
Here are the other bloggers participating in the Wish You Were Here Tour:
http://litfusegroup.com/blogtours/13480251
I received this book from the publisher in exchange for an honest review.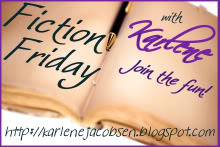 Welcome to Fiction Friday! Join us by posting your fiction work on your blog and linking below.
What's that saying, life gets in the way? My heart is driven for fiction lately and yet it's the last thing I'm doing these days. I had a story idea all week and between field trips, dodgeball tournaments and being sick, the idea is still in my head.
But…I am sharing an idea I've had for years for a fiction story based on surrender and forgiveness. I entered it for Flash Fiction with My Book Therapy (join that group!) and still haven't had time to rework the excellent points they gave me.
Here it is though: a young woman who grew up in the middle of her mother's betrayal learns her half sister discovered the same truths and runs away. Can Clari Baker forgive the past in order to help her sister Savannah do the same?
SECOND TIME AROUND
I'm pretty sure talking on a cell phone while pumping gas isn't as potentially explosive as trying to diffuse a tween half sister on the verge of running away. Savannah Parks' shrieks muffle the gas pump beeps.
"All those years I wondered what I did for you to hate me, why you refused to live with us when you had college breaks. It was never me. It was all mom."
I finish the transaction and gather my thoughts.  A dozen years of betrayal, anger and unforgiveness seem to transfer over the phone line. Savannah sounds just like I did but the stakes are harder with her.
"You're hurting sweetie, the last few months I'm sure have been hard for you. Don't worry, I'm on my way. We'll sort this through together." I push my sweaty hair out from under the phone, ready to travel. Savannah's still grumbling.
"I won't be at the house. I'm packing my things and taking the journals to Pastor Dean's. I can trust him." She ends the call and I drop the phone.
Savannah has mom's journals.
She's heading to my childhood best friend's house, my home away from home when I was growing up.
This time, Dean Welling is her childrens' pastor and I'm just another family member that let Savannah down. I pick up the phone and call my dad. His soft voice calms my growing fears.
"You remember what it was like for us to learn someone we loved didn't meet our expectations. Imagine Savannah finding out everything you did. Now add that her mother is dead and Savannah can't go directly to her to learn more."
"It's time for me to right a dozen years of heartbreaking wrongs."
"I think Clari Baker; you've joined a mission God long ago put in motion."
Your turn! Leave a comment and then add your post to Linky Tools below. I look forward to reading your story!
Powered by Linky Tools
Click here to enter your link and view this Linky Tools list…