CAPTIVE, based on a miraculous true story that drew the attention of the entire nation, is a thrilling drama about the spiritual collision of two broken lives.  When Brian Nichols – on the run as the subject of a city wide manhunt and desperate to make contact with his newborn son – takes recovering meth addict Ashley Smith hostage in her own apartment, she turns for guidance to Rick Warren's best-selling inspirational book, The Purpose Driven Life.  While reading aloud, Ashley and her would-be killer each face crossroads where despair and death intersect hope.  

The movie stars David Oyelowo, who played Dr. Martin Luther King, Jr. in the recent film, Selma.

Click HERE for a special greeting from David Oyelowo
I remember Ashley Smith's story well. She was the single mom who was held hostage in her home and read The Purpose Driven Life to her captor. She went from victim to instant hero with an onslaught of publicity. It was obvious she wasn't comfortable with the attention and as time went on, I heard bits and pieces of her story. She was a recovering addict. She didn't even have custody of her daughter. And then, the story disappeared.
Captive is a haunting read because in Ashley's words, she re tells her story and puts the reader right there in the apartment with her. I was completely absorbed into the story and read it in an evening. As the scenario unfolds it is obvious God had His handprints all over this. It's amazing for all the places Brian Nichols went, he arrived at Ashley's neighborhood. She was in the process of unpacking. She was new. Faith was a very new thing for her and it was her lifeline. But she had a plan B. She still had a stash of drugs.
I loved Captive because it's an intriguing story that shows what God can do with a willing vessel. What I found surprising was she didn't read a lot of The Purpose Driven Life to him. I had the impression she read chapter after chapter. I came away thinking God guided her conversation. She kept talking to him. He was a churched man. And that's what made his story so sad.
I Googled the two to see "where are they now?" Ashley is married with two more children. It appears as if she is doing well and is active in her relationship with Christ. Brian Nichols? I see no mention that he transformed for the better after all the conversations he shared with Ashley.
This is going to be a major movie this month and I believe it will be not only solid entertainment, but a solid message, too. Captive, the book, was. I hope you read it.
To Purchase Captive by Ashley Smith, click here.
It's been a crazy week filled with jury duty and following God's lead no matter where it may take me.  One of the places He took me was to the couch. I had a day off from jury duty and spent the day resting and catching up on Netflix. One of the movies I watched was You Again. This released last year and featured Kristen Bell, Jamie Lee Curtis, Sigourney Weaver and Betty White.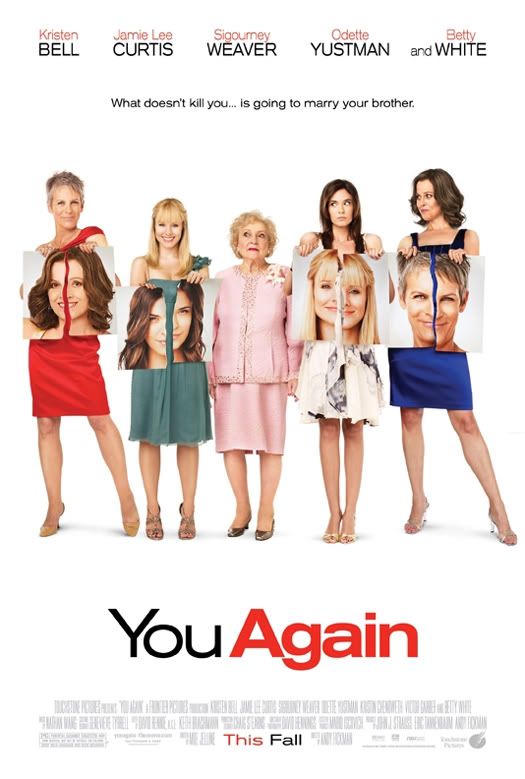 I thought it would be a great movie to relax with and it was cute. I didn't plan on seeing such a great object lesson on the consequences of not being able to let go of the past.  On the right sidebar is a box where I can play a video so I included the trailer to this movie.  I invite you to check it out.
I realized last year I was struggling with the stuck in the past issue. I realized anytime anything remotely connected to that period in time took me back and I stiffened, my eyes narrowed and most likely steam came out of my ears.  It was something I couldn't solve on my own and once I surrendered it, the past didn't consume me anymore.
You Again does a great job setting up the past, how easy it is to stay there, and the consequences of not being able to let go.
Have you watched it? What did you think?
photobucket image