Hi! Remember me? I'm the author of this blog. It's been so long I feel like I need to re-introduce myself. I look like this:
This blog was my first, my baby, the one writing vessel I clung tightly to as I sought publication. In the last couple years as I followed God's call to have my own writing and speaking ministry (and released four books,) this little blog hasn't featured my own voice for a long time.
And I hate that.
I miss it.
I hope to catch you up with this post, and most importantly, kick off what I think might be the 10th year of the thankful series here at juliearduini.com. Each November I hand the blog over to anyone wishing to share why they are thankful. There are some great guest bloggers lined up with amazing gratitude. I don't know about you, but I feel this is a critical juncture at this time, in this world.
I need to hear positive words. Encouragement. Affirmation. Thankfulness.
Why not start here?
If you aren't subscribed to the blog, click to the right sidebar and you will be able to receive the posts to your inbox. You don't want to miss the thankful series, trust me!
This year hasn't been horrible, but it's been hard. I figured I'd be thankful for the good, the bad, and the ugly.
Let's go.
THE GOOD
We have two grandsons! They both live in the same state (sadly, not the state we live in,) and are very close in age. It's going to be so much fun watching them grow up together.
Our daughter is thriving. She has braces, she is on student council, and bouncing back after a brutal 7th grade experience.
Our son is doing well as a sophomore at Kent State. This semester he's 100% online, and that's been such a blessing for me with various projects.
We have a wonderful family living in our rental property. God did an amazing thing orchestrating it.
I finished the Surrendering Time series, and am grateful for the readers who have been transformed by the surrender messages.
I received an invitation to join Inspy Romance, and love being a monthly blogger with them.
I created a community of encouragement called 180 Encouragements. For us, we pick a slip each school day and start it with words of life. It's also for anyone else to take the images/words and encourage someone else.
THE BAD
My word for the year is transformation and I never thought I'd see so much change hit so fast and hard. Our son saw so much change with friendships, school, and work. What was hard to watch was knowing he'd done all the right things. It was Christ refining him, growing him. As a mom, it was tough to observe.
As I mentioned, our daughter did not have a great 7th grade year. Like her brother, she was doing the right things and there were key people around her who destroyed the joy she so naturally carried.
Car repairs. My husband's retirement was on the table as something to talk about with a timeline. Then the transmission on his car went. The repairs were crushing. Our son's car had a major repair that was a fire hazard, and the dealer really could have cared less when I brought it to their attention, making us pay $200 more than they quoted, and that quote was outrageous. Retirement? We can't even afford for him to talk about it anymore.
We had a situation where we trusted and got burned. It was a financial gift that was a sacrifice for us that cost us thousands in the end. More than that, it paralyzed us from trusting for a bit. It forced us to work on restoring property we didn't have time or money to invest, but we had to. Things we lent that were nearly or brand new were lost or destroyed.
THE UGLY
Not even a week into the new year and we learned that our friend's three year old daughter was taken from them through the actions of a refugee who received her license although she can't speak or read English. Before this tragedy, she had already been cited for driving down the wrong way. In this instance she hit both the girl's father, and the girl, while her friends from pre school witnessed it. The driver was not cited, and last I knew, has her license and is still driving. I don't want to be political, but I will be real—this aspect of the refugee debate has not been discussed, and it is a real issue. No one should have to attend a funeral for a child. No. One.
All the changes with the kids took me to a new place I had not known outside of hormone imbalance, anxiety. I feared new situations for them and wanted to be one step ahead. I wanted to take their pain and wrap it in a ball and throw it all away. I yearned to talk to the people who hurt them, intentional or not, I wanted to have the last word. I was exhausted even after sleeping, craved sugary foods again, and felt like I backtracked in health progress from last year.
So many tragedies this year. Hurricanes. Earthquakes. Terrorism. Division. Ugly isn't a strong enough word.
It's hard to be thankful for the bad and the ugly, but as much as I can be for these hard and even terrible things, I am. With the kids, I had to lean on God and trust Him. Instead of acting on my temptations, I was able to wait on God and watch Him work wonders. And He is. I still have a quick seize of fear when something new or shocking comes our way, but my time is shorter in surrendering that fear to Him instead of trying to tackle it for myself.
With our friends, they are grieving, understandably. I am thankful to see they have a very strong support system. They created a page on Facebook encouraging people to do acts of Kindness in Regan's memory. Their goal is for her not to be forgotten. There is also space dedicated to Regan at The Wild Animal Park in Chittenago, New York. Families can now have a seat and photo opportunities at a place Regan loved. Many people came together to make this happen. Recently, people are painting rocks and hiding them as another way to honor and remember her. These are ways to make the goal a reality, and help her family.
These days, it's hard to be thankful. I haven't met anyone this year who has boasted of a perfect life. There is hurt and hardship everywhere. Thankfulness makes a difference and is a choice. I pray the posts throughout this month lift you up.
Just like you have for me.
As the cool weather settles around us, retailers woo us to shop and "celebrate" the upcoming seasons.  We've been tempted to buy our Halloween candy in July and stroll through Hobby Lobby's Winter Wonderland by mid -October.  The intentional pausing of giving thanks is almost forgotten as Black Friday shopping strategies are formed and the shopping frenzy creeps into Thanksgiving Day. This shouldn't be!!   It has been refreshing to see different Facebook posts of what people are grateful  for as we approach Thanksgiving.  Many reflect on the blessing of family, home, and their faith.  I've seen pictures of spectacular Nebraska sunsets that shout glory from our Creator.  It's been fun to find joy in little things too. Who doesn't smile when they hear the belly laugh from an energetic toddler or smell the wonderful aroma of a roast that simmers all day in the slow cooker?  One of my new favorites is to intentionally rest on the Sabbath after a full week of activities. (Yes!…I'm grateful for the ability to a napper!)
There are many scriptures in the Bible instructing us to be thankful. God desires us to develop of heart of gratitude much like we teach our children at a young age to say please and thank you.  As I scanned the Bible for a good "thanksgiving verse" , I found Colossians 2:7. I love this verse because it shows that joy and gratitude are the result of our first abiding in Him and growing our lives on Him.  It's such a neat thought that we are literally overflowing with gratitude because of our love of Jesus. It's something we can't control!  It's not a holiday that prompts it; It isn't a "have to",   it's not because it's a nice thing to do.  It's because of Jesus. We love others, we have joy, and we overflow with thanksgiving because of Him.
" Let your roots grow down into Him, and let your lives be built on Him. Then your faith will grow strong in the truth you were taught, and you will overflow with thankfulness."  Colossians 2:7. (NLT)
             Every year I plant an overabundance of flowers by the walkway that leads to my front door. I love the display of pink and purple as I come home each day.  I water them, weed them, and occasional remember to feed them with  MiracleGro.  For the most part, the plants do well and reward me with bursts of color. Yet, there are always a couple of duds.  They are in the same flower bed, they receive the same attention, yet they minimally bloom and by the end of the season, these plants have shriveled up.  As I cleaned out the flower beds, I realize the problem; these plants were unable to mature and display the beauty they were created to because their roots never developed. The plants started out well but eventually became stressed and died because the roots were superficial and didn't grow deep into the soil.
Thinking of my begonia duds, I saw the correlation of our spiritual life.  As a growing Christians, God instructs us to grow roots down deep and build our lives on Him.  Similar to the way God created plants to start as a seed and grow into maturity, we too must expect that our growth will be a process. We water and "fertilize" the seeds of our faith by studying His Word, by choosing joy in difficult circumstances, and surrounding ourselves with other believers who will build us up. We "feed" ourselves and occasionally "weed out" certain influences that may distract us from living out our purpose. We grow strong in truth and overflow with thankfulness.
Thanksgiving is a special holiday that focuses on others and reminds us to be thankful. By intentionally leaning into Jesus and developing deep spiritual roots, we'll be given unlimited opportunities to show others grace and practice gratitude throughout the year.
 "Dear Jesus, Your Word is full of examples of thanksgiving. As a growing Christ-follower, I desire to see gratitude in everything. I look forward to the day when my deep roots cause me to overflow with thankfulness in response to every part of my life."
Joni Tyner lives in Papillion, Nebraska with her husband Mark and their 3 children. She works part time as a nurse in an outpatient surgical center and recently began blogging as an opportunity to share her faith journey with others. In her free time, she enjoys outdoor cycling, attending fitness classes at the local YMCA, cooking and getting together with girlfriend for a cup of coffee and some good heart to heart conversation.
Win Spiritual Warfare by Giving Thanks
Gratitude changes my attitude.
Sometimes I forget when I pray, seeking God for specific needs, that I should be thankful first. The Apostle Paul instructed us "in everything by prayer and supplication with thanksgiving let your requests be made known unto God" (Philippians 4:6).
He precedes that statement in verse 4 with "Rejoice in the Lord always; and again I say, Rejoice." When we're thankful, our spirit rejoices.
I am amazed sometimes at how many things I have to be thankful for. There is no way I can name them all, but at the top of the list is God's mercy, love and caring. I'm so thankful Jesus came to give abundant life here and for eternity.
Then I am thankful for my husband and family and that they have the Word of God planted in their hearts. We're not a perfect bunch, but we are so blessed with children and grandchildren who love and serve Jesus.
I'm thankful for America and freedom.
I'm thankful for friends, those I know personally and those I've interacted with online. I pray for friends I see often who have needs, but also pray for others I seldom see and those I haven't seen who check out my blog from the United States and about 50 other countries.
Here are a few scriptures on gratitude:
"Giving thanks always for all things unto God and the Father in the name of our Lord Jesus Christ" (Ephesians 5:20).
"I thank my God through Jesus Christ for you all, that your faith is spoken of throughout the whole world" (Romans 1:8).
"Whatever you do in word or deed, do all in the name of the Lord Jesus, giving thanks to God and the Father by him" (Colossians 3:17).
"But thanks be to God who gives us the victory through our Lord Jesus Christ" (1 Corinthians 15:57).
"Blessing, and glory, and wisdom, and thanksgiving, and honor, and power, and might, be unto our God forever and ever" (Revelation 7:12).
Although Thanksgiving might not be a holiday everywhere, may God grant every one of you no matter where you live, a grateful heart. In his instructions in Philippians Paul said when you enter His gates to speak to God and are thankful, "The peace of God, which passes understanding, shall keep your hearts and minds through Christ Jesus" (Philippians 4:7).
©Ada Brownell 2012
  Ada Brownell is a retired journalist who also has  written for Christian publications since age 15. She is author of the book, Swallowed by Life: Mysteries of Death, Resurrection and the Eternal, a book that points out evidence that we're more than a body.
Blog: http://inkfromanearthenvessel.blogspot.com
Swallowed by LIFE: http://amzn.to/Jnc1rW
Confessions of a Pentecostal: http://www.amazon.com/dp/B0088OP460
 Facebook: https://www.facebook.com/#!/AdaBrownellWritingMinistries
Twitter: @adellerella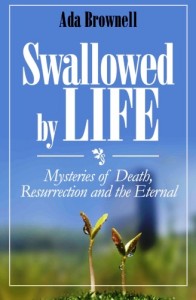 SWALLOWED BY LIFE: Mysteries of Death, Resurrection and the Eternal
                                          By Ada Brownell
Do you know evidence shows we're more than a physical body?" The above book speaks about this mystery and the evidence; the wonder of life with all its electrical systems; the awesome truth about cell death and regeneration; brain death; mysteries surrounding the change from mortal to immortal; where we go when our body dies; resurrection; and a glimpse at what we will do in heaven. Questions and answers make this non-fiction inspirational book a great text for group study. It's also written for support groups, religion classes, people with chronic or terminal illness, individuals who fear death or are curious about it, the grieving, and those who give them counsel.
Where you can find Swallowed by Life:
Amazon: http://amzn.to/Jnc1rW
Barnes and Noble: http://bit.ly/JnbKVL
Booksamillion.com http://ow.ly/cJmx8
And you can see reviews on GoodReads http://ow.ly/cJmMe