For a few years, each birthday I've blogged about how I'm feeling about the new age I'm in. I'm a little late on this one, but here it goes.
I've noticed 44 is usually the last number on surveys and paperwork before a new age bracket begins.
Ouch.
It's a small step forward to being closer to 50 than 40.
But for me, 44 isn't a bad year to embrace.
I'm looking forward to the future while contending for it.
I'm believing God for promises He sealed to be delivered long before I was born.
I'm long past the longing for a baby to hold as my own, and starting to look forward to the day when I hear I'm going to be a grandmother (from Tom's older children, when they are both married.)
We're looking for a home that will be our last.
The place where kids graduate and move on.
Where we retire.
Where we entertain our kids and their families.
But first, there's the now.
Entering new writing projects filled with hope and promise.
Waiting on other writing projects but coming to terms with it.
Trying new things, including a haircut my stylist based, of all people, on Miley Cyrus.
And I wear that hair, with the same attitude I wear 44.
With confidence.
Giving Thanks
 Give thanks to Him, bless His name.  For the Lord  is good; His lovingkindness is everlasting
and His faithfulness to all generations.  Psalm 100:4b-5 NASB
      All my life, Thanksgiving has been one of the most joyous occasions I can remember.  When I was young, we would spend it at Grandma's house with all my aunts and uncles and cousins.  Grandma would have spent days baking and making turkey, dressing, and all the fixings.  Mom, my aunts, and grown cousins would contribute to the feast, and there would be so many cakes, pies, Jello desserts, and banana puddings it would take all the counters in Grandma's kitchen just to hold them.  Generally all the tables were filled with food, so we would all take our plates around, fill them with goodies, and then take them outside to eat.  If it was too cold out, we'd sit cross-legged on the floors with our plates on our laps.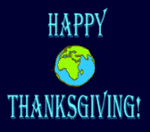 As an adult, I tried to carry on my grandmother's tradition.  My youngest daughter was born on the Sunday after Thanksgiving, so most of her life, her birthday fell near, if not on, Thanksgiving.  This gave us even more reason to celebrate, and usually our Thanksgiving dinner was topped off by a birthday cake, since this was the day I could count on her brother and sister and their families being there to celebrate with us.
Thanksgiving is a time I still want my family around me the most, but it doesn't always happen that way anymore.  My youngest daughter is deceased.  My son lives too far away, and most of the time my oldest daughter has to travel to take her step-children to visit their biological mother for the holiday.  So there is a bittersweet sadness to the joy that once permeated the day for me.  But the reason I celebrate it is still there.
I learned it as a very small child.  Jesus loves me.  This I know.  For the Bible tells me so.   He's the reason I celebrate, and He's the same, yesterday, today and tomorrow.  I love Him so, and I thank Him for all He had done for me and for my family, bringing us through both the good times and the sorrows.  My prayer today is that when we get to that great Thanksgiving feast in heaven on the day we become the bride of the Lamb, my family will all be there; aunts, uncles, cousins, sisters, brother, in-laws and outlaws, children, and grandchildren, and even the great-greats if the Lord tarries that long.  And I pray, Lord, help me to do whatever I can to make that happen.  I am Yours.  I bless Your Name.  For You are good.  Your lovingkindness and faithfulness has brought us through even in this generation.  Thank You for loving me, for saving me, and for sharing this day with me; a day to give thanks.
Teresa Pollard is from Richmond, Virginia, and was saved at a young age.  She has a Masters degree in English and Creative Writing from Hollins College, and has served as a Sunday School teacher and children's worker for most of the last forty years.  Married for forty years, she was devastated by divorce and the death of her youngest daughter, but God has blessed her with a new home and another grandson, and she now resides in Dacula, Georgia.  Her website is TeresaPollardWrites.com
Teresa's books published by HopeSprings Books:
Yesterday I presented an interview with author Sharon Srock. Today I have a review of her women's fiction book, Callie. This is Book One in the Women of Valley View by HarbourLight, an imprint of Pelican Book Group.
I think it's natural for every woman to want to help, make a difference, be a rescuer. I also te think it's reality to have the very best of intentions and have things go horribly wrong. When it does, the urge to never help again is something I can relate to.
That's why I believe readers will enjoy Callie. She's not a college-age model as most TV characters appear, but a fifty-something grandmother with frustrations and dreams. But when tragedy strikes, Callie wants to retreat. Yet as a grandmother and Sunday School teacher, she's drawn to a young girl who looks like she needs help. Trust is a mutual thing as Callie as to trust it's worth helping and that results can be different, and for the family she encounters, they have to trust things will work out for their benefit.
In the middle of this story of friendship, grace, and healing are strong, well-developed characters that will become your friends. I especially enjoyed the interactions between Callie and her husband, Benton.
I found Callie a warm and tender read, perfect for a night by the fireplace.
Book Description:
Three dire circumstances. Three desperate prayers. One miracle to save them all. Callie Stillman is drawn to the evasive girl who's befriended her granddaughter, but the last time Callie tried to help a child, her efforts backfired. Memories of the tiny coffin still haunt her. Samantha and Iris Evans should be worried about homework, not whether they can pool enough cash to survive another week of caring for an infant while evading the authorities. Steve Evans wants a second chance at fatherhood, but his children are missing. And no one seems to want to help the former addict who deserted his family. For Steve to regain the relationship he abandoned, for his girls to receive the care they deserve, Callie must surrender her fear and rely on God to work the miracle they all need.
Readers, you are in for a treat. Sharon Srock and Harbourlight have a free PDF available for you to download that contains a glimpse of Callie. You can enjoy by clicking here.
But wait, there's more! You have a chance to win this gift basket containing:
A copy of Callie's story
A certificate for Terri's story when it releases in April
A 6 piece Cherry blossom bath set
A cosmetic bag
A Bath Wrap
A Cozy pink eye mask
A Pair of aloe infused booties
A Hair Turban
A Tennis Bracelet
A 25.00 Amazon gift card
From Sharon: "The rules are easy. For every reader that comments on my feature, they get an entry into the drawing. Please remind them to include some contact info with their comment. A winner will be drawn Monday November 19th. The items add up to well over 100.00 in value."
You can purchase Callie from Barnes and Noble, Amazon, and Pelican Book Group.
I received Callie from the author in exchange for review.