I've been working on a side project to help readers with the wait for ENGAGED and try something unique. I created a devotional, a set of readings meant to encourage readers as they surrender the very areas I write about in my Surrendering Time series.
Finding Freedom Through Surrender is a journey through surrendering fear, loss, change, regret, and the future. What I love is they are written through the point of view of ENTRUSTED, ENTANGLED, and ENGAGED characters. For readers familiar with the stories, the devotionals will be a fun look at their experiences and how you can find freedom for yourself. If you are new to the series, the characters give a little information to help you know them without giving away story spoilers.
I plan to have this available on Amazon, but I want YOU to have a sneak peek. Click the link below to receive a 14 day look.
CLICK HERE FOR YOUR COPY of 14 Day Devotional: Finding Freedom Through Surrender.
This will take you to my site, where you will then click on the right sidebar widget that offers the 14 Day Devotional. If you have trouble, let me know at juliearduini@juliearduini.com, or on social media @JulieArduini.
(By clicking on the widget, you are agreeing to receive my monthly newsletter. You can unsubscribe at any time.)
Thank you for being a faithful reader!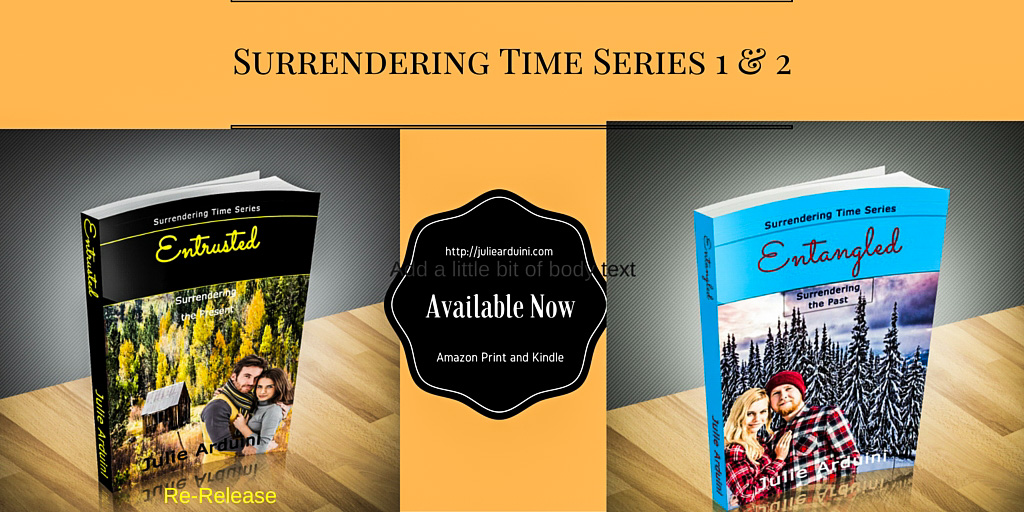 It was a story I never meant to write, and I struggled every word. When I finally felt I had a decent plot together and tackled it, I came up thirty thousand words short.
Yep. Thirty. Thousand. Words.
Even after I finished, something still felt off. Not wrong, just off. Once I started pressing in, I realized it was a stirring. Eventually Entangled became the first new release from my own Surrendered Scribe Media.
Yep. This crazy year, I obeyed God's call to start my own business where I encourage audiences to find freedom through surrender.  I'll accomplish it through speaking and fiction. My Surrendering Time series is my first fiction.
Yep. God knew what He was doing. Already the feedback is coming in that Entangled is helping readers see they need to let go of guilt or choices that are holding them back. That story I was ready to give up on is being used to help people.
Wow.
Because May was so busy, so far it is only on Amazon, but for print, I will probably make it available a few more places. Whether or not you have a Kindle, my version for Kindle is readable on a free app for your tablet, phone, etc…
Here's what Entangled is about:
Entangled: Surrendering the Past

Book #2, Surrendering Time Series

Julie Arduini

 

"You need to leave me alone. It's the least you can do."

Carla Rowling has been given her dream of attending cosmetology school. The gift is so generous she feels unworthy because of choices she made as a teen. The pressure mounts as Carla juggles school, is a single mom, helps her best friend Jenna plan her wedding, spends time with boyfriend Will Marshall, and deals with the fact that her son's father is back in their lives. Will Marshall is the one Speculator Falls resident everyone can count on. His truck deliveries are reliable. He's the first to help friends like Ben Regan with boat work or be a card partner with Bart Davis. Will's ready to settle down with Carla, loving her is natural. He's bonded with her son, Noah. But when Carla starts cosmetology school, she puts emotional distance between her and Will. Can Carla release her past and create a future full of highlights, or, will she burn her options worse than a bad perm?
Purchase Link:
Entangled is book #2. Although it can standalone, if you'd like to read Entrusted: Surrendering the Present first, click here.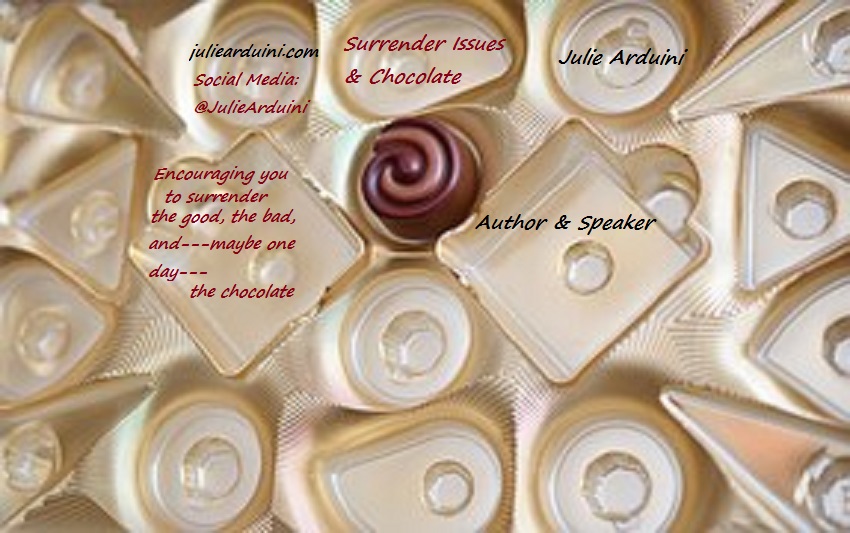 Is there anything better than encouragement?
Okay, chocolate is definitely on the list.
Well, I've done a lot of praying this last quarter on what specific things could I be doing to reach the most people with the message I believe God has me to share.
The message?
Simply, Surrender Issues and Chocolate.
What do I mean?
I believe people find freedom when they surrender. That was the one quote that jumped at me when I watched War Room. Miss Clara said something to the effect, "Before you can have victory, you first have to surrender."
My goal is to encourage and cheer as you lay those things down.
Sometimes they are good things. I've had to surrender a home and loved ones because a job took us somewhere new.
I've had to let go of bad things. Fear of what people thought of me. Fear of rejection.
And, I confess, I'm not quite ready to give up the chocolate. But maybe, one day I will.
I think we can all relate. So, to cheer you on, starting in January I'm sending a sweet, weekly encouragement that will help you in your surrender journey.
Each week in your inbox you will find a short surrender based message that will always include some chocolate mention. I want you to start your week right and feel less alone. The encouragement my free gift to you.
Want in? I hope you do.
Please tell others, let's have fun in 2016 together!