When I was sent to the assistant principal's office in middle school it wasn't for mouthing off or fighting. Nope, I got in trouble for reading ahead.
Story of my life.
Reading remains my favorite relaxation. Although most of my time is invested in writing, I love sitting down with a good book. I long to talk to people about it.
Starting Tuesday, I'm combining writing and reading by launching my Fall Book Club. My plan is to connect with fellow readers and start reading and discussing my first contemporary romance, ENTRUSTED. We will discuss the chapters, and I'll share behind-the-scenes features with characters, chapters, plot, and the Adirondacks. I'll talk about the writing process. Some weeks will feature other authors and an interview with them, as well as "free surprises." Once we finish ENTRUSTED, we'll move onto ENTANGLED. Hopefully, ENGAGED will be after that. If not, we will read the third installment of the Surrendering Time series. I also look forward to reading books from my favorite authors.
Tuesday's meeting is a kick-off with no reading required. I want us to get to know each other and I'll release the reading schedule. After that, we'll meet weekly.
Here's more information:
The Surrendering Time series is an entertaining yet reflective adventure to the Adirondack Mountains. Each book takes an element of time (past, present, future) and explores through flawed and humorous characters what a surrender journey looks like.

In ENTRUSTED, Jenna Anderson leaves her Ohio hometown for the unknown in Speculator Falls. She's determined to make her new job as senior center work and become one of the locals.

Ben Regan's family is the backbone of Speculator Falls and he's made a vow to protect the rural village. When his grandfather passes away and his former girlfriend leaves without even saying goodbye, Ben's determined to prevent further transition in his life.

But Jenna produces a lot of change for Ben in a book about surrendering the present fears we have about change and wanting to belong.
BOOK CLUB KICK-OFF:
Tuesday, October 11, 8pm, EDT
Format: I'll paste a graphic a few minutes ahead of time saying that all our discussion will take place under the picture. You might need to refresh, if so, hit F5.
Tags: Adirondack Mountains, author, book, book club, Book Club Launches Tuesday, Christian fiction, clean romance, ebook, Entrusted, Facebook Author Page, fear, grief, grocer, Julie Arduini, October 11, Ohio, reading, surrender, wanting to belong, Youngstown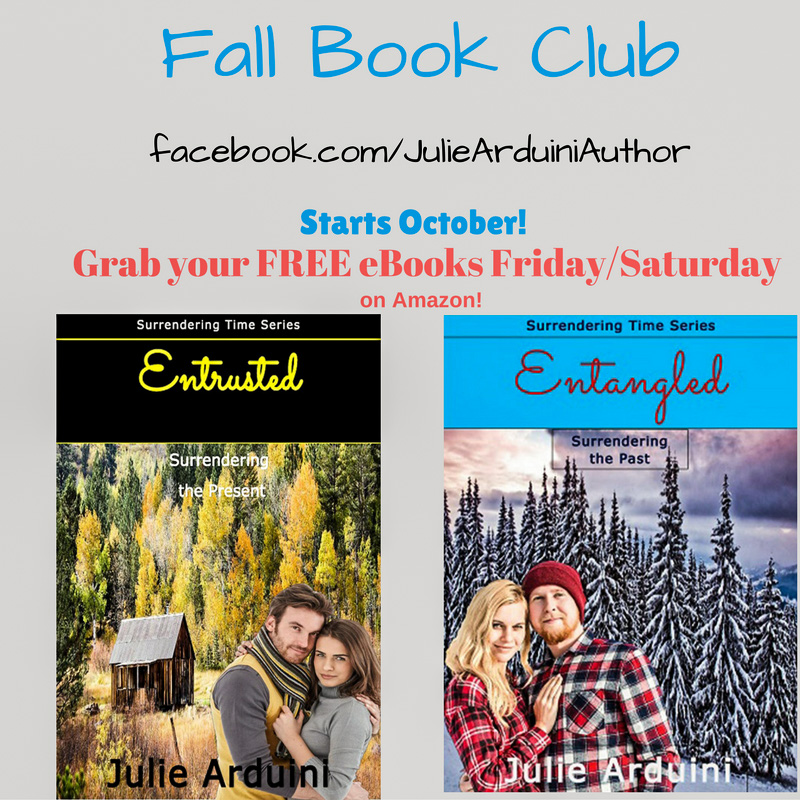 My eBooks are FREE Friday and Saturday!
There are writing moments I ask why.
Why am I writing when life is pulling me so many directions?
Why write if the words are hard to come by?
Why write when it is so lonely?
Why write if it feels like no one knows or seems to care?
Well, I write because I was created to write stories that show readers there is freedom through surrender. I'm so passionate about the message that I often do the opposite of what markets advise.
Like I enjoy offering eBooks for free.
And that's just what I'm doing.
On Friday, September 23 (check price first, the sale tends to start after 3am Eastern,) and Saturday, September 24 (again, check price first,) ENTRUSTED and ENTANGLED will be FREE eBooks.
I want these books to reach as many readers as possible.
Not only do I want readers to experience the freedom through surrender by reading my fiction, I also am starting a book club on my Facebook Author Page in October. I'd love readers to join me as I discuss assigned chapters. I'll also be sharing the writing process AND secrets behind the chapters. I love doing events like this, and again, the best way to get started is to offer you these eBooks for free so you can join me.
Spread the word, won't you?
Like my Author Page and in October, we'll have the Book Club there—http://facebook.com/JulieArduiniAuthor
Grab ENTRUSTED as a FREE eBook Friday 9/23 and Saturday 9/24 (check price first)
https://www.amazon.com/Entrusted-Surrendering-Present-Time/dp/B01FGC1Z8W/
Grab ENTANGLED as a FREE eBook Friday, 9/23 and Saturday, 9/24 (check price first)
https://www.amazon.com/Entangled-Surrendering-Past-Time-Book-ebook/dp/B01FG7JALG/
Both eBooks are also FREE on Kindle Unlimited.
I'll be offering this same eBook sale October 7-9.
The private feedback and the Amazon reviews are confirming that these books have purpose. Readers are finding friends in the characters and they are finding the courage to surrender fear, loss, change, and regret.
Join me on the journey, won't you?
Tags: 2016, Adirondack Mountains, Amazon, book review, Christian fiction, clean romance, ebook, Entangled, Entrusted, Facebook Author Page, freedom, Julie Arduini, My eBooks are Free Friday and Saturday, readers, romance, September 23, September 24, surrender
About Me:

Wife. Mom. Author. Reader. Blogger. Amateur nature photographer. Chocolate eater. Encouraging you to surrender the good, the bad, and---maybe one day---the chocolate.

Find me across social media @JulieArduini, and follow me on my Amazon Author Page.

Where Else You Can Find Me

Step Into the Light Blog Talk Radio Show


Contributor: Jasmine's Place

Contributor: Patient Worthy

iRun4
Rare Mom

Every Other Wednesday: Christians Read

Surrendering Time Series & Recent Releases

Join the Fun

My Instagram

iBloom Resources

Member

Archives