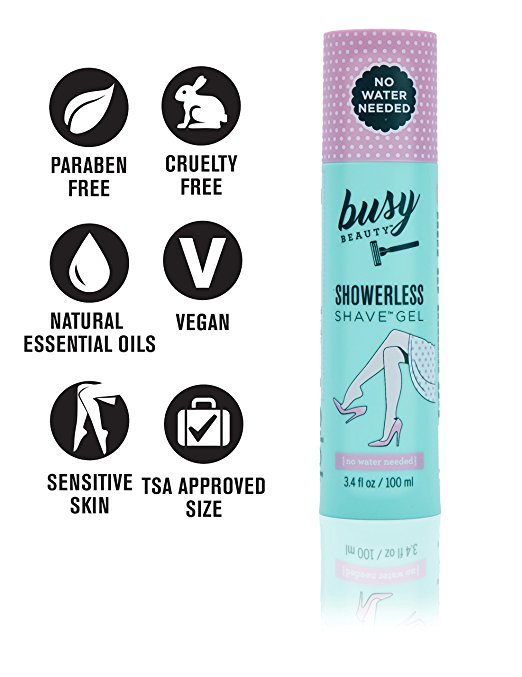 A Shaving Gel for Shaving Quickly and Safely Without Water.
A shower takes a lot of effort and time. Shaving is a pain. Make it easier with Busy Beauty.
Yes ladies! Its official… you can shave any part of your body without jumping in shower or awkwardly maneuvering your legs into a sink! Busy Beauty Showerless Shave Gel allows for you to shave anytime, anywhere, in under 2 minutes. Our product can be used just like any regular shaving cream, but there is no need to wash it off after! Simply apply the gel, shave as you normally would with a razor, and rub any excess gel into your skin as a moisturizer. If you are in a hairy situation, we got your back.
Prevents razor burn, irritation, ingrown hairs and moisturizes! No more dry shave nightmares.
Shave without water! Yes, I'm serious. You could even shave in bed if you wanted!
Take me on a trip! Showerless Shave is TSA approved travel size.
You are a natural beauty. That's why we use the natural essential oils of clove, ginger eucalyptus and oat to protect and sooth your skin.
Vegan, paraben free, cruelty free and alcohol free.
When the ladies behind #BusyBeauty contacted me to ask if I would review their product, I wasn't sure what to think. Most of my reviews are books or music. Then, I'm a shaving hot mess. I miss areas. I'll put cream on and my skin still gets irritated. I cut myself and leave the shower looking like a scene from CSI.
But I was intrigued. Showerless shave gel? NO water needed?
I had my doubts.
Ladies, this is the real deal. I decided to give it a try after I dried off from a swim. I decided to use a little amount to really test an area because my skin irritates so easily. I figured it would never work, that I'd need most of the provided bottle just to cover a small area.
Wrong.
Even a think area provided what I needed to shave, not a drop of water needed, and not only did it give a great shave, no irritation. My legs are as soft as they have ever been, and I've spent countless dollars on shaving creams and moisturizers.
You do have to rinse your razor as it collects hair, but for me, it's a small price to pay. Busy Beauty gives me the flexibility to shave outside of the shower without a lot of fanfare or work. What is a bonus for me is our daughter is of shaving age but has some physical delays. I've been dreading her shaving for fear in the shower without me watching, she would cut herself. With Busy Beauty, she can shave in the bathroom with shorts on and I can make sure she is okay.
The only thing I can think of to improve on it is offering different scents. But that isn't even a complaint, just a suggestion. I am beyond impressed with Busy Beauty, and I think you will be, too.
To learn more, click HERE and HERE
I received a sample product in exchange for an honest review. All opinions stated are my own of my free will.
Finally, Real Help Without the Hype for Your Direct Sales Business
We've all seen it.
A Direct Sales dream story where the work-from-home lady makes millions and travels the world on her own schedule without ever having to miss her kid's soccer practice. We wonder if it is really just a dream?
BUT we've also seen…
The woman working what seems like 24/7, not making much return on her effort, always posting desperately on Facebook and then her friends start avoiding her. We wonder if all of the direct sales opportunities would become a nightmare like that?
For many women, Direct Sales is the answer to real life challenges. Maybe they:
Have a job they can't stand but need to replace the income
Need to contribute financially while also caring for the kids or for aging parents
Have a child with special needs or an illness that requires more days off than a traditional job would allow
Have an entrepreneurial spirit and thrive on the freedom of building something all their own
Have debt they are committed to paying off once and for all and want to speed up the process
Had an unexpected life change through a spouse's death or a divorce
Needing to retire but don't have enough money saved to do so without drastically changing their lifestyle
Direct Sales can be a great solution to each of these needs! It offers freedom, a level playing field regardless of race, gender, education level, background, or track record. When Direct Sales is done right, it can change lives, help people achieve their dreams, and make it possible for them to give generously to others.
But you also know that one day you can see the vision and the next day, after a "no-show" or just a rude "no" you're tempted to throw in the towel. It can be TOUGH building your own Direct Sales business. Don't make it any tougher than it has to be!
Join me for a training where we will learn from the TOP Christian women leaders in Direct Sales. Why make our own mistakes doing it the hard way when we can learn from THEIR mistakes & successes and build our business much faster?
iBloom Direct Sales Marketing Webinar
Learn from the top Christian Leaders in the Direct Sales world.
Monday, October 17th, 2-4 PM ET
If you are in Direct Sales (or hope to be someday), come learn from the BEST and save yourself LOTS of unnecessary hassle & hustle. These women have built success on their own schedule…and YOU can too!
Recap: (Check which one you want)
______  Go slow by figuring it all out on your own, possibly taking years off of your life
______  Go fast by joining me at the iBloom Direct Sales Marketing Webinar and learn from the TOP Christian Women Leaders in Direct Sales
I really hope you'll join me! Oh, and if you know someone in Direct Sales who could benefit from this FREE training, please share this post with her. The more the merrier!
(Disclaimer: I am SOLD on iBloom after purchasing their planner. I am now an affiliate, which means I spread the word about their events and products. If there is a purchase from my link, I receive a small payment that goes back into giving back and saving to buy ink, etc…to keep my ministry going.)