Humble Thyself: 7 Steps to Resolve Conflict
By Susan K. Stewart
A recent undercurrent of discontent infected our congregation. I'd developed a terrible attitude about the situation, and I sat trying to be attentive for the sermon titled: Resolution: The Mathew Solution. I missed it.
During the following week, God led me to James 4:7-10. My heart opened to the clear steps to resolving conflict.
No matter the circumstances, submit to God. Ask for his wisdom to see the truth, not the colored viewpoint of humans. Be willing to follow him … wherever it may lead.
As we submit to God, we resist the devil. But the attacks will continue during the peacemaking process. Satan wants to convince us we aren't at fault and that following God's way is troublesome, a lot of work, and a hindrance to the outcome we want.
The more we resist the devil, the closer we draw near to God. As we move closer to him, the better able we are to resist the devil, remove our own desires and submit to his.
We've become ingrained with Mt. 18—go to the one who has sinned against you. Instead we should be looking at our own sin. "First take the log out of your own eye" (Mt. 7:5 NASB). We need to face our own sin before we confront anyone else's.
The goal of conflict resolution is reconciliation with God. To approach a solution to the friction, our own hearts need to be clean. This is done by seeking to please God, not other people. Not everyone will be happy, but God will be delighted.
Be miserable and mourn and weep
Sin is the root of strife and we should be saddened and repentant. As we submit to God's authority and purify our hearts, we come to realize how destructive our own sin is in the conflict.
Humility isn't weakness; it's the opposite of pride and admits we can do nothing on our own. When pride takes hold, we think we have the solution to any problem. But only God is the true peacemaker.
The next time conflict resolution is the topic, remember James's steps to peacemaking. Resolve the strife in yourself, and then you'll be prepared to help others.
Is there a conflict in your life? How will you follow James's steps to resolve it?
ABOUT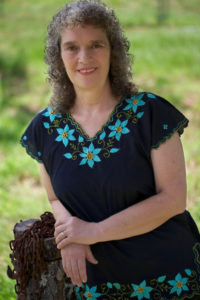 When she's not tending chickens and donkeys, Susan K. Stewart teaches, writes, and edits non-fiction. Susan's passion is to inspire readers and listeners with practical, real-world solutions. Her books include Science in the Kitchen and Preschool: At What Cost? and the award-winning Formatting e-Books for Writers. Contact Susan to speak to your group her website www.practicalinspirations.com.
This is one of those posts that isn't fun to write because it takes me back to a time I didn't love and of course, I don't come out looking too great in it. But I know I'm supposed to share it, and I believe it will encourage someone out there.
Our newlywed years weren't normal or easy.  I had chronic pain because of a severe case of PCOS. There were many days I was in bed because of pain as soon as I got home from work. I had to receive shots in the backside that were not easy to give or receive. And then there was the baggage.
I came into the marriage with low self esteem and huge trust issues. I was a wounded person who usually felt better wounding others.  It wasn't a good place.
My husband worked a new job with a lot of hours. He was in community theater. We were new in our church and wanted to be active there together. We grieved his kids not living in the same state anymore and trusted God had them and us.
When he had a bad day from any of these stresses or even something else, I had one thought and one thought only.
It's me.
I'm the reason he's upset.
It's my fault.
It will always be me.
It will always be my fault.
When he needed time to chill, I took that as a personal rejection. I didn't get that men need their cave time. When he's ready to talk, he will. But my own emotional baggage couldn't allow me to see that. So I'd chase him down, causing more stress.
And guess what?
It wasn't about me until I made it about me. And that's when real conflict started.
I had a lot of problems then, and a big one I didn't realize was one I think a lot of young women are also dealing with: you want your husband to be your savior.
Sorry, ladies, he can't. He's human and he's going to fail. The harder you pursue him with that expectation, the faster he's going to retreat. I tell you from experience. Then your pain is that much stronger because you've got another man in your life who has rejected you.
How did I get out of that spiral? It wasn't easy or fast. I had to hit a rock bottom and realize even when his bad day wasn't about me, I had a lot of healing to take care of. I had people praying. I read a lot from Chuck Swindoll to Sheila Walsh. I went through two Bible studies that changed everything—Believing God by Beth Moore and Captivating by Sheila Eldredge. I started to see my Savior was there to rescue me, He is Jesus, not my husband. And when I put that in the right order, everything changed.
My view of a Heavenly Father wasn't healthy because I was envisioning someone with closed arms disappointed in me. Pressing in through my relationship in Christ and giving Him everything about me re wired my thinking. God's arms are open wide even when I goof up and it is about me.
Now that I'm healed from those hurts, I don't rely on my husband to be the source of all my happiness. I have the discernment to know when he's having a bad day when to approach and when to wait. I no longer have those internal alarms going off thinking he's upset with me.
If this is a struggle for you, I pray something in this post gives you hope to seek healing as well. If you are not part of a Bible reading, Christ centered church, I pray you find one and surround yourself with people who can pray for you. I'm rooting for you!
***
Growing up I never put my Barbie dolls into the plot line that they were going to meet someone ten years older and get married. No, Ken was their age. They went to the same school, lived in the same area. I assumed that was how my life would be.
Fast forward and I graduated college and finally surrendered my singleness. When Tom came into my life I was kind of mad. I was content. If it was going to be me and Jesus I was fine. Imagine my shock when he comes into my life as a divorced man with two kids. And oh right, ten years older.
The age difference didn't bother me too much because I've always been an old soul. I did wonder how it would change through the years. I'll admit, I see a gap sometimes. It would be tempting to be frustrated by the differences but I try to approach marriage like Rocky.
Yeah, Rocky Balboa.
Here's what I mean:
Parenting. As a Boomer, he grew up with the mantra that you can't swim for 30 minutes after eating. As A Gen X'er, I lived a little more flexible on that rule. If we've had a full dinner and dessert of course no one is going in and swimming laps as soon as the fork is put down. But if I've had a hard candy, I'm going in. Okay, I'm embellishing it a little but he is a hard liner on this rule.
Music. I grew up with Michael Jackson, NKOTB, Madonna, everything 80's. My Pandora covers it all. He loves when CCR plays and I'm not a huge fan. He also loves 40's music and Southern Gospel. A lot. I'm a fan but I have to take that in small doses.
Communication. My parents were boomers who believed there is no such thing as fighting or problems, so don't speak of these things, ever. My husband has the same background. I hated that as a kid because I saw problems all over the place and I wanted to talk about them. I really believe this is in part why I write, I process the things I wanted to chat about as a kid. I am way, way more open than he is and I even hold back.
TV. Bonanza vs Little House. Tom and my Dad were Bonanza fans. I grew up idolizing Laura Ingall's life because she had Pa via the 1970's series. Now that I'm older I think what I was looking at was Michael Landon as an actor. I thought for sure my husband would long to get out the popcorn Ma and Pa style and watch re runs in bed. Ha. He makes fun of Little House. Had I known this, it quite possibly could have been a deal breaker. I realized it's a Bonanza vs Little House issue, or, Boomer vs Gen X'er. And I still grieve as I watch the re runs all by my Gen X self.
These are pretty minor when you think about it, or, I need to remember they are. Early on I feared the age difference would result in more years alone if he passed away before me. The reality is his health is better than mine and I've given him instructions on what to do when I'm gone. I feared we'd be incompatible and he feared I'd be a camp counselor instead of a step-mom. But through the years and age difference we laugh about the same silly things we did back then, we find common TV and music to enjoy, and we've found a decent balance when it comes to parenting.
But I'm still mad about Little House.