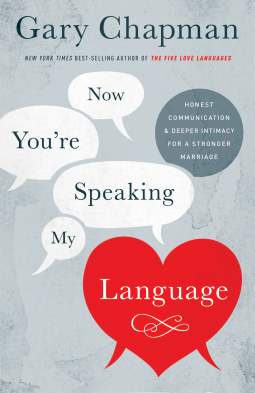 Now You're Speaking My Language from multimillion selling author Gary Chapman (The Five Love Languages) encourages husbands and wives to offer steadfast loyalty, forgiveness, empathy, and commitment to resolving conflict, thus encouraging each other in spiritual growth. With great clarity, Dr. Chapman shows how communication and intimacy are key points in developing a successful marriage by focusing on these principles: Lasting answers to marital growth are found in the Bible, Your relationship with God enhances your marriage relationship, Communication is the main way two become one in a marriage, and Biblical oneness involves sex, but also intellectual, spiritual,emotional, and social oneness.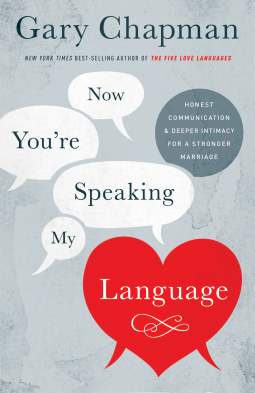 I've read and applied Dr. Chapman's marriage resources for years, so I'm always excited when I know another marriage related book is available. As always, Now You're Speaking My Language breaks down common problems in marriage and gives statistics, stories, Biblical examples and testimonies to share ways to strengthen marriage.
He accomplishes this through easy to understand methods, not too preachy, not too complex. My favorite learning took was identifying the four "fowls." It's simple to remember, and as soon as he gave examples, I could immediately think of people and conversations where these fowls were around.
Nuggets like that are sprinkled throughout the book. For that, I recommend married couples take a look and apply what they learn. You won't be sorry.
To purchase Now You're Speaking My Language, click here.
I received a copy of this book from the publisher through NetGalley in exchange for an honest review.
It's Saturday, the day I enjoy posting a Character Confession. Today is a little different.
I'm curious. This week I encountered a situation that happens now and again. I learned I handle it one way and my husband handles it another.
I thought I'd ask what you guys think. Then I thought, you know, there are a few questions I'd love to hear your answer.
So until I run out of questions, I thought I'd take Thursdays starting next week and ask…
How would YOU handle it?
So stay tuned and don't be afraid to answer.  Trust me, after you read my situation next week you'll see the last thing I want to do is judge a situation based on little information.  Your comments will be most welcomed and appreciated.
So, Valentine's Day…
Hallmark conspiracy or a great day to focus on love?
I'm spending my day in an unconventional way (hint: Cue the Law and Order music) but thought I'd share a couple Valentine memories over the years. It's funny how my romance meter ebbs and flows.
I'm 6 and in the first grade and I get the stomach flu. I miss an entire week of school including my Valentine's party. I remember my bag being overstuffed with valentines. I felt so loved. I remember the guy I had a little first grade crush on gave me a Hong Kong Phooey card.  Oh the days!
I'm 26 and a newlywed. My husband comes home and I have such huge hopes that our time together will mirror one of his black and white movies we watch together. He comes home and hands me a plastic shopping bag with an oversized pink kitten sweatshirt. I'll never forget his words as he handed the bag to me.
"This was on sale."
I laugh now and it took a long time to communicate my disappointment. He felt pressured by a coworker to buy something and knew I was practical so he thought saying it was on sale would sound practical.  I admitted handing me a bag with those words didn't make me feel valued. He then confessed the shirt was all that was left. You know what though? I wore that thing for years. It's a good story to talk about expectations.
The last Valentine's that stands out I think I was 30. Our son was hooked on the show Lizzie McGuire. We watched every episode including what the heartthrob character wrote in Lizzie's yearbook. I thought it was a stroke of genius that I wrote that statement in my husband's card. An inside joke. An ode to Lizzie.
I chuckled all week thinking about him opening the card.
That morning, we exchange cards at the same time.


Would you believe we both wrote the same line from Lizzie McGuire?  We both wrote this to each other:
You rock. Don't ever change.
I still laugh about that, we became so one in communication we wrote the same thing to each other!
What Valentine memories do you have?