When I was sent to the assistant principal's office in middle school it wasn't for mouthing off or fighting. Nope, I got in trouble for reading ahead.
Story of my life.
Reading remains my favorite relaxation. Although most of my time is invested in writing, I love sitting down with a good book. I long to talk to people about it.
Starting Tuesday, I'm combining writing and reading by launching my Fall Book Club. My plan is to connect with fellow readers and start reading and discussing my first contemporary romance, ENTRUSTED. We will discuss the chapters, and I'll share behind-the-scenes features with characters, chapters, plot, and the Adirondacks. I'll talk about the writing process. Some weeks will feature other authors and an interview with them, as well as "free surprises." Once we finish ENTRUSTED, we'll move onto ENTANGLED. Hopefully, ENGAGED will be after that. If not, we will read the third installment of the Surrendering Time series. I also look forward to reading books from my favorite authors.
Tuesday's meeting is a kick-off with no reading required. I want us to get to know each other and I'll release the reading schedule. After that, we'll meet weekly.
Here's more information:
The Surrendering Time series is an entertaining yet reflective adventure to the Adirondack Mountains. Each book takes an element of time (past, present, future) and explores through flawed and humorous characters what a surrender journey looks like.

In ENTRUSTED, Jenna Anderson leaves her Ohio hometown for the unknown in Speculator Falls. She's determined to make her new job as senior center work and become one of the locals.

Ben Regan's family is the backbone of Speculator Falls and he's made a vow to protect the rural village. When his grandfather passes away and his former girlfriend leaves without even saying goodbye, Ben's determined to prevent further transition in his life.

But Jenna produces a lot of change for Ben in a book about surrendering the present fears we have about change and wanting to belong.
BOOK CLUB KICK-OFF:
Tuesday, October 11, 8pm, EDT
Format: I'll paste a graphic a few minutes ahead of time saying that all our discussion will take place under the picture. You might need to refresh, if so, hit F5.
Tags: Adirondack Mountains, author, book, book club, Book Club Launches Tuesday, Christian fiction, clean romance, ebook, Entrusted, Facebook Author Page, fear, grief, grocer, Julie Arduini, October 11, Ohio, reading, surrender, wanting to belong, Youngstown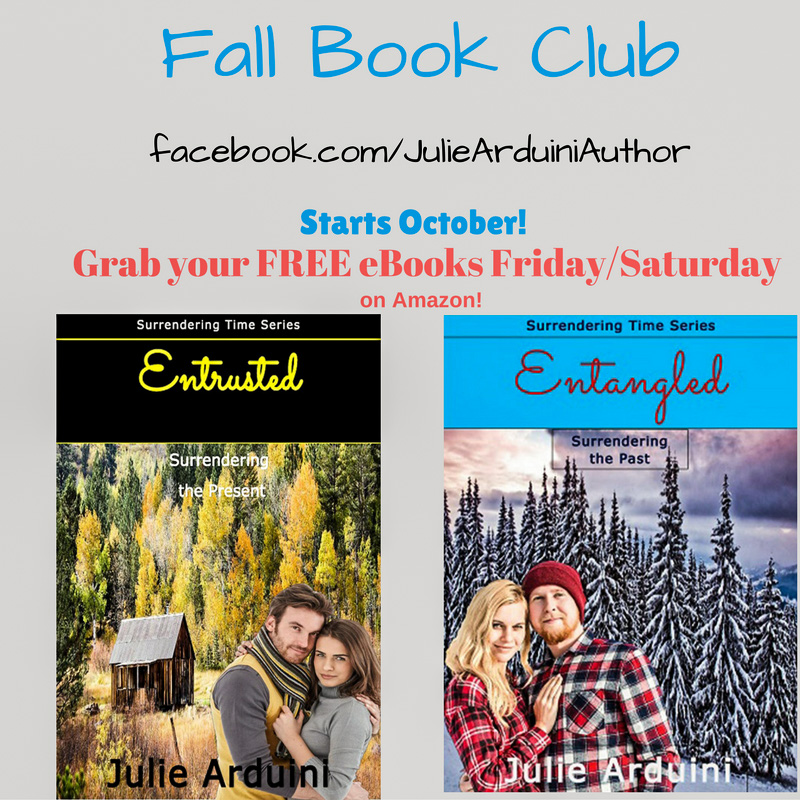 My eBooks are FREE Friday and Saturday!
There are writing moments I ask why.
Why am I writing when life is pulling me so many directions?
Why write if the words are hard to come by?
Why write when it is so lonely?
Why write if it feels like no one knows or seems to care?
Well, I write because I was created to write stories that show readers there is freedom through surrender. I'm so passionate about the message that I often do the opposite of what markets advise.
Like I enjoy offering eBooks for free.
And that's just what I'm doing.
On Friday, September 23 (check price first, the sale tends to start after 3am Eastern,) and Saturday, September 24 (again, check price first,) ENTRUSTED and ENTANGLED will be FREE eBooks.
I want these books to reach as many readers as possible.
Not only do I want readers to experience the freedom through surrender by reading my fiction, I also am starting a book club on my Facebook Author Page in October. I'd love readers to join me as I discuss assigned chapters. I'll also be sharing the writing process AND secrets behind the chapters. I love doing events like this, and again, the best way to get started is to offer you these eBooks for free so you can join me.
Spread the word, won't you?
Like my Author Page and in October, we'll have the Book Club there—http://facebook.com/JulieArduiniAuthor
Grab ENTRUSTED as a FREE eBook Friday 9/23 and Saturday 9/24 (check price first)
https://www.amazon.com/Entrusted-Surrendering-Present-Time/dp/B01FGC1Z8W/
Grab ENTANGLED as a FREE eBook Friday, 9/23 and Saturday, 9/24 (check price first)
https://www.amazon.com/Entangled-Surrendering-Past-Time-Book-ebook/dp/B01FG7JALG/
Both eBooks are also FREE on Kindle Unlimited.
I'll be offering this same eBook sale October 7-9.
The private feedback and the Amazon reviews are confirming that these books have purpose. Readers are finding friends in the characters and they are finding the courage to surrender fear, loss, change, and regret.
Join me on the journey, won't you?
Tags: 2016, Adirondack Mountains, Amazon, book review, Christian fiction, clean romance, ebook, Entangled, Entrusted, Facebook Author Page, freedom, Julie Arduini, My eBooks are Free Friday and Saturday, readers, romance, September 23, September 24, surrender

You guys!
I received an email letting me know that my Goodreads giveaway was over and the winner is from the US.
The message also let me know 790 of you entered to win.
This is my first time ever doing this. I researched and decided to try one winner, but open it up to someone in either the US, Canada, UK or Australia.  For 790 of you to enter, that blesses me.
If you entered and didn't win, no worries. I am offering ENTRUSTED and ENTANGLED as FREE ebooks September 23/24 and October 7-9. Check the price as the promotion usually starts after 12am PACIFIC time. 
You guys are amazing. If you've read ENTRUSTED and/or ENTANGLED and enjoyed it, would you be kind enough to leave a review on Amazon and Goodreads?
Thank you. I truly appreciate all your support.
Tags: Adirondacks, am reading, Amazon, change, Christian fiction, clean romance, Entangled, Entrusted, fear, free, giveaway, Goodreads, Goodreads Giveaway Winner, Julie Arduini, loss, promotion, regret, romance, surrender, Surrendering Time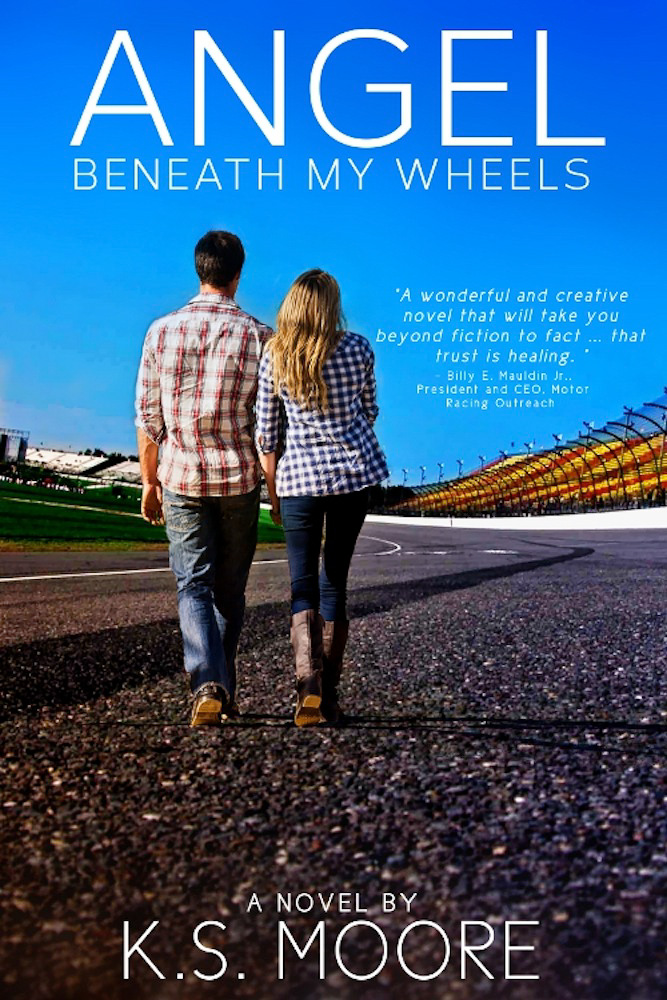 Julie's Note: I love to introduce readers to new-to-them authors and books. Each month I try to accomplish that with the Check This Out feature. I hope you take a look at Angel Beneath My Wheels!
Bio: Kathryn Moore grew up working on cars with her father in Indianapolis and now lives in southwest Michigan with her husband, two children and a little Yorkie named Bear. She is a graduate of Purdue University where she studied information technology, engineering, and chemistry. When she's not working, writing or serving in her local youth ministry, she enjoys the outdoors with family and friends.
 Through her writing, Moore strives is to bridge the gap between Christian literature and mainstream best sellers, to depict contemporary Christians in real-life stories of love, drama, action and adventure, to show (not tell!) what it means to live a Christ-centered life in today's culture, and to provide wholesome fodder for more family-friendly movies.
A prolific reader, she's always enjoyed the escape of a really good book and four years ago decided to try her hand at writing one of her own. Her first book, Angel Beneath My Wheels, was released on February 29th, 2016. If you'd like to receive her monthly short stories called Touches, join her mailing list here.
Book Blurb: 
Beneath his playboy façade, young NASCAR driver Luke Brandt yearns for a family. Rachel Tate, an inventive, purity-ring-wearing mechanical engineer, is determined to prove herself in a male dominated industry. When Luke outbids Rachel on the only two muscle cars she could use to test her new vapor-fueled engine, she wants nothing to do with him. But Luke's gentle ways and down home country charm just might win her over—if his painful past doesn't push her away.
When she begins to touch his heart, he's haunted by bitter memories of the only woman he's ever loved—the mother who abandoned him as a little boy. With an intense trust that God will lead her on life's journey, Rachel perseveres, her innocence and grace breach his defenses and his walls begin to crumble. As they join forces to bring her remarkable invention to market, their love, their very lives, are threatened by the iron-tight grip that "Big Oil" holds over the whole auto industry and Luke realizes his final happiness must come through faith, in the One who has always loved him… and always will.
Endorsements:
 "Creating stories has always been a powerful tool to communicate truths that need to be heard in a relevant way. Angel Beneath My Wheels captivates you and takes you on an ages old journey of the potential to discover trust lost. Often hidden beneath the surface of our personas we create resides, in many of us, a need to trust once again, and in the process receive healing. Kathryn has written a wonderful and creative novel that will take you beyond fiction to fact… that trust is healing, and when built upon a foundation of faith in Christ, saving, and conquering." ~ Billy E. Mauldin Jr., President and CEO, Motor Racing Outreach, co-author of The Race: Living Life on Track
 Kathryn Sue Moore's inspiring debut, Angel Beneath My Wheels, is brimming with romance, passion, and heart. With a spunky protagonist who can turn heads and change carburetors how cool is that?! Christian romance readers and NASCAR fans will flock to this charming, uplifting novel. ~ Lori Nelson Spielman, best-selling author of The Life List and Sweet Forgiveness
 Having been married for more than 40 years, and having ministered to late-stage cancer patients for more than 10 years, I had thought that perhaps my heart might have lost its ability to be moved and made emotionally vulnerable. Angel Beneath My Wheels reminded me of the sweetness and innocence of first love." My heart was touched by this story and I believe yours will be too. ~ Rev. Dr. Michael Barry, author of A Reason for Hope, A Season for Hope, The Art of Caregiving and The Forgiveness Project
To purchase Angel Beneath My Wheels, Click HERE
Tags: author, book, Check This Out: Angel Beneath My Wheels by K.S. Moore, Christian fiction, clean romance, enginner, Julie Arduini, K.S. Moore, Nascar, romance
Book Description:
Can she forget the fumbles of her past and open her heart to love?

He breathes football. She shudders at the very mention of the sport.

After a tragedy involving a football player destroyed her family, athletic trainer and graduate student, Cassie moves across the country looking for a fresh start, but a change in financial aid lands her in the middle of her worst nightmare.

Meanwhile, rookie coach Reed worries his dream career will slip away as injuries plague his players and his star receiver teeters on the brink of ineligibility. As the two work together to salvage the season, sparks fly, and Reed must eventually choose between the game and the woman he loves.

Clean & Wholesome Romance
One of my favorite quotes is from the late Larry Burkett who said, "If both of you had everything in common, one of you would be unnecessary." That's the fun of reading Catch of a Lifetime. Reed is all about football and Cassie isn't a fan. But she's thrust into the sport and has to work with Reed, who wants a winning season and a lasting career. What neither of them count on is the sparks they find with each other.
There's so much to enjoy about Catch of A Lifetime. I love that she created a football world that even the most uninterested reader can understand and keep turning the pages. The sports aspect is part of the plot but not overwhelming. She created real characters. They have wounds, temptations and personalities to deal with. Finally, the romance is sweet. This is a romance I think older teens could pick up and hand off to their grandmothers and there's no shame between the pages. That's a big deal for me.
Whether you're in the bleachers cheering on your favorite team or sitting on the couch reading while your loved one watches a game, you need to pick up a copy of Catch of a Lifetime. It's a touchdown.
To purchase Catch of a Lifetime, click here.
I received Catch of a Lifetime from the publisher in exchange for an honest review.
Tags: author, book review, Book Review: Catch of a Lifetime by Candee Fick, clean romance, fiction, football, Julie Arduini, romance, wholesome reading
About Me:

Wife. Mom. Author. Reader. Blogger. Amateur nature photographer. Chocolate eater. Encouraging you to surrender the good, the bad, and---maybe one day---the chocolate.

Find me across social media @JulieArduini, and follow me on my Amazon Author Page.

Where Else You Can Find Me

Step Into the Light Blog Talk Radio Show


Contributor: Jasmine's Place

Contributor: Patient Worthy

iRun4
Rare Mom

Every Other Wednesday: Christians Read

Surrendering Time Series & Recent Releases

Join the Fun

My Instagram

iBloom Resources

Member

Archives