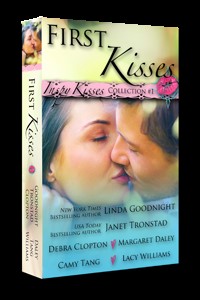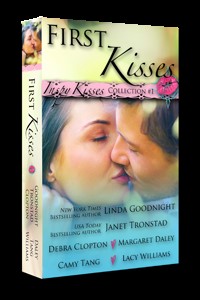 For a limited time only – Six unforgettable love stories 
Julie's Note: Stay tuned for my review of First Kisses. You can read it tomorrow.
99 cents! 
Buy now at Amazon – Barnes & Noble – Kobo – iBooks – Google Play
A brand new anthology from six of your favorite inspirational romance authors – no reprints here!

About the novellas:
From New York Times bestselling author Linda Goodnight, historical romance The Rambler's Bride: The kissing cowboy Jericho is bent on revenge, but discovers the truth and falls in love with widow Esther.
From USA Today bestselling author Janet Tronstad, retro romance Lovebirds at the Heartbreak Cafe: Truck driver Buddy wasn't looking for love, but waitress Penny and her quirky family take over the cafe and his heart.
From bestselling author Debra Clopton, contemporary cowboy romance Her Mule Hollow Cowboy: Independent cowgirl Maddie swears she doesn't need help from bull rider Cliff. But the Mule Hollow Matchmakers seem to have other plans…
From bestselling author Margaret Daley, romantic suspense Deadly Hunt: Bodyguard Tess rescues wounded businessman Shane from dying in the wilderness, but can she protect her heart when Shane gets too close?
From fan favorite Camy Tang, romantic suspense Necessary Proof: Reformed ex-con Alex is on the run from those who have set him up to take the blame for a cop-killing. Will tech-expert Jane be able to prove him innocent?
From fan favorite Lacy Williams, contemporary cowboy romance Kissed by a Cowboy: Maddox has given up all his big dreams to care for his niece. When Haley returns to her hometown, will Maddox find a new dream with her?
Special promo – March 17-19 – #SENDAKISS
If you purchase First Kisses during our promo dates and send a special tweet, we'll gift a copy to a friend, absolutely free! Find out more at bit.ly/sendakiss .
What readers are saying:
 Six amazing books from six different authors. They are all Christian fiction set from the 1800's to present time. Each is a stand alone book with great settings, story lines and characters. All the books had family and faith. Some of the authors were known to me and some I was unfamiliar with. I really enjoyed each book. I can not wait to check out books from these new authors. – Amazon reader


 I didn't know what to expect – I am not a fan of anthologies. Usually I find that the stories are too brief and the plots move too fast and don't go into any detail and don't make a lot of sense. Well, let me tell you that this anthology is not like this, not at all. It is wonderful! I enjoyed each of the novellas immensely. Each one has well developed, thought out characters and detailed plots that move at exactly the right pace. You have suspense, romance – everything in each of the novels. I enjoyed reading each of the novellas and couldn't put the book down. Even though I have about 15 other books waiting to be read – I plan on reading this book all over again in the next week or so – it is just that good. – Amazon reader

A visual look at the collection:
https://www.youtube.com/watch?v=GMoqdn-x03Y
Interact with the authors:
Buy now at Amazon – Barnes & Noble – Kobo – iBooks – Google Play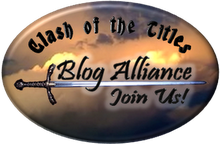 Wednesday
marks the beginning of our June Releases Clash, hosted by the lovely
Gail Pallotta. She'll introduce you to five amazing new books, so get
your voting finger ready.
Saturday,
we'll announce the three finalists in the 2012 Laurel Awards. Our
judges have been raving about the books, saying they wished they had
more than just the first two chapters. Remember, this year's judges are
readers like you, who have no connection with the writing or publishing
world. You could be one of them! If you're interested in being a judge
for the upcoming Olympia Award, please email us at
contactcott(at)gmail(dot)com.
Our current judges are still sending in their score sheets, but by Saturday, we'll have the final tally!
In the meantime, we'd like to pass along that
Astraea Press
is having a HUGE 
Summer Sale
. Almost all of their stock is
available for $.99 on Kindle and Nook. To whet your appetite, here are
five titles from their Inspirational line. The sale lasts until the end
of July, but get your e-books today, before you forget!
JUST A LITTLE FAITH by Amy Norris
Contemporary Romance
Paxson
Taylor's recent relocation to St. Louis leads her to a life different
from what she's experienced in the past. Through her work with a small
charity, she meets and attracts the attention of professional baseball
player, Sebastian Quinn. Flattered, Pax tempers her desire for the
handsome playboy with her need to serve her God—a God Seb doesn't
believe exists. Through unspeakable tragedy, they grow closer and with
disappointment, drift apart. How can two people from opposite ends of
the faith spectrum reconnect when they need each other most?
LIZZIE AND THE GUERNSEY GANG by April W Gardner
2012 Selah Award winner in youth fiction
Middle grade historical/adventure
Lizzie
Browning loves nothing more than her tiny, island-home of Guernsey, but
when German troops invade, she knows it will never be the same again.
For Lizzie, younger brother Andre, and Cousin James, the time to escape
is now, and they know just how to do it. With the right tools and a
little help from a boat named, Trina, they'll be off the island in no
time. When things start going wrong, Lizzie wonders about God's plan.
From the looks of it, He might expect them to live under Nazi
rule…forever.
THEN SENTENCE by Elaine Cantrell
Contemporary Romance
How
could he do it! How could her father bring into their home the guy who
burned the church? Yeah, it was an accident and her dad's a minister,
but if he wanted to save this man's soul, why didn't he go to the prison
to do it?  And no matter how cute the criminal is, no matter
what anyone says, she doesn't watch him all the time.
Nice girls don't fall for guys like Clint.  Do they?
THE MULLIGAN MAN by Monique O'Connor James
Short Story
When six kids are at a party, partaking in a little
too much fun, one of them is killed. The Mulligan Man, a character
straight out of folklore appears offering them the chance to fix all the
wrongs. In order to complete the deal, the teenagers must find out the
truth of what happened, perform a random act of kindness, and become
friends.
If they meet these stipulations, he will allow them to
bring their friend back from the dead. In the process they learn not to
judge, to stay away from drugs and alcohol, and that love can bridge
even the boundary of death.
THE PECULIAR
PRINCESS
by Christina Graham Parker
Romance
Sent back four
hundred years to reclaim her birthright as Princess of Dresdonia, Lexy
Newberry discovers the only thing harder than living without electricity
is guarding her heart from the perplexing Lord Lukas Reynard.