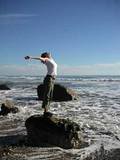 Is it just me, or do things seem extra oppressive lately? Seems at every turn I'm hearing heartbreaking news:
a homeless child
a little boy with a terminal disease
a faith-filled man with cancer
marriages crumbling
unemployment
loss of insurance
violence
There are no easy answers when we learn of these things. Oh, you'll hear pat replies, and the people mean well, but they don't wipe away the tsunami of emotions threatening to not just take you down, but out.
The things I've dealt with the last few years might be different than you but I've spun my tires with one sentence I utter a lot–It's not fair.
You can sacrifice, give, and love only to get the shaft in return. You go to work early, stay late, and give your all and a pink slip still reaches your hands. You're faithful to the gym and your body but the health report has your name on it. It isn't fair.
My cousin would often tell us that "No one promised you life was fair." But, still. It hurts. Don't we deserve better than this?
Not really. Truth of it is, we all fall short and miss the mark. And the minute Eve took that apple, we lost all privileges to live in fairness. We can blame Eve, but deep down I know had I been there, I would have been tempted faster and fallen sooner. Life isn't fair because we live in a fallen world.
So what do you do when life gives a kick to the stomach and you want to wallow in the it's not fair?
1. Read the Psalms or more of the Bible. There are a lot of not fair situations there, and authentic laments. But there is something else that helps me that flows through the pages right to my hurting heart: hope.
2. Get off the hamster wheel. That's my downfall. I will spin a situation to death. Beyond the fairness of it, I want to know why and how. I analyze and analyze. And at the end of the day the situation is still there. If that's you, learn from me and stop.
3. Make that unfair thing your broken place. For years I had a piece of clay pot that had been shattered as part of an object lesson. The pastor shared that even with the best of glue that pot would never be the same. I have many broken places, events and circumstances that at the time I thought would destroy me. I took those places and decided to take my different life from those things and help others who had similar things. There are "sororities" I have exclusive membership to that others don't, and vice versa. They might be unfair, but I took my PCOS, infertility, miscarriage, marriage lessons, near death of child and her health issues and decided to be a positive vessel for others.
Yesterday I read a quote that sums what to do with those unfair things that will stay with me for a long time. ABC's Good Morning America anchor Robin Roberts had a nice send-off for her medical leave. She's already been through cancer, now she needs a bone marrow transplant. On top of that, hours after her last show before her transplant, her mom passed away. Seems so unfair. Yet, here is what she said:
"Life provides losses and heartbreak for all of us – but the greatest tragedy is to have the experience and miss the meaning."
How about you? Do you grieve over unfair situations? Do you think it is time to let it go? What helps you when life is unfair?