A Must Read! In The Essence of Joy, Lynn Watson intertwines Scripture with
the uses of oils and spices mentioned in the Bible. I was left with a feeling of wonder,
a new way of looking at God's word. The book is educational, entertaining, and
uplifting. There's history, fun-facts, even recipes. The author brings devotionals to a
new level, giving biblical insight to the problems modern women encounter today.
The Essence of Joy is perfect for both bible study groups and those who are just
starting out on their spiritual journey.
—Jeri McBryde, Eight-Time Contributing Author to Chicken Soup for the Soul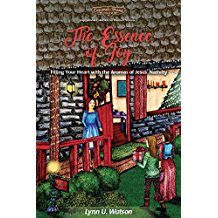 About The Book:
The scents of Christmas invite our imaginations into the holiday season. What
emotions flood your heart when the holiday aromas waft your way?
Did you know:
• Many favorite holiday scents like cinnamon, citrus, and cinnamon are found in the
Bible?
• There is a rich heart connection attached to many of the plant essences found in
Scripture?
• Myrrh is such an important essence, we can follow its trail from Genesis to
Revelation with many significant stops along the way?
• Women of the Bible have personal encounters with God bringing aromas of His
love and joy into their lives?
• Palm branches are an important part of Biblical celebrations beginning in Genesis
and ending in the ultimate beach party around the Crystal Sea? (Christmas at the
beach, anyone?)
In The Essence of Joy you'll meet women of the Bible and contemporary women
like you and me who will encourage you to discover the refreshing essence of a life
lived in the presence of Jesus. Let JOY fill your heart with the aromas of His nativity.
Julie's Review:
This is a fresh take on celebrating the Christmas season by digging deeper into the smells of the nativity season. There are several aspects to each scent, from a fictional story, to suggestions on what to diffuse, bake, listen to. There are also history facts and craft suggestions, too.
I really enjoyed the Essence of Joy because this was a part of Christmas I never thought about before. Beyond the original three gifts, there is also cedar, cinnamon, fig, and more. My favorite part was the "droplets," learning the history behind each scent. The fictional aspect was a bit confusing to me, because I did not realize it continued the stories first set up in The Essence of Courage. At the end of this book was a summary of characters, it might have helped to have that in the beginning. I also found some minor editing errors, but it did not detract from the wonderful message of this book.
If you're looking for something new to discover this Christmas, I highly recommend The Essence of Joy.
About The Author:
Lynn Watson combines many years' experience in women's ministry, love of
essential oils, and her passion for God's word to bring her readers freshly inspired
encouragement for their walk with Jesus. Her devotional, The Essence of Courage,
was recognized as a 'must read' by regional publishing industry leaders. Married
since 1973, Lynn and Steve have filled their Bartlett, Tennessee home with
handmade treasures and lots of love for family, especially their five beautiful (of
course) grandchildren. Aromas of freshly baked bread often fill Lynn's kitchen.
Jasmine, her tuxedo kitty, enjoys sleeping in Lynn's lap while she writes.
Check out this beautiful Book Trailer! https://youtu.be/ZT5_uGmptZM
Lynn's Official Website: http://lynnuwatson.com/
Amazon & Social Media Links:
Amazon: https://www.amazon.com/Essence-Joy-Cinnamah-Brosias-InspirationalCollection/dp/069296391X
Facebook:https://www.facebook.com//lynnuwatsonwriter
Twitter: https://twitter.com/lynnuwatson
Pinterest: https://www.pinterest.com/lynnuwatson/
I received a .pdf of this book in exchance for an honest review.